To Prevent School Shootings, Reduce Access to Guns
According to the Washington Post, there have been 380 school shootings since the Columbine High School massacre, 46 of those occurring in 2022. 
Among these shootings are the 2012 Sandy Hook Elementary School shooting, which resulted in 26 deaths, twenty of the deaths being first grade children; the 2017 Parkland High School shooting, which resulted in 17 injuries and 17 deaths; and most recently the 2022 Robb Elementary School shooting in Uvalde, Texas, which resulted in 21 deaths and 17 injuries, 19 of those students being between the ages of 7 and 10. 
These incidents are horrific, leaving many of us pondering the question, "How could this ever happen?" Furthermore, it is increasingly frightening for those of us who attend schools every day, as well as our families. Therefore, I think that our options for steps to take to prevent these atrocities from occurring need to be seriously evaluated. 
Over the last few years, politicians have considered numerous proposals  to address the spike in school shootings. Most recently, Ohio House Bill 99 was signed by Governor Mike DeWine, taking effect on Sept. 12, 2022. 
"[The bill] allows teachers who undergo a background check and 24 hours of training — along with eight hours of annual recertification — to carry firearms or other weapons while on school premises," according to The Columbus Dispatch. 
 Each school district in Ohio was left to decide whether or not to arm teachers, and the Beachwood Board of Education, along with  most school districts in the area, voted to keep teachers from carrying guns in schools.
In an email, sophomore Madeleine Mehler described her feelings about arming teachers.
"I absolutely do not think that arming teachers is an effective way to stop school shootings," she wrote. "Allowing teachers to have guns in schools is just putting a Bandaid on a bullet wound."
"Instead of bringing more guns to try to heal a society that is dealing with gun violence, the better option would be to have stricter gun laws and gun control," she added. "I think that bringing guns into schools [is likely to] just further cause harm to students and bring a greater risk of school shootings."
"
I think it's out of the school's hands now. This has become a big enough issue where it needs to be government action not individual schools.
— Senior Naomi Shroge
Although  many Beachwood students as well as a majority of American teachers oppose arming teachers, a study performed by PDK International found that 45% of adults do support arming teachers. Though this is not the majority, it is still a surprisingly large number.  Many Americans, along with the National Rifle Association and their political allies, actually do believe that arming teachers is a rightful solution to school shootings.
During a 2018 interview with PBS, NRA CEO Wayne Lapierre described his solution for dealing with school shootings. 
"To stop a bad guy with a gun, it takes a good guy with a gun," Lapierre said.
However, copious research suggests that arming teachers in schools is not the correct way to solve these problems. 
According to AP News, It isn't likely for mass shootings to be stopped by an armed civilian. In fact, a study done by the Advanced Law Enforcement Rapid Response Training Center at Texas State University found that between 2000 and 2021, fewer than 3% of 433 active attacks in the US ended with a civilian firing back. 
However, a study performed by the FBI found that in 21 out of 160 shootings, an unarmed civilian safely and successfully disrupted the shootings. Therefore, it is reasonable to conclude that arming teachers truly wouldn't be effective in preventing school shootings. 
Alternatively, instead of arming teachers in schools, action should be taken before dangerous individuals can get ahold of firearms. The first step to this would be to recognize warning signs, and take action based on these signs. 
According to the U.S Secret Service's Analysis of Targeted School Violence, which studied 41 incidents of targeted school violence that occurred at K-12 schools in the United States from 2008 to 2017, All of the attackers studied demonstrated unsettling behaviors, which resulted in concern from others. Furthermore, most of the attackers conveyed their intentions to attack. 
These behaviors ranged from minor concerns to forbidden behaviors, and many of the attackers expressed their intentions to someone else or to the group that they threatened. The analysis encourages students, school personnel and family  members to speak up and report these behaviors. 
However, many of the actions that need to be taken to stop and reduce school shootings have to be done on a state or federal level. 
"I think it's out of the school's hands now," senior Naomi Shroge wrote. "This has become a big enough issue where it needs to be government action not individual schools." 
19 states, as well as the District of Columbia, have implemented Extreme Risk Laws, which temporarily remove firearms from potentially dangerous individuals. 
"Developed by the Consortium for Risk-Based Firearm Policy in 2013 after the shooting at Sandy Hook Elementary School, extreme risk laws establish a civil process that puts time and space between an at-risk individual and firearms. Extreme risk laws have the power to prevent suicides, mass shootings, and interpersonal violence," according to The Educational Fund to Stop Gun Violence (EFSGV). 
The EFSGV also states that California's extreme risk law was effective in stopping 21 mass shootings from 2016 to 2018.
In addition to Extreme Risk Laws, promoting secure firearm storage awareness is also important. According to a study performed by the American Academy of Pediatrics, the most adequate way to prevent suicide, homicide, and unintended firearm-related injuries to children and adolescense is a vacancy of guns from homes and communities. 
However, studies also demonstrate that if household adults do feel that it is necessary to have a firearm, then locking and securing the firearms and ammunition significantly decreases  the risks of both self-inflicted and unintentional violence among children. Nine states currently have laws that require that guns be stored locked and that trigger locks accompany gun purchases. 
On June 25, 2022, Congress took a monumental step in the right direction when The U.S House of Representatives joined together with the U.S Senate to sign into law The Bipartisan Safer Communities Act on June 25, 2022. 
The Bill "enhances background checks for buyers under 21, supports state red flag laws, disarms domestic abusers, clarifies who must run a background check, cracks down on gun trafficking, funds community violence intervention, invests in mental health services, and provides school safety funding," according to Everytown for Gun Safety. 
This Bill is crucial to reducing gun violence among children, in schools, and even domestic abuse and suicide. It is a significant step taken on a national level.
Mehler explained what she feels public officials  should do to make students feel safer. 
"I would feel safer if guns were not as easily accessible," she wrote  "It is scary to know basically anyone can get their hands on a gun no matter what their intentions are." 
"But, schools are not able to make decisions about gun laws, so I'd feel safer if Beachwood practiced more safety drills and educated the students on what to do in the case of a school shooting," she added.  "Beachwood does already practice safety drills, but they always tend to be on the same day of the week during the same period, so I feel like that does not really prepare us for what to do in the case of an active shooter if we are in any other part of the building."
Leave a Comment
About the Writer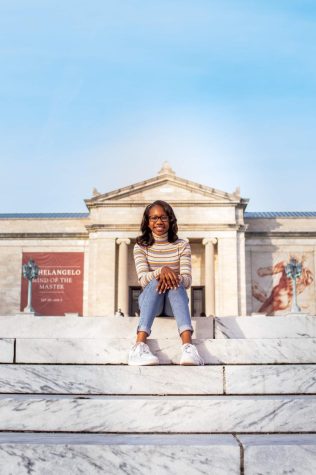 Taia Menefee, Staff Writer
Taia Menefee started writing for the Beachcomber in fall of 2021. She is interested in covering arts and life. When not writing for the Beachcomber, she...