If Not Now, When?
Bison Seniors Holding Nothing Back
When the Friday night lights illuminated Beachwood's stadium and the first whistle blew for the opening kick-off, the only thing on Letraize Walker's mind was his mom.
He wears the number two with pride, written boldly in black across his gold jersey, a low number that he has earned through his performance on the field.
Walker thought of the sacrifices his mother has made for him, and how with every touchdown he can help score, he brings honor to the Beachwood football program, his teammates and his family.
The home opener on Aug. 30 brought new energy and hope for a successful season as the Bison defeated Orange, ending the Lions' relentless 11-year winning streak against the Bison.
The atmosphere in the locker room before the game was tense. As the Bison walked onto the field, there were knots in all of their stomachs—of joy, of fear, of hope and of determination. 
In the stands, a sea of students in white, as both teams called white-outs for the opening game. In the visiting bleachers, Orange fans roared as lions do. Nasty remarks were exchanged between players of both teams.
At halftime, the score was anybody's game. The scrambles were fought with such great intensity, it seemed the stakes were higher than a mere football game.
When the team stampeded the field, once again, there was a new tone in the air. The players were ready to execute. With every attack the Bison made, the Lions did their best to push back. With every play the Lions made, the Bison tried to push back even harder.
Who wanted it more?
With 1:21 left in the final quarter, senior captain Antonio Roscoe took a breather on the sidelines. The perspiration on his face as  if someone had dumped a few bottles of water on his head. There was a bit of blood on his shoulder.
"
I want to stop every run, every play they make. They need to know I'm here to win. It means a whole lot to be here right now.
— Senior Antonio Roscoe
"I almost cried when we were in the locker room, coming out here," he said. "If we get this win, I'll be screaming in my zone tonight."
 "For now, it's intense," he added. "I can't speak on it. I want to stop every run, every play they make. They need to know I'm here to win. It means a whole lot to be here right now." 
By the time the clock hit 20 seconds, the score was 27-25 for the Bison. On the sidelines, the Beachwood crowd had figured there was no way for the opposing team to come back. There was excitement in every fan, but humility in every player. Nobody was screaming yet, but legs were shaking and fingers were tingling. 
There was an air of anticipation. Everyone on the sidelines questioned, until the clock read 0.0, whether or not the Bison had stopped the streak. With 5 seconds left, the players could help themselves no longer.
People dropped their cameras. They dropped the water bottles and whistles. They just ran—filled with the feeling of victory over a rival that the Bison have not experienced for more than a decade.
Taking a knee after shedding tears of joy, reality hit the senior players. It truly was their last season opener, but one they would never trade for the world.
Head Coach Damion Creel told them this was only the beginning.
"Do your work," he said. "Do right in school, and do right in the community." 
"It wasn't pretty, but I'll take a dub (win) of two points any day of the week… Make great decisions tonight, and be great," he added. 
These words meant a lot to Letraize Walker. He transferred to Beachwood from Benedictine High School in his sophomore year when he moved from the inner-city Buckeye neighborhood of Cleveland.
Walker felt alienated when he transferred.
"[Students] looked at us like we didn't belong," he said. 
Walker is one of the senior captains, along with his "brothers" as they call each other: Antonio Roscoe, Andrew Baker, James Flowers and Dawann Gray, Jr. 
"
Coach makes [this team] a support system, and lets me honor my family.
— Senior JeShaun Minter
All together, the seniors have formed a brotherhood they will never forget. This brotherhood changed Walker's perspective and allowed him to become more involved in the school community.
For many of the seniors, including Roscoe, their dedication to the football program means so much more than just participation in a varsity sport.
"If the football program here has taught me one thing, it's to overcome things and to face adversity with a greater mindset," he said.
Roscoe and Walker have faced the challenge of chasing success in Beachwood Schools following a challenging transfer from inner-city schools.
"This program helped me transition by helping me realize the impact of my actions," Roscoe explained. "It started with the coaches, when they taught me how to be the man I wanted to be. Not talking back, and stopping the disrespect I never realized I showed. I see [football] as a way to get me through school and get me to college. I don't play just to play."
All of Roscoe's teammates feel the same way. Coach Creel's football program teaches more than a game.
"Coach makes [this team] a support system, and lets me honor my family," senior receiver JeShaun Minter said. "This program has taught me that life is short, and that it's important to do the right thing—the little things are important—but always do what's best and what's right."
Roscoe summarized the mentality that he and his teammates share in their senior year.
"Now that I see it's my senior year, I know it's my last ride. It's almost over," he said. "You'll never recognize it until you're in a senior's shoes. We now look at it as: 'If I don't go out my best for this play, how many yards do I have to make it up? If not now, when?'"
The football team has a current season record of 3-1. They play Independence at home tonight at 7:00.
Leave a Comment
About the Writer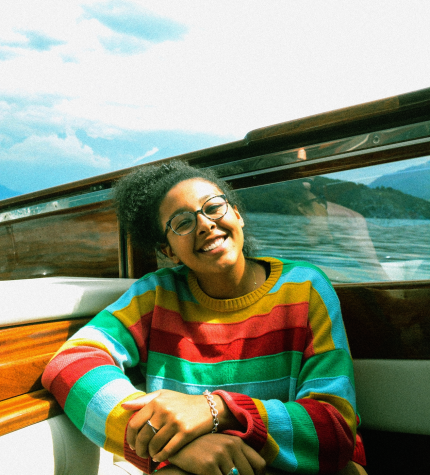 Elizabeth Metz, Multimedia Editor
Elizabeth Metz began writing for the Beachcomber in 2018. She enjoys covering identity politics and sports. In addition to writing for the Beachcomber,...