Between Two Worlds: BHS Students Embody Multiculturalism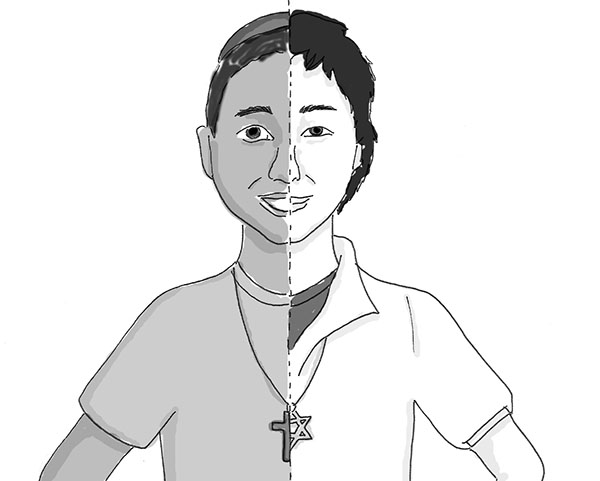 Advertisement
Hang on for a minute...we're trying to find some more stories you might like.
"I've been called a mutt before" said sophomore Chinea Lowe, with a laugh. Her father is half Jamaican, half Chinese and her mother is primarily African American, with a hint of Native American and white ancestry.
Lowe isn't the only Beachwood student who can trace her heritage to multiple sources. 2010 census data reveals that the number of biracial people is increasing, relative to the overall population. The U.S. has a biracial president. America seems to be more of a melting pot than ever.
Beachwood is not the most diverse community, but it's certainly not the least. According to the U.S. census, 77% of Beachwood residents are white. The Jewish Federation of Cleveland found that a great majority of Beachwood residents were Jewish.
How do students of mixed heritage fit in?
For some, like half-Jewish/half-Christian sophomore Michaela Miller, the answer is not positive. "I've been in situations where I've literally had to lie and say 'Yay, I'm Jewish and yeah, I'm totally all Jewish or whatever.' They make you feel bad if you're not Jewish," she said.
"I lied and said that I was going to have a Bat Mitvzah. And then it never happened, and it was really awkward," Miller said.
Of course, not everyone feels like Miller. Some see Beachwood as a welcoming environment. "Kids have accents because they're from all over the world, and I just think that's really cool," said freshman Taya Range, whose father is a black, Hispanic, Filipino, Native American Protestant and whose mother is a white Catholic. "So it's really easy to fit in at Beachwood because there's a lot of different people from different places."
But the experience of students from mixed racial or religious backgrounds extends far beyond the Beachwood bubble. Their "mixed-ness" sometimes comes to define their identity, and usually, has some impact on who their friends are and their sense of belonging.
The Quest for belonging
One common consequence mixed students reported was feeling like an outsider within each identity group– people that they share some, but not all of a culture with.
"When they see my sister, they're like oh, okay. She's one of us. But when my sister's not there, I don't know," said junior Samantha Tall, referencing how she is treated in a group of all black people before her darker-colored sister comes. Tall's mother is from El Salvador and her father is  biracial.
However, Tall explained that it is not as if she is treated as a complete interloper. "They'll ask you why, and you'll just respond, but it's not [as if they say], 'oh, she's white.' It's like how you [would treat] a regular person," Tall added.
"I sometimes feel excluded," explained half-black, half-Dominican senior Toni Nicholas.  "They all seem to share something that I feel I don't have."
"There are certain movies I haven't seen that are part of African American culture [because] I have family that's so diverse," elaborated the multi-racial Lowe. "There are so many [cultures that are part of my heritage]. It's not like I can learn a large part of every single one of them."
"I went to a Catholic school, but I wasn't raised as a Catholic, so it was kinda weird," said half-protestant, half-Catholic Range. "Everyone thought I was really weird, they [asked], 'Why are you here because you're not Catholic?' Because I didn't identify with one religion, they assumed I doubted God's 'power.'"
"People at my old school used to call me a satan worshiper," Range elaborated. "They threw holy water at me once, and I [asked] "what are you doing?"
Of course, not everyone feels like a fish out of water. Of the 11 people interviewed for this article, six said that their "halfsy" status does not affect their friendships and sense of belonging in peer groups.
"I fit in pretty well," said half black/Christian and half white/Jewish junior Chad Tindel. "I've found friends and I don't really think race plays a part in that."
Forming a sense of identity

A mix of cultures not only impacts belonging, but plays a powerful role in shaping the identity of those with colorful genealogies.
"A lot of people think I'm 100% Asian, so when I walk in with my dad they think I'm adopted," said Ami Schereson, whose father is Chilean and whose mother is Japanese.
"I'm the only non-white person at my temple," said Tindel. "I remember one time at Yom Kippur and there were 2,000 people in the main sanctuary and my mom texted 'Where [are you]?' So I just kind of stood up for a second."
Though now Miller doesn't really see herself as any one specific religion, she explained her struggles trying to explain 'what' she is. "I told people, 'Well, I'm kinda half and half, you know,' and I just tried to explain it to people. I've gotten in arguments. Some people [say], 'No, you're either one or the other, you are what your mom is,' " she said. However, Miller states that religion isn't a huge part of her identity.
"I don't like to put labels on myself," Miller added.
The Youth Group Dilemma
Those who are mixed race tend to shy away from participating in youth groups and clubs geared towards one particular race, like DAC Scholars, a program geared towards closing the achievement gap, or Jack and Jill, an African American family organization.
Of the six at least partially black people interviewed, only one participates in DAC Scholars (or in any specifically black groups).
"I used to do scholars, but I stopped probably after fifth grade. It was like I don't even know about a lot of the stuff [they were] talking about," said Lowe.
"When I'm with other black people, they make it always about being black. I don't see it that way," said Nicholas.
"I don't understand why it's such a big deal to hang out with people [of only one race,]" she added.
However, those of two religions seem less inhibited to join groups representing only half their heritage. Of the six half-Jewish people interviewed, four had participated or were members of BBYO, a youth group for Jewish teens.
Does two religions equal no religion?
Though those with two religions may be engaged in their religious community, many are not very religious. According to a Jewish Federation of Cleveland survey, 25% of children in Jewish households in the Greater Cleveland area have intermarried parents, and 23% of these children are being raised without a religious identity.
For sophomore Sami Lazar, half-Jewish and half-Christian, having two religions has directly impacted her spirituality. "I feel in some ways [having two religions] made me less religious because there wasn't [one] religion I really followed since I was born," she said.
Four of the eight people with two religions described themselves as agnostic or questioning. However, unlike Lazar, the fact that they had two religions wasn't necessarily the reason.
"I'm agnostic. I believe more in evolution… I guess… than the whole Adam and Eve story," said sophomore Logan Ehrenbeit, who is half-Jewish, half-Christian.
"I'm culturally Jewish, but I don't believe everything I'm told blindly," said Tindel, who identifies himself as a Jew.
"I'm able to make a decision about what I really want to be in terms of a religion," said sophomore Danielle Adelstein, who used to be half-Jewish, half-Christian until her mother converted to Judaism, and who identifies herself as a Jew.
The glass half full
Despite the struggles of the multicultural students at BHS, there are some definite advantages.
"I think a part of having a lot of different backgrounds is I'm more willing to learn about backgrounds I'm not a part of," said Lowe.
Tall mentioned an advantage of having an ambiguous skin color, hearing stereotypes about her race that she wouldn't hear if they knew she was part of it. "If I don't tell someone I'm black, they won't really know unless they know my genealogy or something, so I get to hear their true opinions of certain races before I [say], 'I belong to those races,'" Tall explained.
Nearly everyone interviewed for this article felt that a perk of their mixed heritage was the ability to see multiple perspectives on life.
For Adelstein, a perk is the combination of cultures and the unique family traditions. "There's normally a stocking holder that says "Joy" but we switched so it says "Oy J" like 'oy Jew," Adelstein said.
Lowe says she isn't bothered by her "mutt" status.  "I mean, hey I have nothing to not be proud of, I'm happy with who I am," she said.