A Land of Beauty and Culture
Documenting a visit to Pakistan, my motherland
When I went to Pakistan over winter break, I was immersed in the culture and reminded of the beauty of my homeland.
As the airplane landed, I suddenly felt at home. Even though I have never lived in Pakistan, whenever I visit, I feel complete.
Over there, things are decorated brightly and boldly, even the airports. When we were getting our luggage, the walls were covered in beautiful art.
Islamabad is the capital of Pakistan. It's home to all of the embassies and diplomats. It's considered one of the most beautiful cities in the world.
Amidst the Margalla Hills, we landed in Islamabad, the breathtaking mountainous capital of Pakistan.
When driving home from the airport, I saw many Pakistani trucks as well as rickshaws. They're decorated with vibrant colours and have elaborate designs. They are bright and beautiful and they feel like a part of home.
We went to the Giga Mall in Islamabad. The mall was huge and was a mix of western and Pakistani culture; it had the design of any American mall but was filled with Pakistani stores and restaurants as well as international brands.
We also went to visit my mother's uncle, who is retired from the Pakistan Air Force. He lives in a gated community for ex-air force officers. Near his house, there is a model of a Pakistani airplane.
From Islamabad, we went to Lahore, the walled city which is the heart of Pakistan. We rode under the sky of a solar eclipse as beautiful scenery surrounded us. There were beautiful green mountains.
Lahore is the cultural hub of Pakistan, filled with Mughal forts and gardens, and famous for its food. It was also a walled city during the Mughal rule and you can still visit the historic wall.
Islamabad and Lahore are 378 miles apart.
In Lahore, we also had to go to the wedding of the daughter of a family friend. It was held in a gated community in a grand tent. There were lights strung around, and it was beautiful.
At the wedding, we wore traditional Pakistani dresses.
We experienced Pakistani cuisine. We drank Kashmiri Chai, tea from Kashmir. It is a pink tea which can be drunk with sugar or salt. It's served with a type of puff pastry called Bakarkhani which is put inside the tea.
As I get on the plane to leave for America, I feel a bit empty, a bit homesick as I already miss my homeland. However, I also take a bit of it with me.
Leave a Comment
About the Contributor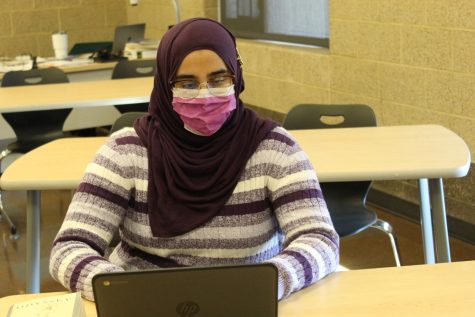 Hiba Ali, Editor-in-Chief
Hiba Z. Ali began writing for the Beachcomber in fall of 2019. She covers diversity in the school. In addition to writing for the Beachcomber, she also...