BHS Varsity Football Team Defeated by Rivals Orange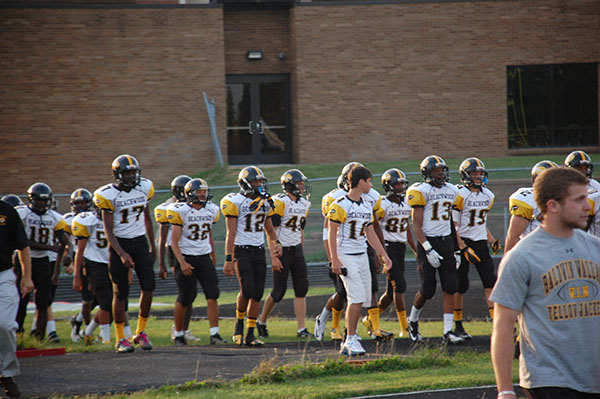 The BHS  Football team went in for their second performance of the season at Orange High School on Friday, Aug. 31. The team put up a good fight, but to no avail, as the final score was 41-33, setting the Bison's record at 1-1.
The team had some unusual substitutes, with Soccer Captain Brock Hersch kicking, and senior second-string quarterback Max Siegel playing quarterback in lieu of the injured Corey Jones.
Nevertheless, the Bison were able to score the first touchdown of the game. Siegel scored a touchdown, and running-backs Nate Hamilton and Jordan Lane scored two touchdowns each.
At halftime the score was 20-21 Orange, and at top of the 4th quarter it was 33-35 Orange.
"I haven't seen a score so close and I think I have been to every game," said senior Drill Team Captain Bridgette Jacober.
In the end, Jones explained the heartbreaking loss as the result of a small team. "We played hard and just ran out of gas at the end. It's hard not having a lot of players. Orange had lots of players which allowed them to get a break after each possession. We gave it our all but unfortunately we fell short at the end."
Beachwood fans showed up in white-out apparel to the rival game noticeably invigorated.
"The game was amazing," said senior Jared Williams. "The fans were great too, it was great to be apart of something that special."