Boys and Girls Track Teams Both Take CVC Titles
The Bison boys and girls track teams both won the Valley division of the CVC track tournament on May 9 and 11 and advanced to Regionals. 
The boys team won by a comfortable margin with 184 points; only Hawken came close with 164.
The girls team secured their title by one point, edging out Kirtland.
"I was proud because last year we were close but didn't win; this year we won by one point," junior Anna Zhao said."It feels really special because every single point counted." 
Bison boys won in the 4×800-meter relay with a time of  8:32.62; the 4×200-meter relay with a time of 1:33.19; the 4×400 meter relay with a time of 3:30.32; David Steckner in the 400-meter Dash with a time of 50.77; Michael Kesselman in the 300-meter hurdles with a time of 43.26; Vincent Crenshaw in the 800-meter run with a time of 3:30.32; Josh Rosenberg in the discus throw 137-8; Josh Rosenberg in the shot put at 47-6
The girls team won in the following events: Kylie Walters in the 100-meter hurdles with a time of 16.65; Sasha Kheyfets in the 1600-meter run with a time of 5:35.65; Dakota Houston in the long jump 17-1.50; Madison Torbert in the discus throw at 102-2; Madison Torbert in the shot put at 35-11
Junior Probir Mukherjee, a member of the 4×800 relay team that won the CVC, was proud of their accomplishment.
"We were expected to come in third," he said. "We all had to perform at our fastest times, and we really pulled that together." 
Assistant Coach Jamie Lader commented on the significant growth the team has made this season as a whole.
"I saw improvement everywhere," he said. "It's always amazing to watch how kids change throughout the year…I saw a lot of different skills develop throughout the year. Starts got better, times got better, as always. Just people getting in better shape, essentially."
Junior Joe Perry Perry advises other runners to listen to coaches and more experienced athletes.
"Some new people try to do their own thing," he said. "Listen to the coaches and the seniors and whatnot, because they've been doing this for a fat minute. They know what they're doing."
The team competed at Districts on May 18 and 20 and will be competing at Regionals  today and Saturday at Austintown-Fitch High School.
Leave a Comment
About the Contributor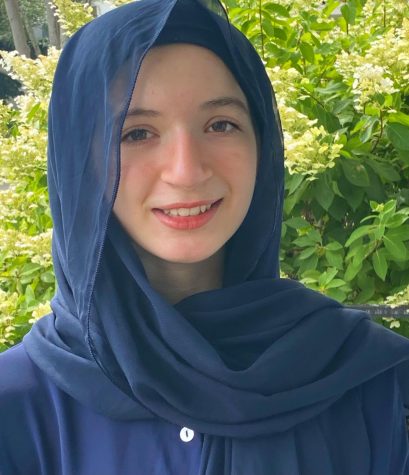 Anah Khan, Features Editor
Anah Khan (she/hers) started writing for the Beachcomber in 2021. She is interested in covering new organizations and programs in BHS and writing opinion...