Diving Solo
Junior Nina Mayers was Valley champion this season and defeated Mayfield at the dual meet on Jan. 27. 
She did this on her own, since she is the only Beachwood diver this year.
Mayers explained how she has become better at facing the unique psychological challenges of diving.
"I think a lot of it has been learning to keep my head on straight because in every diving meet, you have one shot to prove yourself on every dive," she said. "You don't get a do-over, you don't get any chance to earn back any points that you lost, so a lot of it is just keeping myself focused and keeping myself ready to dive by centering myself."
"I also find that a lot of dedication helps," she added. "I practice every day during the season. Diving is my life during the season and even during off-season. I think that practice makes you so much better but a lot of it is also your mindset." 
With the girls [swim] team being so small, it's been challenging  to find a sense of community.
Mayers originally competitively participated in dance; however, she recounted that the environment was not as positive. Though the Beachwood girls team is small, Mayers has been able to find camaraderie with her fellow competitors and appreciated the supportive and welcoming environment from this year's swimming team.
"It's been tough because I really looked forward to a sense of team going into high school and I didn't totally get that immediately," she said. "I definitely have a closer relationship with my competitors than I do the other swimmers just because of proximity."
"I do want to commend this year's swim team for being really supportive and being really welcoming," she said. "I really appreciated it, and that's the reason why I keep doing this because of the community."
The larger diving community is also supportive.
"We all cheer the loudest for each other at every meet…" she said. "It's not all about competition, it's about enjoying what you do."
Leave a Comment
About the Writer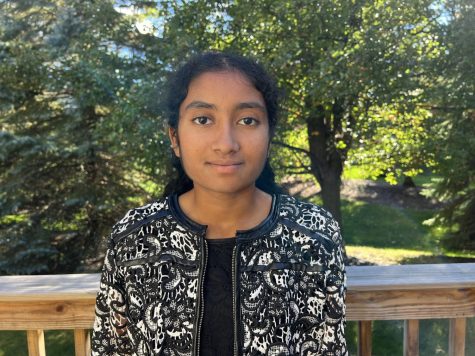 Shreya Chellu, News Editor
Shreya Chellu (she/her) started writing for the Beachcomber in 2021. She is interested in covering new political and social news in Beachwood and enjoys...