Boys Basketball Notches Win Over Hawken
The Bison basketball team defeated the Hawken Hawks 65-41 on Friday, Dec. 6.
"We are essentially a brand new team, and a new coaching staff," Coach David Krasnow said before the game. "We are learning from each other, and we are hoping to see more ball movement on offense and better shots."
Clearly, the team made some progress towards those goals.
Junior guard Daryl Houston was focused on moving the ball. 
"It is important that we move the ball and stay on our man," he said.
Houston reflected on the team's 0-2 start.
"We have to make better adjustments and play better basketball," he said.
The Bison are coming off two tough losses against GlenOak with a final score of 76-53, and Maple Heights with a score of 62-55. But they were determined to win this one.
Daryl Houston finished with 19 points, and put up 14 of those in the first half. 
The Bison went on an electric 13-1 run to close out the half, led by Houston and Junior Forward Dalanti Jackson. 
Jackson had 20 points in the game, dominating in the paint, by getting necessary rebounds and second-chance baskets.
At halftime, Jackson spoke about the team's 30-18 lead.
"We are playing [great] defense, getting a ton of rebounds, going out and getting steals, and finishing in transition," he said.
At halftime, it was clear that the Bison were pulling away with the game, but Beachwood was not going to back down just yet.
The Bison continued to dominate in the third quarter, as they went on a 20-5 run led by senior guard / forward Deon'te McCutchen, Jr., and junior guard Maurice Jones. 
McCutchen had 7 points in the game and Jones had 6. 
"
What we need to get from game to game is this consistency. If we do that, we can keep up with anybody.
— Coach David Krasnow
Late in the third quarter, Hawken freshman Guard Dom Johnson received a double technical foul for talking back to officials after a hard foul on Deon'te McCutchen.
At the end of the third, the score was 50-23, Beachwood.
The Bison closed out the game with a 65-41 victory over Hawken.
"Defense wins games." Deon'te McCutchen Jr. said. "D.J. [Dalanti Jackson] had 20 points, Daryl [Houston] had 19, the whole team was scoring. We worked hard in practice, and it was a good team effort."
The Hawken Hawks are now 0-2 on the season after losing 75-66 to Andrews Osborne Academy today.
The Bison move to 1-2 on the season, as they look to go on the road to face Chagrin Falls next Tuesday, Dec. 10.
"Chagrin Falls is tough," Krasnow said. "They are very well-coached." 
"We had a really tough practice yesterday, and we brought in a new defense today that was highly successful," he added. "What we need to get from game to game is this consistency. If we do that, we can keep up with anybody."
Leave a Comment
About the Contributor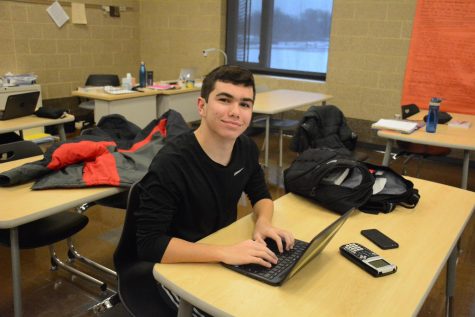 Joe Spero, Sports Editor
Joe Spero, Class of 2020, began writing for the Beachcomber in February of 2018. He covers sports and politics. In addition to writing for the Beachcomber,...