Juniors Lead Girls Tennis Team into Post-Season
The Lady Bison tennis team had a strong season.
Led by second-year head coach Kevin Vaughn, the team reached the third round of the state sectional tournament.
"We beat some teams that we weren't favored against," Vaughn said.
The team finished with a record of 9-6 in their second consecutive winning season.
Vaughn adds that while the team lacked senior leadership this year, junior captains Anna Owens, Laila Ramadan and Sabrina Machtay stepped up to inspire their teammates.
"The captains are good at recognizing when motivation is needed," Vaughn said.
"We all kind of get each other and we know how to pick each other up when we know someone's frustrated or we know someone's losing," Ramadan said.
"We know how to cheer for them and keep them on track."
Vaughn said his favorite wins from this season were the two against Orange.
Ramadan was also proud of beating Orange.
"That win was impressive for us", she said. "When I was a freshman, we didn't come close to beating them, so it was really good to finally beat them."
Vaughn's main goal each season is to coach his players to succeed.
He admires the way this team performs under pressure.
"
[Beating Orange] was impressive for us. When I was a freshman, we didn't come close to beating them, so it was really good to finally beat them.
— Junior Laila Ramadan
"They've responded to playing under pressure, which leads to big wins," Vaughn said. "It reminds them that the biggest challenge is to compete with their mind."
He says that the team's mental game overlaps into their performance.
The Lady Bison, who usually travel to matches with just seven players, show up ready to adjust to their competition.
This helps coach Vaughn get the most out of his players.
"I display focus as a coach and I'm concentrated on playing the way we practice," he said. "The big thing is witnessing enthusiasm and passion to win."
Ramadan described her own routine to get focused.
"I listen to music and imagine myself playing the match", she says. "I imagine myself beating my opponent."
This routine paid off when Ramadan made it to the final round of sectionals.
Ramadan says tennis is something she wants to pursue after high school.
"I totally want to try out for a college team," she said. "It's such a good experience and I wouldn't want to throw away so much hard work."
Vaughn would like to see more students and faculty from Beachwood show up to support the Lady Bison tennis matches.
With no graduating seniors, he's looking to build on this year's success with even better results next season.
Leave a Comment
About the Contributor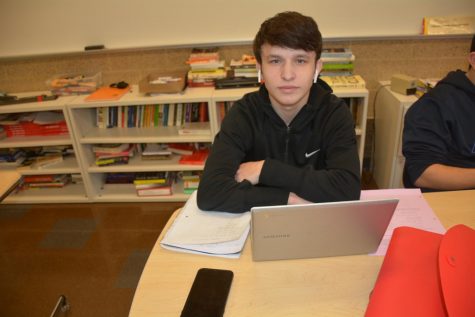 Sam Thomas, Staff Writer
Sam Thomas has been a writer for the Beachcomber since fall of 2017. He enjoys covering sports teams and players at BHS because sports is his main hobby...