Boys Soccer Celebrates Senior Night With 7-1 Win Over Fuchs
The Bison boys soccer team showed what they were capable of on senior night, Oct. 9,  finishing with a 7-1 win against Fuchs Mizrachi.
"We worked as a team and won," junior midfielder Matthew Young said. "We are always working on speeding up the game."
"This team could definitely go far if we put our minds to it," he added.
The Bison struck first as Senior Spencer Shroge scored a goal with 32:30 remaining in the first half.
30 seconds later, Senior Maor Keren scored a goal to put the Bison up 2-0.
"I looked at my teammate and I knew he was going to pass it, and we realized there was an opening," Keren said. "I made a run, he fed me the ball and I scored."
The Bison really made a statement throughout the first half with crisp passing and smart play.
In the second half, they played simple.
"Playing simple will create opportunities to catch the opponent off guard," freshman midfielder Ivan Thal said.
And the Bison did just that, putting on a 5-goal performance in the second half
As Sophomore Forward Liam Torres was shooting on goal with 38:20 remaining in the 2nd half, he was fouled by a Fuchs Mizrachi defender and got a penalty kick out of it.
He capitalized on that, bringing the score to 3-0.  Sophomore Achintya Kaw and Moar Keren both scored goals shortly after.
The Bison were pouring it on 5-0. But the shutout had to end at some point. Mizrachi scored a goal.
Junior Defender Isaac Kantarovich scored on a cross from Moar Keren with 8:30 remaining in the game and Spencer Shroge topped off the Bison victory with another goal.
"It felt great; we were tired at first, but we really picked it up and brought ourselves together," Matthew Young said.
The team builds their preparedness with practice drills.
"We work on game situations in practice to know what to do in a game. We also work on creating team chemistry within practice," Thal said.
According to the News Herald, the Bison lost 4-0 to Hawken on Thursday, Oct. 11. Junior Danny Ecker of Hawken scored all four goals, but Beachwood's Junior Goalie, Yoni Chajmovic, made 7 saves.
The Bison look forward to playing the Twinsburg Tigers on Saturday at noon.
They will play Elyria Catholic in the District Semifinals on Oct. 23.
Photos by Joe Spero

About the Writer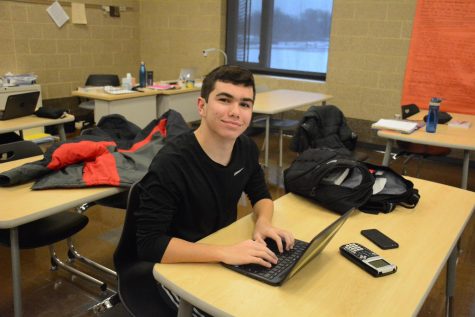 Joe Spero, Sports Editor
Joe Spero, Class of 2020, began writing for the Beachcomber in February of 2018. He covers sports and politics. In addition to writing for the Beachcomber,...