The Lost Years
A Look Back at 1990-2006, a Tumultuous Period in Bison Football History
In fall of 2016, the Beachcomber's then sports editor Max Alter spearheaded coverage of the "Flip the Switch" event celebrating the opening of the new football stadium. He also explored the history of Beachwood's football program in his feature story A Long Time Coming.
Alter, who graduated in May 2018, followed-up on that article with a significant amount of research into the history of Beachwood's football program, focusing on the years 1990-2016.
* * *
In early 1990, Joe Perella, who had coached the Bison for nine years and transformed the team into a powerhouse, announced that he would be leaving his position to pursue a job at University School. It was the end of an era.
But it was also the start of another one.
Dave DiCarlo, a former head coach at Cleveland Heights, was welcomed into the system and began to prep the team. The players participated in offseason workouts and began to adapt to DiCarlo's system.
Three weeks before two-a-day practices started, DiCarlo resigned.
Now there was a problem.
"
In the years 1990-2006, Bison football saw tumultuous transitions with seven head coaches and more losing seasons than winning ones. But it also saw some impressive seasons in which Bison football defied expectations."
Eventually, 31-year-old Dave Sedmak was welcomed into the program as the next head coach for the 1990 season. This was Sedmak's first head coaching job, although he had been serving as an assistant coach on the Shaker squad for seven years.
Although Sedmak just had one offseason to prepare the team, he picked up right where Perella had left off.
"The transition to being a head coach wasn't too difficult as I had been a head wrestling and baseball coach previously," Sedmak wrote in an email. "The bigger challenge was to follow Joe Perella. He was the one who built the Beachwood program to prominence. He was such a great coach and so well loved, and many were upset he left, and I had to deal with the brunt of that disappointment."
Sedmak's transition was immediately successful. In the first two years under Sedmak, the 1990 and 1991 Bison went 8-2, attributable to their high-octane passing game from senior quarterback Tony Britt, the only two-time First Team All-Ohio quarterback in Beachwood history, and the wide receiver corps, led by standouts Mark Britt, Dawann Gray (a Second Team in '90 and First Team in '91 All-Ohioan) and Regis White. Sedmak clearly capitalized on the hype and talent that Perella left behind.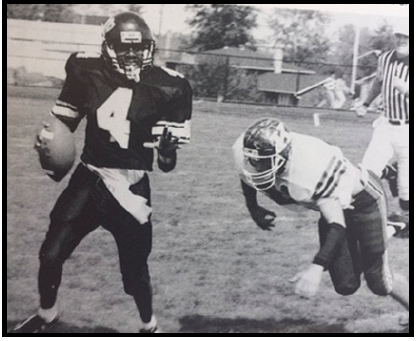 In his third year, Sedmak deployed upcoming junior Damion Creel, a former wideout, as Britt's replacement with hopes that he could fill the void Britt had left. And, thankfully, he did.
Creel, who went on to become the team's head coach in 2015, had a strong year under Sedmak's leadership.
Although it was a decline from 8-2, Creel's first year as a starter was a winning 6-4 season with help from a studded senior class.
"Adam Poklar stood out in my mind, as did kicker Scott Kulberg, who was clutch, and linebacker David Norr," Sedmak wrote.
Poklar (an offensive lineman) and Kulberg both earned Second Team All-Ohio honors.  Dawann Gray also obtained First Team All-Ohio.
With Creel's senior year coming up and Sedmak's fourth year as head coach, it was bound to be a great year for Beachwood football. However, Sedmak announced that he was leaving Beachwood for the head coaching job at Shaker Heights, where he would remain for 12 years and eventually coach current Beachwood offensive line coach and NFL offensive lineman Adrian Clarke.
This left a new gap in the Bison football program, and marked the end of a quite successful 22-8 Dave Sedmak era.
Sedmak currently acts as the head coach of the Desert Mountain High School football program in Scottsdale, Arizona.  The team finished 4-6 in 2016 and 6-5 in 2017.
—————————————————————————————————————-
By the start of the 1992 season, Senior quarterback Damion Creel had come into his shoes, and the wide receiver corps was truly adapted to their starting quarterback.
Yet the team was still missing its most crucial leader: a head coach.
This role was eventually filled by Steve Baraona. A remnant of the Sedmak era himself, Baraona continued to implement the same passing offense that the team had been exposed to. There was no transition phase: it was essentially the same approach that had been previously successful at Beachwood.
And the strategy worked once again. The Bison went 7-3 in 1992 and were led by a First Team All-Ohioan quarterback in Creel, who amassed more than 2,000 passing yards and 19 touchdowns, as well as fellow First-Team All-Ohioan wideout Regis White, who caught more than 50 passes.
But at the high school level, teams are in constant flux. Creel and White graduated, along with fellow wide receiver Cliff Carpenter.
Baraona, just one season in, found himself in rebuilding mode. He returned upcoming junior running back Marc Petty, utilizing him in the backfield as well with Aaron Jeter, and filled the quarterback void with junior Josh Mandel, currently the Ohio Treasurer and former Republican Senate candidate. Senior offensive lineman Scott Fischer was the new apparent team leader.
The 7-3 1992 team transformed into a 3-7 1993 squad. Petty and Jeter both suffered season-ending injuries in non-conference play, handing the starting position to sophomore Geoff Turbow, who also became a leading receiver on the team. The team was built of mostly juniors, and since the squad was mostly returning, the losing year seemed to be an adjustment season. Due to the record, excitement around the school decreased.

The excitement was to come back quickly.
Jeter, Turbow and Petty all returned to the Bison backfield and accounted for over 1,500 yards total, and an experienced Mandel along with a proficient offensive line led the team to an 8-2 record as well as a MAC-8 conference championship share. Petty obtained Second Team All-Ohio Honors along with senior tight end Jason Streem. Bison football was back, although 13 starters were lost to graduation.
For the 1996 season, Turbow returned in the backfield and led the team alongside senior right guard Brian Gearity. Sophomore Robby Boroff was promoted to the starting quarterback job as Mandel had graduated, and there was some speed at the receiver positions. On top of that, Baraona was back for his fourth year in Beachwood, and things were still looking promising.
Never has the hype been so wrong. The Bison finished with an 0-10 record. Turbow was able to efficiently run the ball when not injured, but the offense was unable to score: their highest-scoring game just barely breached 30 points. On top of that, Turbow graduated. The backfield was bare and confidence was at an all-time low. It was rebuilding time for Baraona.
"
Perella remains the winningest coach in Beachwood football history, but thirteen of the seventeen football athletes commemorated in the Beachwood Hall of Fame are representatives of the years 1990-2006."
The 1997 season featured a new Bison team. Seniors Brian Goldstein and Andy Himmel, who got some long-distance down play the previous year backing up Turbow, got the starting spots at fullback and running back, respectively. Boroff returned as the gunslinger, and the offensive line was led by mostly juniors.
The team improved upon its previous record, but still only captured a single win, 37-6 against Lutheran East. Baraona's fourth and fifth seasons resulted in a 1-19 record, and that's likely why this marked the end of Baroana's football coaching career. The head coaching position was vacant after this season.
Baraona continued coaching the Bison baseball team and was eventually elected to the Northeast Ohio Baseball Coaches Hall of Fame.
He now owns Steve's Sports, a sporting apparel store in Bedford Heights.
—————————————————————————————————————————-
The 1997 vacancy brought some positive interest back to the football program. Almost 50 applications were received and 10 were picked as finalists and interviewed. After months of searching, the Bison had finally found their coach.
26-year old first-time head coach Rick Lytle was picked to be the new face of the next era. A former assistant at Lake Catholic, the administration qualified him as "the best overall candidate." Lytle had a successful background, which was something that the program (at the time) desperately needed. Lytle brought in the first true staffing change for quite a while with an entirely new staff, including defensive coordinator John Perse, who himself had applied for the head coaching job.
"They still wanted me on the staff. And those two years, we weren't too successful," said Perse, still a history teacher at Beachwood and currently coaching at Orange.
Generally speaking, Perse was correct. While the team's next two seasons did show improvement from the previous two, the Bison still could not obtain a winning record. The team went 4-6 in Boroff's last season gunslinging and repeated the losing effort in the '98 season.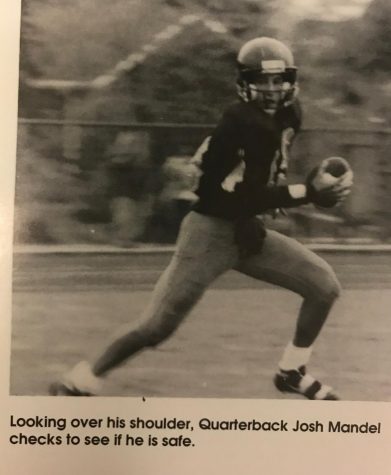 Scott Baum took over the reigns at quarterback for '99, and a promising offensive line led by seniors Danny Herzog, Victor Martin and Adam Maggied led to some hope for the upcoming season. This hope diminished quickly as the team got off to a slow start, and, eventually, the '99 Bison finished 4-6 once again.
Yet Lytle looked poised to bring the team back to glory. He'd taken a team that had won one game in two seasons and enabled them to win a whole lot more than that, and as a young, first-time head coach, there looked like there was a whole lot more of Rick Lytle coming.
There was not. Lytle left the program after two losing seasons and went to become the head coach at Euclid for 14 seasons.
The shortest era in the coaching cycle came to a quick and abrupt end, leaving yet another vacancy in Beachwood football.
Lytle now acts as the quarterbacks coach at Lake Catholic High School. They went 5-5 in 2016 and 5-6-2 in 2017.
——————————————————————————————————————————————–
The 2000s brought in a whole new millennium. The Browns were back in Cleveland, the Buckeyes were a top-ten football team, and the Beachwood Bison were looking for a head coach once again.
At the time, Perella was serving as athletic director of the high school. With an AD so heavily invested in the success of Beachwood football, there was undoubtedly heavy anticipation for a long-lasting, successful coach.
Perella quickly brought in Don Green, a veteran coach who came to Beachwood from the Dayton area. Green kept Perse on staff as a defensive coordinator and added Jeremy Tuss, Joe Pierce, Bob Hogue, and Ed Trebets to round out the staff. Green inherited a roster led by quarterback Kevin Ellis, who was in his first year quarterbacking for the Bison, and a promising group of talented underclassmen.
The team's 2000 season was, once again, a dismal one. Despite the evident talent on the roster, Green's staff and philosophy transitioned in somewhat slowly, leading to a 1-9 season, with the lone win coming against Gilmour Academy in Week 8. Yet, per usual, things were looking promising for the Bison football team once again.
The difference? This time, things actually turned bright.
2001 rolled around, and senior Max Kravitz took over behind center along with fellow senior Adam Eberhardt carrying the ball. Although the roster had seven sophomore starters, the team had adjusted to Green's leadership, and the team accumulated a 7-3 record: tied for the best record obtained by any Beachwood football team in the last two decades.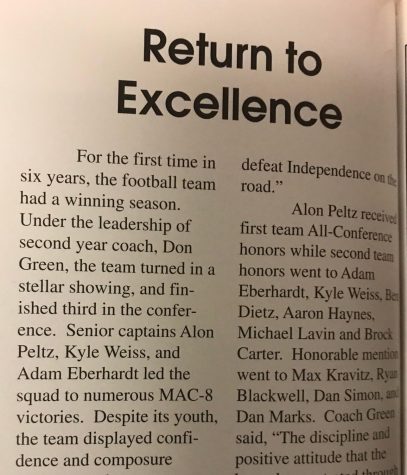 Heading into '02, the team's promise was as great as ever, with double-digit starters returning, including four offensive linemen. David Baker and Scott Fisher from the middle school staff were promoted to the varsity coaching staff. The unit started off with a shaky 2-2 record but went on to lose five of their last six, returning to 3-7.
Unlike some predecessors, however, Green was determined to help the squad thrive. Green was back in '03, now with senior quarterback Stuart Ostro and a run-heavy scheme, the team was pushing to contend in the MAC-8. This dream was unfulfilled, however,  as the team managed another 3-7 season.
After the '03 season, Perse left Beachwood's coaching staff to become the defensive tackles and long snappers coach at John Carroll University, a position he would hold for nine years. This created a defensive schematic void, and, with so much of the skill on the team lost to graduation, the team repeated their '03 effort the next year.
'04 proved to be Green's last year as head coach, as he resigned directly after the season. Green's five-year tenure gave Beachwood football slivers of hope from time to time, but, ultimately, the team still struggled to secure the long-lasting success that was desired.
Green continued to teach math at BHS until he retired from teaching in 2011.
He now works at Canine Affair Center in Chesterland, OH.
—————————————————————————————————————————-
After Green's departure, Athletic Director Perella quickly found a replacement in PJ Insana.
Insana came from Richmond Heights, his first head coaching gig, where he'd helped lead the team to a 7-3 season and playoff birth.
Insana's first year at Beachwood came with major change. In 2005, the MAC-8 became defunct, forcing the Bison to find a new conference home. This home was eventually found in the Chagrin Valley Conference's Chagrin Division.
The new athletic conference led to heavy modifications to the team's schedule– no longer were the Bison facing teams such as Columbia, Brookyln, or Gilmour Academy on a yearly basis. Rather, these teams were replaced with powerhouses: Aurora, Kenston and Chagrin Falls.
This new conference also led to the longstanding rivalry between Beachwood and Orange. For the first time, every Beachwood athletic schedule would be graced with at least one matchup against "That Team Over There." This, in itself, introduced another challenge that the new Bison coaching staff would have to face.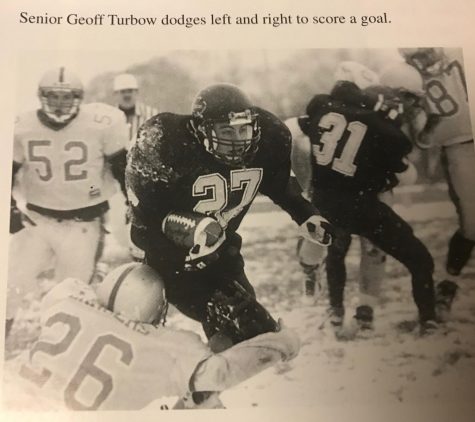 It looked like Insana was up to all the challenges, though. By implementing a spread offense with an aggressive, blitzing-based defense, the team was able to establish a presence in their inaugural season in the CVC.
"We were 6-4, just missing the playoffs.  We competed in the hardest division of the CVC at that time and had many wonderful players with hard work ethic, tremendous skill sets, and a desire to turn the program around," Insana wrote in an email.
During that 6-4 season, the team won its inaugural game against Orange, demolishing them by a score of 46-6. Once again, the team had momentum.
Insana, however, had his own future in mind. He left Beachwood after just one season to focus on his business ventures, and, you guessed it, Beachwood was once again left without a coach.
Years later, Insana looks back positively on his year at Beachwood.
"The Beachwood Family of students, teachers, administrators, parents, and players are very special people.  They welcomed me with open arms and treated me like one of their own. I believe it is a community with great pride, and I believe that the football program is on the verge of doing some exciting things. "
Nowadays, Insana is an owner at Britton Gallagher and resides in Florida with his wife and two daughters.
—————————————————————————————————————————-
After the short, successful era of PJ Insana, the Bison were looking to maintain the momentum they had gained.
What better way to do that than by promoting an assistant coach?
In the 2006 season, Athletic Director Joe Perella turned to Justin Fults for the head coaching spot. Fults, who had coached on Insana's staff at Beachwood as well as Richmond Heights, provided a known face for the players, eliminating any friction that usually comes with a new coaching staff.
Schematically, Fults kept what the players had been exposed to under Insana.
"A pro-style offense with two running backs, quick passing game, [and a] zone running game," Fults explained via email.
However, Fults experienced the rigor and difficulty of being a first year head coach. The team experienced offensive perils along with the roughness of a transition period, barring the team from winning any games. The 2005 6-4 team turned into a 2006 0-10 team, never putting up more than eighteen points in a game.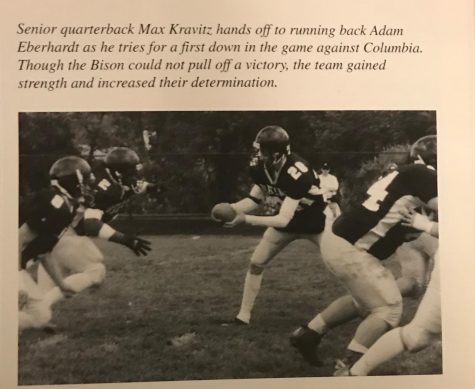 At the end of the season, Fults was offered a school counseling position at Maumee High School, located right outside of Toledo and near Fults' childhood home. For obvious reasons, this provided Fults with a great opportunity, which he took advantage of.
Fults left the head coaching position after just one season, but still emotionally remained part of the program.
"I cared for all of those boys deeply and even drove in to see their opening game against Kirtland the following year (3.5 hours from my home).  In the short time I was there, I put everything I had into it and many others did too. I would do anything for any of my players to help them out, even today.  All they need to do is look me up and get in touch."
In 2017, Fults still remains a counselor at Maumee. He has coached on Maumee's varsity staff for eight of the past eleven seasons.
————————————————————————————————————————-
The end of the 2006 season transitioned Ryan Williams into the head coaching spot, which he held for six seasons. Williams was able to turn the program around and achieve an overall record of 26-24.
Mike Gibbons took over after, and brought the Bison to the OHSAA playoffs in back-to-back years, eventually leaving to serve as the head coach at Medina Highland High School. Afterwards, Damion Creel returned to Beachwood.
But you knew that.
In the years 1990-2006, Bison football saw tumultuous transitions with seven head coaches and more losing seasons than winning ones. But it also saw some impressive seasons in which Bison football defied expectations.
Perella remains the winningest coach in Beachwood football history, but thirteen of the seventeen football athletes commemorated in the Beachwood Hall of Fame are representatives of the years 1990-2006. These seven coaches jointly led NFL players, politicians, business owners, engineers, and regardless of record, have success stories.
John Perse pointed out that, in a district the size of Beachwood, athletic teams are often like rollercoasters. Talent comes and goes, and, with it, teams' records skyrocket and plummet. This concept is independent of coaching, leadership ability and dedication. Athletic teams peak while other teams are at rock bottom. This remains true today.

About the Writer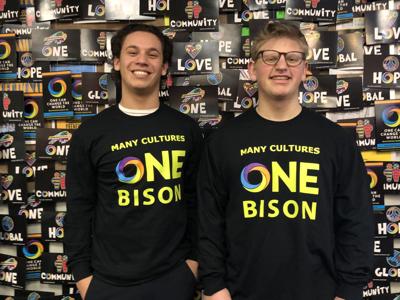 Max Alter, Online Editor-In-Chief
Max Alter (right) has been writing for The Beachcomber since the spring of his sophomore year in 2016. Max currently acts as the Online Editor-in-Chief...