Golf Team Drives for Post-Season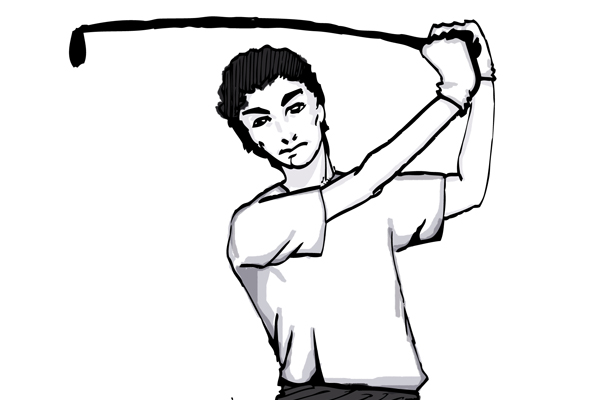 Advertisement
Hang on for a minute...we're trying to find some more stories you might like.
At the beginning of August, Beachwood's Golf team took to the fairways.
Coach Will Cumpstone described the team as thinner than usual, due to the loss of team captains Kyle Scharf and Cameron Hanesworth, who graduated in the spring.
"Spencer Hendlin, Andrew Belleli and Pat McCourt have begun to mature into the Varsity setting," Cumpstone said.
Cumpstone explains that juniors Drew Schnee and Nate Burke are the go-to guys on the team.
"Drew has plenty of varsity experience and played a ton of very competitive tournaments this summer," he said. "Nate Burke is a close second."
Cumpstone feels that the team has shown growth through the season so far.
"We have most definitely improved, dropping our team scores by 20 strokes," he said.
Senior Spencer Hendlin says the team as a whole has contributed to this improvement.
"
Once playoffs come around, my mindset is to play well or go home."
— Junior Drew Schnee
Hendlin explained that a golf match is won when both teams add up their top four lowest scores out of six, and whichever team has the lowest combined score wins.
"We have Nate [Burke] and Drew, who are pretty strong golfers, and I'm decent," Hendlin said.
"I didn't think we would have a fourth scorer that could help win matches," Hendlin said. "But this year with Patrick [McCourt] and Andrew [Belleli] playing the four and five spots, we've been able to hold our own."
Hendlin also attributes the team's success to team chemistry.
"We've been good friends for a while and have played together ever since I began playing the game," Hendlin said. "It makes it infinitely more fun to be out there competing with those guys."
Star golfer junior Drew Schnee relates team success to relationships outside of golf.
"This year's group of golfers is special because we're all friends from outside of golf."
Schnee expects to make it to states and earn the Chagrin Valley Conference Golfing Most Valuable Golfer.
"Once playoffs come around, my mindset is to play well or go home," Schnee explained. " I know I'm capable of making it to districts and then to states."
Cumpstone has the same thoughts.
"We have a very good chance of sending our top two golfers to State semis and finals," Cumpstone said.
"Hopefully we can continue to improve this season and send someone to districts or even states," Hendlin said.
This being his last year golfing, Hendlin shared his feelings on the bitter-sweet end of an era.
"I'm sad, but happy I get to give it all this year with my boys," he said.
With only a few weeks of the regular season left, it seems as if the BHS golf team, led by Schnee, remains confident in making a run for a district and state title.