On the Other Side of the Net
Junior Erica Gross hopes to make it deep into the post-season with her doubles partner, Kevin Zhang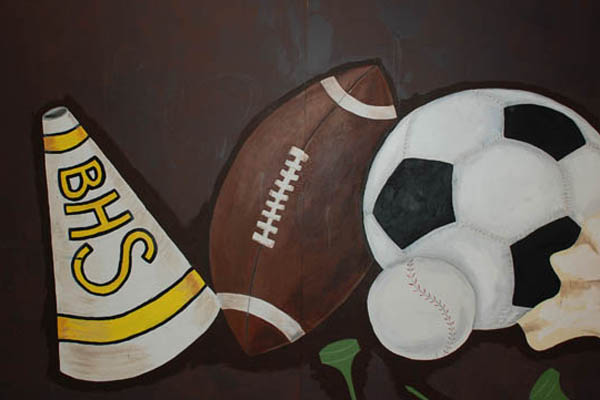 Advertisement
Hang on for a minute...we're trying to find some more stories you might like.
Turning heads at matches, junior Erica Gross dominates the boys competition. She doesn't let the male competition get in her way. She took an opportunity to challenge herself and play on the boys tennis team this spring.
"The main differences that I see is that boys tennis is more competitive, more aggressive, and the boys hit the ball a lot harder than the girls," Gross said.
Erica started the season playing doubles with sophomore Omar Altawam, but switched partners mid-season to play doubles with junior Kevin Zhang.
The duo has been dominant on the court this year. Erica has amassed a 7-3 record in her  doubles matches and the team has a 7-4 record at publication.
"Erica has been a great addition to our team," senior Kyle Scharf said.  "She's hard working, talented, and a great player," he added.
Gross made it to districts last year on the girls team, and she is looking to get just as far this year in boys tennis.  She knows it won't be easy, but she is willing to do whatever it takes.
She believes that her skills and abilities, as well as everything she has learned this year, will help her get back to districts.
"
I wanted to test my abilities and challenge myself and the team."
— Junior Erica Gross
"I can't wait for sectionals and districts, where I know she will do an awesome job and be the great player she has been this season so far," Scharf said.
Erica beat the competition in girls tennis last year and thought it was a good idea to challenge herself to try to dominate new and tougher competition in boys tennis.
"I decided to play boys tennis for a few reasons," she said. "My coach, David Cole, wanted me to, and I wanted to test my abilities and challenge myself and the team."
Furthermore, Erica went to Israel this past summer and she would have missed a part of the girls season. As a captain, she didn't think it was fair to the team to miss some of the season, so she decided to play boys tennis.
Erica is looking to win as many matches as possible, while also learning more about herself and her toughness in tennis and not giving up on any challenges.
This season for Erica is not about focusing on the gender difference. Rather, she is focused on helping her team, learning about herself as a player, and beating the competition no matter who they are.