Cross Country Team Hopes to Outrun Last Year's Results
The school year began for most students on Aug. 17 with the first day of school. For the cross country team, the work started on Aug. 1 with the beginning of summer practices.
"Summer practice started bright and early at 8:30am on Aug. 1st," Senior Alexander Remer said. "We would do anything from endurance training to speed training, and most workouts required a fair amount of effort."
The cross country team comes off a promising season last year, and there's no sign of slowing down. Last November junior Leah Roter and senior Jack Spero qualified for the OHSAA Division II Regional Tournament. Roter eventually went on to qualify for the State tournament and placed 7th. 
With all the work the team has put in this summer, it seems likely that they will build on this success.
This year, team members hope to qualify both the girls and boys teams to the regional tournament that Roter and Spero individually qualified for last year. A number of veteran runners will help them achieve this goal.
"Right now, [we are] fortunate to have great senior leadership," Spero said. "Remer, Heli Colmenares, and Mukul Govande are all experienced runners and are all great assets to the team."
These leaders help boost the team's sense of camaraderie and pride–something that is frequently lacking in individual sports such as cross country.
"After warming up before every meet, we snap and clap to a little jingle that has been passed down through the years," Spero said. "We are usually the only team that does something like that. And after the girls run, they cheer on the boys, and if the boys run first, then they cheer on the girls."
"We all have a great time training together, and we all support each other during practice and during the meets," Roter said.
Both teams showed a promising start at the first race on Saturday, Aug. 20 at National Trail Raceway–the same track that hosts the OHSAA State Cross Country Championships–and the runners were more than content with their performance.
"Everyone ran times that they'd be achieving early to mid-season last year," Remer said.
Spero was even more optimistic about the team.
"This year's Cross Country team is the strongest I have seen it in my high school years as a student-athlete," he said. "I am really excited to see what our team can accomplish on and off the field."
Fighting a hot summer, construction on the new Beachwood stadium, and long practices, the cross country team has continued to train at an elite level. Team members hope that this work will pay off at the more crucial meets this year.
"
This year's Cross Country team is the strongest I have seen it in my high school years as a student-athlete. I am really excited to see what our team can accomplish on and off the field.""
— Senior Jack Spero
"I am looking forward to competing at some of the bigger and more competitive meets," Roter said. "Although I tend to get really nervous for meets like those, I always give it my all during the race."
Ultimately, the three-month season will determine whether or not the hard work put in by the team this summer will pay off, and, if the past results of these runners indicates anything, this season looks hopeful.
"Last year was a good year, but the competition is tough," head coach Jamie Lader said. "As a result, We have intensified our training for this year to be even more competitive this upcoming year."
The Bison run at Willoughby South on Saturday, Aug. 27, at 8:30 AM. Check in with The Beachcomber's sports Twitter account for updates on the season.

About the Writer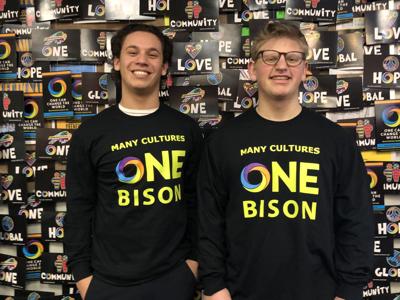 Max Alter, Online Editor-In-Chief
Max Alter (right) has been writing for The Beachcomber since the spring of his sophomore year in 2016. Max currently acts as the Online Editor-in-Chief...