Young Cross-Country Team Promises Strong Seasons to Come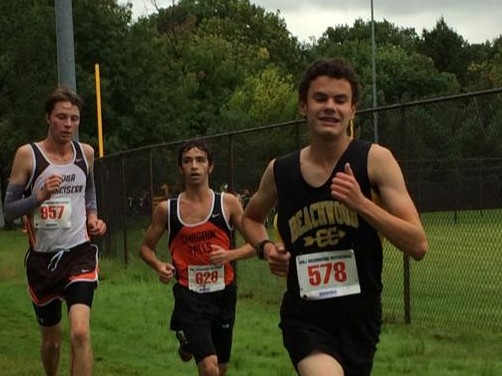 The cross country season came to a close with the district meet on Saturday, Oct. 18.
Although no runners are advancing further, the team has shown great potential this season as well as a remarkable sense of unity.
From the coaching perspective, the team has run an outstanding season. Although it is composed of mostly underclassmen, the team gave a strong performance this year against stiff competition.
"Our competition is so terribly tough," Coach Jamie Lader said. "The fastest time [for the five kilometer run] has been in the high fifteen-minute range. Chagrin has a couple of guys, along with Notre Dame Cathedral Latin, who are capable of going 17:30 and below."
Running a high fifteen minute race, or even running below 17:30, is a noticeable feat. To achieve that kind of time, a runner must maintain between a 5:15 to a 5:45 pace for the entirety of the race.
Lader believes that in the future, some of his younger runners may be able to compete at that level as well.
Sophomore Jack Spero, for instance, came in seventeenth in the district this season, .35 of a second away from qualifying for the regional tournament.
The future for the team looks positive. Many of the invitationals have also demonstrated the team's potential, as the Bison were able to place in several meets.
"This is one of our better teams…all the kids really are leaders," Lader said. "Captains Adam Moses, Cathy Perloff and Max Halpert keep the tension really low and help motivate everybody."
The leadership each runner has can be seen during practices.
"We don't normally assign someone who is the forefront leader," Spero said. "We run as a pack and people just assume that role as leading the pack. we also push each other during practices."
This kind of attitude is reflected in the runners as well as the coaches.
With practices that can differ from a five or six mile run to mile repeats on the track, a strong sense of comradery is necessary to keep the team together.
"As the season goes on, you get to know your team more, and you start to run with your team and you really start to run as a unit," senior Ian Mitchell said.
"I think one of the greatest things about cross country was running together and socializing," Spero said.