Beachwood Wins Big at Bison Invitational Volleyball Tournament
The Bison volleyball team brought home a first place trophy from the Bison Invitational Tournament on Saturday, Sept. 27, coming out ahead of seven other teams.
"The girls really wanted that trophy, and I'm glad they were able to finally bring one to the volleyball program," Varsity Coach Sarah Schoenhagen said.
Beachwood's varsity team brought home the first place trophy while junior varsity took the second for each of their divisions respectively. The coaches agreed that the girls played very well in their games.
"They have all worked very hard in the off-season to be able to bring their skills together," Schoenhagen said. "They are also playing together as a team, and they are more confidence as a whole."
"It felt amazing," senior Shaneice James added. "Since I've been playing for four years, this is our first time winning a trophy."
"It felt amazing," senior Tamarea Townes said. "I felt accomplished because we've been under-estimated in the past and it felt good to finally show people what we could do."
The varsity team defeated John Marshall with scores of 25-13, 25-10, Western Reserve Academy with sets of 25-21, 24-26, 25-20, and 25-16, 25-19 in the championship match against Shaker.
"It was a little different only having seven girls there and not our usual nine, but you can tell we really wanted the championship trophy," JV Coach Kiara Watkins said.
Currently, varsity's record is 14-4 and JV is 11-6, improving drastically from last year's records.
"Our attitudes have improved," James said. "This year, we have a coach who has inspired us to go above and beyond, who told us that if we have the confidence, we can beat any team, and that's what we did."
"I'm think that we have gone far during the past season and I'm hoping that we go out with a bang," Watkins said.
The team approaches their final matches as the regular season ends. They face Independence on Oct. 9, at home, and will move on to the playoffs depending on the outcome of the game.
Leave a Comment
About the Contributor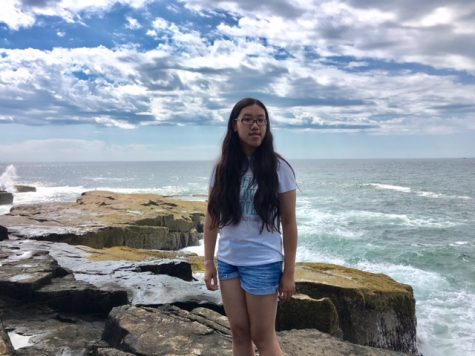 Jinle Zhu, News & Layout Editor
Jinle Zhu has been writing for The Beachcomber since her freshman year (2014). She has been the features editor and layout editor. She likes Photoshop...