Basketball Team Loses District Final in Double Overtime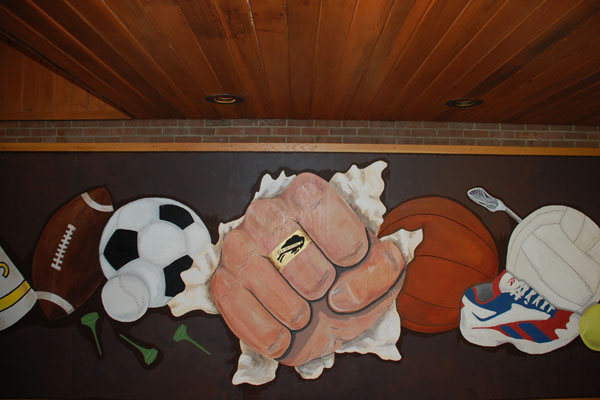 Advertisement
Hang on for a minute...we're trying to find some more stories you might like.
On Saturday night in Painesville, the season came to a heart-breaking, bitter end as the Beachwood boys basketball team lost in dramatic fashion to St. Peter Chanel, 69-67 in double overtime.
Tears were clearly visible in the eyes of some of the Bison players as the last second shot from Chanel's Damon Jones rolled into the basket and the Firebird fans stormed the court. In a game where the officiating was criticized by many Bison fans, the Firebirds, ranked number 1 in division three, were able to sneak out a district championship win from the Bison, who gave them much more than they bargained for. For a team whose closest margin of victory in the playoffs was 40 points, they needed double overtime  to escape by the skin of their teeth.
The Beachwood basketball team, which had never made it to the District finals in school history, left everything they had out on the court. Playing a high-tempo, up and down game plus two overtime periods, the Bison were thoroughly exhausted by the end of the game, with some of the players just falling to the court after the game had been decided. Down five with 32 seconds left in regulation, the Bison battled back to tie the game with .1 left and send it to overtime. After a low scoring first overtime period, the Firebird's three-point attempt fell short at the buzzer to end the first extra period, before Jones' last second shot in double overtime won the game for Chanel.
Ellis Cohen scored 15 points before fouling out on a play that he wasn't even involved in, and John Davis scored a tournament high 29 points for the Bison. Jared Moss added eight points for Beachwood, including a four-point-play and the free throw that sent the game into overtime. Moss contributed on defense by drawing numerous charges and helping to solidify the middle. The Bison implemented a box and 1 defense, which had success slowing the Firebird's attack, until foul trouble forced Beachwood to tone down the pressure late in the game.
This was the final game played for the four seniors, Ellis Cohen, Jared Moss, Alex Hohl and Anthony Valentine, whose leadership will surely be missed.