Bison Football Shuts Down Independence Blue Devils 19-0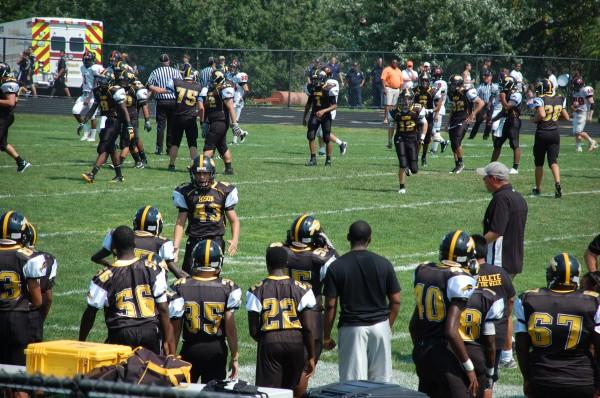 The Bison football team is used to the mud, but on Friday night in Independence the rain was new. This didn't seem to affect the Bison as they rumbled to a 19-0 victory over the host Blue Devils in the CVC game.
In a game dominated by penalties and turnovers, Bison offense was able to do just enough to get the win.  Quarterback Alex Hohl only attempted one pass (not counting the failed two-point conversion attempt) but he made it count. The Bison rushed up to the line and quickly snapped the ball, and in the confusion Independence left tight-end David Shapiro wide open as he made the catch and went 48 yards untouched into the end zone.
Running back Ari Sobel was able to move the ball all day long as he finished with 198 yards rushing and two touchdowns. He rushed 11 yards on a pitch to the end zone and dove into the corner of the end zone on an 18-yard counter play to seal the victory for the Bison.
With the victory the Bison improve to 4-1(2-0) while the Blue Devils fall to 2-3(0-1). Next week the Bison will travel to Newbury to take on the Black Knights.
Leave a Comment