Voters Approve Levy for Elementary School Construction
Beachwood residents voted May 2 to approve a 3.92 mil bond levy required to fund the construction of the new Hilltop and Bryden elementary schools and to renovate the Fairmount Early Childhood Center. 
The final vote was 1,308 to 785; 62.5% voted for the levy, while 37.5% voted against.
"A bond levy is an agreement to borrow an amount of money," Superintendent Dr. Bob Hardis said. "That agreement includes an amount of time by which it will be paid off and at a certain interest rate."
The passage of the bond levy allows the district to borrow $65 million over a 37-year period. Each year, the bond issue is estimated to cost $138.25 for each $100,000 of a property's value. According to Hardis, the district will most likely sell municipal bonds (secure investments) in July and the money gained from these sales will be used for the construction project. 
For the next three years, Beachwood residents should not see an increase in property taxes as long as the City Council approves the tax partnership each year, which would keep property taxes stable and which, to Hardis, would be beneficial to both the taxpayers and the school district. 
"After that, there will be a modest increase in taxes; however, it will be offset by the reduction in the district's debt as the 2010 BHS renovation [will be]  paid off by 2031," wrote School Board President Meghan Walsh in an email.
The district previously failed to raise money for elementary construction in 2018 when a bond levy and operating levy were placed on the same ballot. At that time, the plan was to consolidate all three elementary schools (Fairmount, Bryden, and Hilltop) into one school. 
"I think it was a confluence of a number of factors," wrote Walsh. "I heard from some residents that they didn't like that the bond and operating levies were combined into one issue…[others] didn't like the plan to consolidate the buildings into one elementary school on the Fairmount property."
Walsh added that there was organized and active opposition against the levies as well as a political action committee (PAC) from out-of-state that paid for social media ads. These factors likely led to the failure of the levy at the time.
However, this time, Beachwood was the only school district in Cuyahoga County to see success with the passage of a bond levy on the May ballot, unlike other districts such as Parma and Garfield Heights.
Pam Crossman, president of the Beachwood Federation of Teachers, said the levy passed because it reflected what the community wanted.
"The board and the administration did a great job of researching [where public opinion was] this time around…and that's why this one was successful," she said.
Crossman added that the community recognized the need for updated elementary buildings.
"I think Beachwood values its education," she said. "They want their children to have the best opportunities to succeed, and this is just one example; they realize these buildings are outdated and that the kids deserve better."
Crossman also credits the efforts of the levy campaign committee, an initiative independent from the district, which was led by community members who raised funds and spread the word. 
According to Walsh, the committee was formed by previous Beachwood board members including David Ostro and Dr. Brain Weiss and current board members Wendy Leatherberry and herself. 
Committee members canvassed neighborhoods, handed out yard signs, hosted informational sessions, sent mailers, and, with the help of BFT members, distributed literature to voters' homes. 
Crossman emphasized that these activities took place outside of the school day and on people's private time. 
"There are very strict guidelines about what the district is allowed to do in terms of the levy," she said. "We can't use district resources for what some might argue is a political issue."
Despite their efforts, there was considerable opposition. According to Walsh, a group called Low Tax Citizens sent out a mailer opposing the bond issue.
"Obviously this is an expensive endeavor—$65 million is nothing to turn your nose up at,"  Crossman said. "A lot of  their argument was [about whether] our economy was stable enough to ask that much from its citizens for these new buildings."
Now that the bond passed, the next step is the design process in which the number of rooms, parking, and playground designs will be addressed. Additionally, the administration will have to decide what to do with Bryden and Hilltop students during construction, since the new buildings are being built on the same site. 
"So for sure, our Bryden students will stay in place at Bryden because we have a site at Bryden that is large enough to build upon without having to impact the current building," Hardis said. 
"
I think Beachwood values its education. They want their children to have the best opportunities to succeed, and this is just one example; they realize these buildings are outdated and that the kids deserve better."
— BFT President Pam Crossman
However, the Hilltop site presents a challenge. 
"What we have to decide is whether Hilltop as a building can stay in operation while the new Hilltop is built on the same site, and this may be why we have a five-year project instead of a three-year project," Hardis said. "It [may] be that we'll have to build the buildings sequentially… so, once the new Bryden is built and students move into it, then Hilltop students could occupy Bryden for the period of time while the new Hilltop is built."
The time estimated for this step is one year, and the administration hopes to continue involving the community throughout the process. 
"We will seek input from various stakeholders, including teachers, staff, parents, students and community members," Walsh said. 
According to Walsh, construction is set to begin in 2024, once the design process is complete. As of now, the construction phase has an estimated timeframe of 4-5 years, meaning that it should be complete around 2028 or 2029. 
Considering that Hilltop and Bryden were built in 1956, Crossman and Hardis agree that new buildings are long overdue. The new elementary school facilities will allow teachers to have their own rooms rather than having to share. The buildings will also be much more modern and equipped for current technology use. Most importantly, they will be much safer. 
"One of the things I love most about Bryden and Hilltop is the feeling of belonging that is created by staff, teachers and students," wrote Walsh. "I believe that feeling will persist in the new buildings and there will be the added benefits that will come from the schools being built to meet everyone's needs."
Similarly, Hardis believes that the project is an exciting prospect for the community. He hopes for patience and adaptability during construction. 
"I do think people will be very excited [by the] opportunities both inside and outside the building [as far as] new playgrounds and new fields," he said. "However, with any construction project, you have to ask for people's patience as it gets completed."
To Crossman, not only will teachers and students be excited with the construction of new schools, but they'll also be able to teach and learn better. 
"For teachers, I think being in an environment that's safe, healthy, and conducive to doing your job will allow them to do their job better," she said. "For kids, I think it'll restore a sense of pride."
Leave a Comment
About the Contributor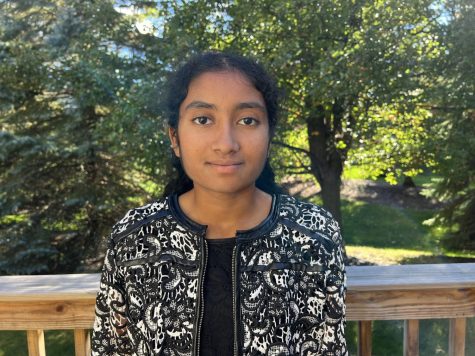 Shreya Chellu, Editor-in-Chief
Shreya Chellu (she/her) started writing for the Beachcomber in 2021. She is interested in covering political and social news in Beachwood and enjoys participating...