Many Cultures, One Bison Summit Returns After Five Years
Beachwood held the second student-run Many Cultures, One Bison Summit at BHS on Wednesday, March 22. 
Beachwood Middle School held its summit the following day. 
The first summit took place in 2018, but its recurrence in following years was paused due to the pandemic. 
A group of 35 high school student-leaders worked together for several months to plan and run the summit. The students collaborated with Superintendent Dr. Robert Hardis, Director of Equity and Community Engagement Kevin Houchins, Student Activity Coordinator Craig Alexander, High School Principal Paul Chase, Assistant Principal Aubrei Erkins, Middle School Principal Dr. Tony Srithai and Hilltop principal Dr. Octavia Reid.
Superintendent Dr. Robert Hardis described the purpose of the summit in an email.
"Beachwood students, families and staff tell us they want opportunities to engage in meaningful dialogue across the diverse cultures, experiences, backgrounds and perspectives represented in our school district," he wrote. "Many Cultures, One Bison aimed to celebrate the diversity of our students and staff while building unity among us as Bison."
Sophomore Radha Pareek, a student leader, explained that the summit also aimed to eliminate stereotypes and celebrate cultural diversity. 
"Essentially we want to have a culturally welcoming environment for everyone, and ensure that everyone can thrive to be the best versions of themselves," she said.
"
[At first] a lot of people were hesitant to share their personal experiences. But as the conversation started rolling, we heard a lot of different experiences from different people.
— Sophomore Radha Pareek
Through the summit, Beachwood aims to combat discrimination and raise awareness within the school district and greater community. 
"We realized that there might be things like preconceived notions or stereotypes about other students," said sophomore Amy Zhou, another student-leader. "So through this conference, we strove to eliminate them." 
From speakers to small group discussions, the summit included a variety of activities for attendees. The keynote speaker for the event was Dr. Terrell Strayhorn, Professor of Higher Education and Women's, Gender, and Sexuality Studies at Illinois State University and CEO of Do Good Work Educational Consulting. 
Strayhorn was named one of the country's "Top Diversity Scholars" byDiverse: Issues in Higher Education, and has authored 12 books and over 200 peer-reviewed journal articles, book chapters, and nationally-circulated reports.
Strayhorn opened the summit with a speech about the importance of diversity and inclusion in communities. 
Following Strayhorn's speech, students were split into groups to attend breakout sessions. Each breakout session included a speaker who focused on a different topic. Betul Hatipoglu, E. Maxwell Davis, Jennifer Julka, Yin-Mei Lim and Melina Aguinaga Meza, all Beachwood parents from the Neurodiversity Family Network, gave presentations on the importance of inclusivity and acceptance of those who are neurodiverse. 
Pareek's favorite part of the day was listening to the presentation from Betul Hatipoglu about her journey as a mother to Bartu, who has autism.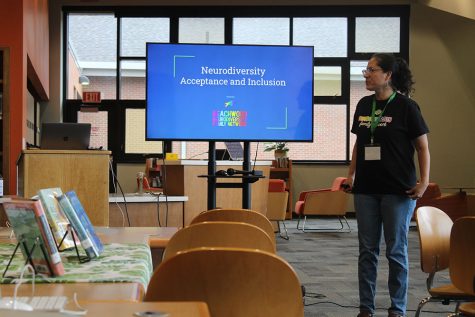 "I think it shows that a lot of us, all of us, have inner talent and potential and it just requires believing from other people," she said. "I think learning about him was very inspirational, and I hope that as a community we can support him in his endeavors along with other neurodivergent students."
Another presenter, Yan (Nancy) Liang, mother of a BHS student, talked about her experiences as a Chinese immigrant to the U.S. 
Junior Arianna Preston learned a lot from Liang's presentation.  
"My favorite speaker was the one who spoke about her Chinese culture," she said. "I thought it was really informative."
Other breakout speakers included Michael Tennant, Founder and CEO of Curiosity Lab and author of The Power Empathy, James Knight, Vice President for Equity and Inclusion at St. Edward High School and founder of I.D.E.A.S., a coalition of DEI practitioners and directors throughout Ohio, Kelly Fishman, Education Director for the Anti-Defamation League's Cleveland office, and Dr. Shereen Naser, who conducts research to help schools address the needs of students struggling behaviorally and emotionally.
The summit also consisted of small group discussions. Each small group was led by a trained staff member or a student leader. Pareek led a discussion group.
"[At first] a lot of people were hesitant to share their personal experiences," she said. "But as the conversation started rolling, we heard a lot of different experiences from different people."
The discussions helped students to connect and learn from each other. 
"I think that these conversations teach us to constantly cultivate empathy because there's so much beyond the surface that we don't realize about so many different people," Pareek said. 
"[These discussions] encourage us to be cognizant of all the different possible challenges that a person might be facing," Zhou said.
Junior Alexis Mercado, who attended the summit, appreciated the small group discussions.    
"Although it felt kind of awkward at first, I felt comfortable talking about my experiences because of the small group setting, which created a safe space for me to share."
"
[These discussions] encourage us to be cognizant of all the different possible challenges that a person might be facing.
— Sophomore Amy Zhou
Throughout the day, students also participated in painting in the art room. They chose from a large variety of quotes from activists, such as Martin Luther King Jr, and decorated them with watercolors. 
"Painting the quotes with my friends was really fun and it was probably my favorite activity," Junior Rowena Cherian said.
Student leaders, who coordinated the day, have suggestions for future summits. 
"This summit is definitely a great starting point," Pareek said.  "But I think it serves as a launch pad for a much deeper initiative to be taken in the future."
Although students did participate in the planning process, many expressed concern about the amount of administration involvement. 
"While the administration should definitely be involved, we should also encourage student leaders who have ambitious ideas like the Asian Affinity group and many other student-led cultural groups that exist, promote them, and give them our support," she said. 
For future summits, Zhou also hopes to see more participation from the Beachwood student community. 
"I think we should encourage students themselves to come up with ideas for the summit," she said.
Preston would prefer to see more student involvement as well.
"I wish they engaged students more so that they weren't just sitting there listening to speakers, but were also talking about our experiences and our cultures too," she said.
The summit had minimal attendance from upperclassmen. 
"I think attendance-wise for students who are currently attending high school, we had very little attendance, practically none," Zhou said.
A majority of the attendees were 8th and 9th graders. 
"I actually think this is a good thing because now we know that there are underclassmen rising up who want to be actively engaged in what's happening with the high school," Pareek said.
"While I wish every Beachwood student would want to attend an important program like this, I understand that is unrealistic," Hardis wrote. "I felt that the many students who did attend were generally engaged and interested."
Many students enjoyed the summit. 
"I liked it," Preston said. "I learned a lot about other people's cultures and I think it really broadened my perspective." 
Beachwood does not plan to hold an all-day summit in the near future, but discussions have been continued in the Middle School. 
Dr. Hardis explained that the middle school has continued the small group student discussions every Thursday morning, calling it 'Cookies and Conversation.'  
"I hope our high school students will do the same," Hardis wrote.
Leave a Comment