The Struggle to Stay Open
Currently COVID-19 numbers are surging with over 225,000 new cases a day nationwide and nine active cases in the Beachwood City Schools at publication, but officials are determined to keep schools open and running safely.
Governor DeWine announced on Dec. 29 that students in Ohio will no longer be required to quarantine when potentially exposed to a case in the classroom. This decision is influenced by recent research showing that Covid-19 is not likely to spread when the recommended safety measures are taken in the classroom.
Superintendent Dr. Bob Hardis also maintains that the virus is most likely not being spread in schools.
"It appears that we haven't had the virus spread in school," Hardis said. "We attribute that to the measures we have in place… like smaller class sizes, distancing, masking, [and] cleaning."
Hardis explained other policy changes made by the governor's office.
"The most recent interpretation and clarification [of DeWine's announcements] is that in the classroom setting and on a bus, as long as students and staff are wearing their masks… and as long as they are at least three feet apart, [they do] not need to quarantine from attending or working at school [even if they were in contact with a positive case]," he said. 
This is a change from the previous requirement of six feet.
"
It appears that we haven't had the virus spread in school. We attribute that to the measures we have in place… like smaller class sizes, distancing, masking, [and] cleaning."
— Superintendent Dr. Bob Hardis
Vaccinations also provide hope that things will get back to normal soon.
"The other big news is that school employees are going to be vaccinated in… Phase 1B [which will] begin on Feb. 1," Hardis said. "There's a chance that Beachwood school employees will be able to start getting vaccinated in a couple weeks."
Since March, schools have had to balance providing instruction with keeping students safe. Beachwood has had certain advantages including a relatively small student population and thorough safety measures.
One challenge for administrators has been to develop a schedule that could work for both remote and in-person instruction.
"The difficulties were the unknowns," Principal Paul Chase said. "We didn't know if things would be better or worse… so when I created the schedule, I had to make it flexible."
Another consideration was the students who chose to stay at home the whole time. 
"My largest concern… was doing what we call the live broadcast," he said. "[This is] when students from home join a class that's in session."
Chase is happy with the way the staff has adjusted.
"The teachers have done an amazing job," he said.
After implementing an online schedule beginning in March of last year, the school continued with a half-day hybrid remote schedule at the start of the current school year. 
In late September the district resumed in-person instruction for students who chose to return, while some students chose to continue logging in remotely from home. 
Other districts in the area such as Mayfield and Solon also began their schedules online. Like Beachwood, they transitioned into a schedule that would allow students to go to school in- person. 
However, districts such as Shaker and Orange stayed remote for much longer. 
Just before Thanksgiving, Cuyahoga County issued a stay-at-home order, and classes in most districts returned to remote instruction until after winter break.
Mayfield returned to fully online on Nov. 10. While there were many cases, the confirmed number of infected people may not have been the only factor that influenced them to close. 
"Too many teachers had to be quarantined because a couple of students tested  positive." Mayfield High School Junior Olga Murdakhaev said. "There weren't enough teachers in the building."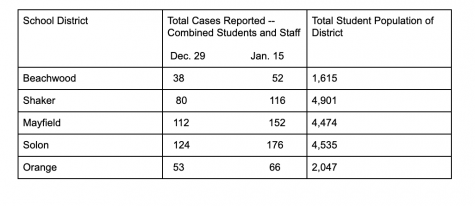 As of Dec. 29, most districts showed similar totals of students and staff who had been infected when their populations were taken into account.  Beachwood had reported 38 cases. 
As of Dec. 29, Mayfield had reported 112 cases. Mayfield is a much larger district than Beachwood, with a school population of 4,474 students.
Shaker Heights elementary and middle schools had only been meeting for a few weeks before the county's stay-at-home order returned them to fully online school. Shaker reported fewer cases than other districts relative to their student population, 80 as of Dec. 29, a lower number relative to their population of 4,901.
Orange had also returned to in-person only weeks before the county stay at home order, but their numbers were relatively higher considering their population, 53 as of Dec. 29. 
Although case numbers are important, they often don't provide the full picture. Case numbers need to be compared to the overall school or district population. The numbers given thus far have been for entire districts, including both students and staff. Additionally, the numbers given on websites may not always be accurate if reporting during breaks and fully online schedules is inconsistent.
Solon's case numbers are also higher than Shaker's, 106 as of Dec. 29, but considering their larger school size, the percentage is closer to that of Beachwood, Mayfield and Orange.
However, school density is another important factor. Beachwood High School, while a small school, is a large building relative to the student population, and thus allows for greater social distancing.
"We approximately have anywhere from 200 to 230 students in the building at a time in what's considered already a very large square footage for a high school building for the size of our population," Chase said. 
As of a recent email, Chase has announced a schedule that would add 240-280 minutes per week, of school time in the next semester. This will give students more time to learn with their teachers, and further prevent falling behind.
Chase had many reasons to change and improve upon the schedule.
"Making these changes attempts to balance the desire for more instructional time with the mental wellness needs of students." Chase wrote in an email to students in early January. "[The schedule can] maintain consistent routine for families [and] use online time to increase instruction without requiring students to be in front of a screen 6-8 hours every day."
Many schools in the area also resumed in-person instruction as of the second week after winter break, but staffing has been a struggle.
"If it comes down to it, we may have to close a building or classrooms or things like that, based on our staffing needs," Solon Superintendent Fred Bolden told Cleveland.com.
Finding a balance was an important consideration for Chase.
"We need to get you guys some more instruction," he said. "…but I do not want to overwhelm you and impact mental health."
Solon administration also addressed this need for balance.
"Our plans this year have always been about striking the balance of safety, learning and the social-emotional well being of our students, families and staff," they wrote to families on Nov. 20.
Leave a Comment
About the Contributor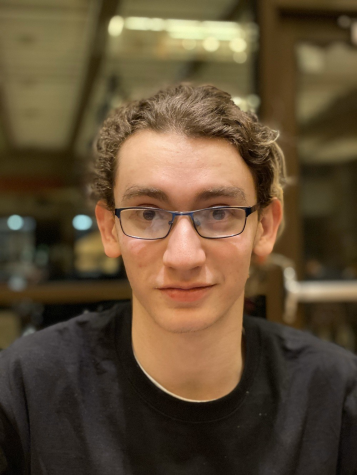 Michael Karpov, Staff Writer
Michael Karpov began writing for the Beachcomber in November of 2018. He reviews movies and runs the Bison Beat. In addition to writing for the Beachcomber,...