Swim Team Faces Deteriorating Conditions in Pool
As the swim team prepares for the district meet, the high school pool is showing its age. A tour of the pool reveals rusting lockers, fading tiles and peeling paint.
These are not new issues, however. In recent years, the team has reported many concerns regarding the pool, and although the administration has attempted to make improvements, the pool's deterioration continues to raise concerns.
A few months ago, parents of Beachwood swimmers initiated a meeting with the coaches and administration.
"We totally appreciate them stepping up and taking an active role," Athletic Director Ryan Peters said. "They opened our eyes to certain things."
Superintendent Dr. Bob Hardis also recognizes the struggles of the Beachwood swim team. He explained that the administration is currently working on plans to repair the facility.
"The Beachwood pool was opened in the early-80s, so obviously there have been many facility repairs, upgrades [and] renovations over time," Hardis wrote in an email.
However, a major renovation was not viewed as necessary until recently.
"Ten years ago, when [administration was] looking at…renovating the high school, the pool wasn't in that [bad of a] condition," Assistant Superintendent Dr. Ken Veon said. "But now it's starting to need some special love and care."
"
Ten years ago, when [administration was] looking at…renovating the high school, the pool wasn't in that [bad of a] condition. But now it's starting to need some special love and care.
— Assistant Superintendent Dr. Ken Veon
From the point of view of Beachwood swimmers, however, repairs have been needed for quite some time.
"I have been swimming at the Beachwood natatorium since I was in kindergarten, and since then very few things have changed," junior Alexa Zarjetskiy said.
"I remember having to switch my locker multiple times when I was younger because there were holes developing in the bottom of the lockers, [where] people lose everything from socks to goggles in [the holes]," Zarjetskiy continued.
"[Since then], the corroded bottoms of some lockers have been replaced with [tiles], the wooden benches have been [refurbished and repainted] and shelves were added to the mirrors," she added. "And yet we still have [loose floor] tiles, a water fountain that doesn't work and a shower that is near the point of falling off of the wall."
There are also holes in the bulkhead that have caused problems for the swim team. Multiple swimmers claim they've cut their feet on the bulkhead.
"The entire square actually collapses towards the inside when we push off, so when we do flip-turns, our feet get jammed inside," junior Emma Joo wrote in an email.
Swimmers have also raised concerns about breaks in overhead pipe insulation, cracks in the ceilings of locker rooms, and breaks in floor tiles.
During winter break, there was also a toilet that backflowed in the girls' locker room and a sink that clogged up in the boys'.
"Basically we showed up to practice one day over winter break and one of the toilets was just filled with… fecal matter," senior Shannon O'Neill said.
"And there were stains on the floor around the toilet bowl like it had exploded," she continued.
As a result, the 11 girls on the swim team had only one bathroom stall for a month.
As for the boys, a few of them referred to their sink water as "chicken broth" due to its unusual color and consistency.
The toilet was replaced and the area surrounding it cleaned up during the week of Jan. 27. The sink drain was snaked a few weeks before that.
Over the past few years, the team reported struggles with mice and ant infestations.
Senior Yaya Gao shared her own experience with mice.
"[When] I was in the locker room sophomore year, we found two dead mice on top of the lockers," Gao said. "Then last year, [when] we were swimming, I saw a mouse running [on the pool deck]."
Peters explained how the district has addressed the issue.
"We were informed last year that there were insects [and] mice," he said. "We routinely have exterminators come in and spray and set traps. I think we were a little more diligent after that situation."
"Some kids were leaving food in their lockers, and the lockers have [open gaps], which lead to insects and mice," he added. "But it has been addressed, and there have been changes made to our cleaning and custodial staff that have made a bigger and better impact on our pool."
In addition, there have been ongoing concerns regarding the pool's water quality.
Throughout November and December, members of the swim team were concerned about the water quality of the pool.
"Sometimes we have really weird chlorine levels; sometimes we have really weird pH levels," O'Neill said.
Chlorine helps keep pools clean and safe to swim in, but exposure to over-chlorination also poses multiple health hazards. A lack of maintenance over a pool's water quality therefore creates safety risks.
"We've [installed] a new Chemtrol [pool chemical] controller," Facilities and Grounds Supervisor Brian Koss said. "With the volume of the pool…it takes quite a long time [to adjust] chemicals. You don't want to do it really, really quick, because if you go too far one way, you [end up] trying to counteract it the other way."
"
Sometimes we have really weird chlorine levels; sometimes we have really weird pH levels.
— Senior Shannon O'Neill
"Our maintenance staff check and adjust the chlorine, pH, CO2, alkalinity, water level, water temperature and air temperature on a daily basis," Hardis wrote. "Our chemical system is automated by a Chemtrol system to maintain recommended levels."
"Approximately four times a year, levels may be off because of a variety of factors such as a spike in the number of swimmers at one time (start of swim team season for example) and when that occurs, we shut the pool down for less than 24 hours while the water adjusts back to recommended chemical levels," he added.
"Our maintenance staff also backflush the sand filtration system and clean the strainer baskets on a monthly basis. In addition to the backflushing and basket strainer, we use a robotic vacuum to scrub/vacuum the bottom of the pool, similar to a roomba, but for a pool," he continued. "This is done on a nightly basis."
The Ohio Department of Health conducted a water quality check and recorded inspections on Oct. 30, 2019, and stated that "[a]ll equipment [is] maintained in clean, safe and sanitary condition and in good repair."
The pool records indicate that pH and chlorine levels were normal for most of the days since Jan. 26.
Joo conceded that while chlorine and pH levels have mostly returned to recommended ranges, water quality levels were certainly a problem for swimmers near the beginning of the season.
For example, multiple swimmers said that they suffered irritated eyes and chlorine burns from the pool during the season. Chlorine burns take the form of itchy, red skin or hives. Both irritated eyes and chlorine burns are linked with abnormal water quality levels.
Some people are more sensitive than others to chlorine, especially when they spend a considerable amount of time in the pool.
In addition, Gao said that multiple students have had ongoing ear infections. As the CDC states, ear infections are most commonly caused by germs found in pool water. The appearance of these germs is linked with unbalanced disinfectant and pH levels.
"There's a lot of corrosion that happens in the pool," Peters said. "[There's] old deck tiles that have built-up calcium on them. [The pool] does get cleaned every day, [and] we did change a couple of different cleaning methods, which hopefully makes a bigger impact."
"We look at our chlorine and pH levels, and our maintenance is continuously looking into how to maintain these at appropriate levels," he added.
Above all else, the rising temperature and humidity of the pool is the most pressing issue for swimmers.
"
Often during dryland, I [found] it hard to breathe and exercise to the best of my ability.
— Junior Ben Lewin
"Natatorium Coordinator Brad Burget has requested that the air temperature in the natatorium be maintained at 86 degrees for swimmers' comfort when they exit the pool," wrote Hardis.
However, the temperature has fluctuated to the upper 90s during the season.
"The heat and humidity have always been high in the pool," junior Ben Lewin said. "However, this year they have become much more noticeable."
Swimmers were interviewed in November and December about their concerns regarding the heat.
"On average we [saw] air temperatures in the upper 80s, and earlier this year we endured temperatures over 90 degrees for several weeks straight," he continued. "The only time temperatures were somewhat bearable [in Nov. and Dec.] was when the heater broke and we [enjoyed] temperatures in the mid-70s."
"Often during dryland, I [found] it hard to breathe and exercise to the best of my ability," Lewin said.
"It [felt] like you [were] breathing through a pillow," senior Zoe Shook said. "It [made] it a lot harder to stay cool too. We have one fan…where we work out, but it mainly just [blew] the hot air towards us."
"We sometimes [had to] go outside in the 20-30 degree weather just to cool off," senior Abby Adams added.
As of January, swimmers told the Beachcomber that school staff had made efforts to address the heat and humidity, but problems still exist.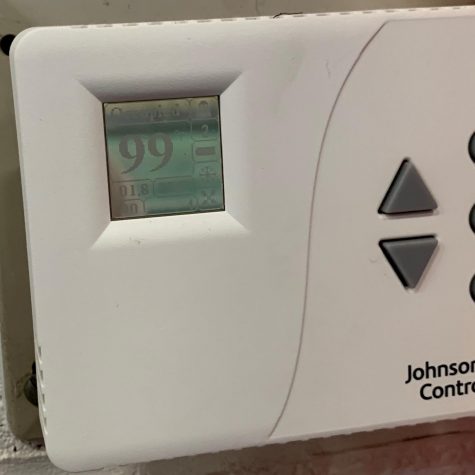 "The coach told us that the humidity has risen to about 100%…so it's very uncomfortable to be in the pool when it's so humid," junior Emily Fan said in November.
Joo added that the humidity stayed near 100% for several days.
In January, some swimmers confirmed that humidity is still a problem. Visitors who came to support the team for their sprint meet on Jan. 31 also raised concerns about the humidity.
The American Society of Heating, Refrigerating and Air-Conditioning Engineers (ASHRAE) recommends a natatorium's air temperature to be below the comfort threshold of 86 degrees Fahrenheit and the relative humidity to be between 50% to 60%.
According to Exercise Physiology, a textbook by McArdle, Katch and Katch, during exercise, muscle tissue activity raises the body's core temperature by 1°C every five minutes. This increase in core temperature can eventually lead to hyperthermia, which is why sweat evaporation is crucial during exercise.
However, as stated in a 2000 position statement by the National Athletic Trainers Association, when in an area with high humidity, such as the BHS swimming pool, sweat evaporation is limited, increasing risk of heat-related illnesses and affecting athletes' physiological function and performance.
To target the humidity of the pool, Hardis stated that by the "end of February, a 24-foot diameter destratification fan [will be] installed from the ceiling of the pool. This is approximately a $12,000 improvement project."
"
We are hopeful this renovation will be able to take place (perhaps in phases, like the roof this coming summer) within the next two years.
— Superintendent Dr. Bob Hardis
"There are things that we've done, [but] a lot of it is in the boiler room, [in] the guts of it…the unseen stuff," Veon said. "But we know we have to update the facility…and we've addressed things a little bit at a time…things that don't cost hundreds of thousands of dollars [that] we have to budget for."
"I don't blame [the swim team] for being eager for change," Peters said. "I wish I could snap my fingers and all of the necessary changes could happen today. However, these changes are costly."
"Since 2014, the district has replaced the sand filter, Chemtrol system, pool robot cleaner (Dolphin), diving board, pool water boiler, and drain deck piping," Hardis wrote.
Hardis added that the district has also rebuilt the hot water boiler, repainted the locker rooms and bleachers, installed new lighting fixtures in the stands and replaced the light bulbs over the pool, locker rooms and lobby. Additionally, the district has installed more handrails at the entranceway, fob readers at the locker room doors, a new drinking fountain, and a bottle filler on the pool deck.
Hardis mentioned that replacement of fixtures in the locker rooms, including toilets, faucets and  paper towel dispensers are completed on a regular basis.
"Using the district's permanent improvement fund, we're looking at renovating the roof and starting there, so that the building's dry when we do renovations on the inside [and] we're not getting leaks that are causing more damage," Veon said.
"We want to address the envelope of the structure first," Koss added.
"Although we don't have a final cost at this point in time, this huge job will cost more than $500,000, but we will then have a roof that should last at least 30 years," Hardis wrote.
In addition to the new roof being installed this summer, Hardis wrote that the district is currently looking into a multi-million dollar pool renovation. This renovation will address the heating and ventilation system and renovate the offices, locker rooms and bathrooms.
The building will be constructed to be ADA compliant, which will demand the reconfiguring of plumbing, fixtures, walls and doorways. The deck and locker room tiles as well as the pool water boiler will be replaced. The ceiling and beams will be cleaned and restained for long-term protection and the windows will be replaced with better-insulated versions.
"We are hopeful this renovation will be able to take place (perhaps in phases, like the roof this coming summer) within the next two years," Hardis's email concludes.
Aquatics Director Brad Burget declined to comment for this article.
View Comments(1)
About the Contributor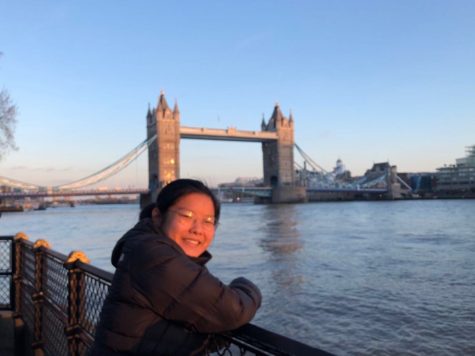 Amy Chen, Co-Editor-In-Chief
Amy Chen began working for the Beachcomber in the spring of 2018. In addition to managing site design, she illustrates and covers a variety of topics in...