Talking About Race
Hang on for a minute...we're trying to find some more stories you might like.
94 students and staff members gathered in the community room on Thursday, Jan. 10 to talk about race.
Sophomore Elizabeth Metz organized and moderated the event, which was sponsored by the Beachcomber and Amnesty International.
Her goal was to address racial tensions in the school.
"Nobody's going to change until we act to change them," she said.
Freshman Greg Perryman, juniors Tiani Allen, Gabe Stern and Joe Spero as well as seniors Nicole Breger and Orly Einhorn were also on the panel.
Students were asked to respond to prompts projected on the screen. The first question was whether students felt they had been treated differently because of their race.
An overwhelming number of students and staff raised their hand.
The next question was whether people are treated differently because of their race at school. Again, a majority of people in the room raised their hand.
Junior Gabe Stern feels that some faculty members are afraid to talk about race.
"Faculty tries to stay away from race," he said. "They don't touch on it because it could go down the wrong path… who is there when they need backup?"
Some students expressed the opinion that it is crucial to find different ways to approach the subject of race.
"We gloss over it," senior Gabi Covolan Costa said. "We don't talk… it all builds up inside of us… we really need to sit down and just talk about it."
Furthermore, many students of color expressed frustration with the curriculum. Several students expressed the opinion that the required history classes are primarily focused on the history of white Americans.
In order to learn about other races and cultures, students have had to take classes such as African American literature and Asian studies, which are electives.
Other students were concerned about equity in student discipline.
"
We're too comfortable; we need to get uncomfortable."
— Junior Tiani Allen
"We have policies in our school that unfairly target people who are different than us," Einhorn said. "It is no secret that students of color receive a harsher punishment for their actions compared to the white students."
Some students feel that they need to have someone to rely on when they feel they are being treated unfairly or another student says something offensive.
"Staff should be more willing to [say to students who say offensive things that] no this is not okay, I don't agree with this," junior Zoe Shook said.
Metz shared a personal story about wanting to take honors robotics next year, a class that many women of color don't take. When expressing this interest to her friend, another student who overheard suggested that there are already "those types of people" in that class.
Metz said that the lack of diversity in honors and AP classes is a problem, and she wondered why anyone would discourage minorities and women from taking those classes.
Another issue raised at the forum was that when students make offensive comments, it is not always clear if they are ignorant or rude.
"Some people don't know the difference between speaking their mind… sharing their opinion and bashing someone negatively," freshman Amille Cotta said.
"
We gloss over it. We don't talk… it all builds up inside of us… we really need to sit down and just talk about it."
— Gabriela Covolan Costa
Others emphasized the importance of exposing ourselves to people who don't look like us or who we wouldn't normally gravitate towards.
"We're too comfortable; we need to get uncomfortable," junior Tiani Allen said. "This is something we can change, it comes down to us."
Seniors Kevin Lamonica and Lauren Grace Reynolds from Shaker Heights High School's Student Group on Race Relations (SGORR) also attended the forum.
Lamonica and Grace Reynolds co-head a community outreach program to discuss the similar problems they experience at their school.
"It was surprising for me because I'm so used to my school and all of the issues," Reynolds said. "I assumed for the most part that it was just the Shaker bubble… Coming in here today, I really saw the disparity between people of color [exists in other schools as well]."
Lamonica and Grace Reynolds said some of the issues at BHS are very similar to what they have experienced at Shaker Heights.
For instance, administrators and staff face political pressure at both schools that seems to make it difficult for them to fully address controversial issues.
Lamonica also said that curricular representation is an issue at Shaker as well.
"The curriculum is centered around a Eurocentric point of view," she said.
Like BHS students, Shaker students who want to take a class focusing on other cultures can choose from the one African American history class or the evening Asian Studies class, which are both considered electives.
Lamonica also referenced a recent report from the U.S. Department of Education based on nationwide data showing that minority students face harsher discipline than their white counterparts.
"The disparity in regards to race and disciplinary action is definitely there" Lamonica said.

About the Writer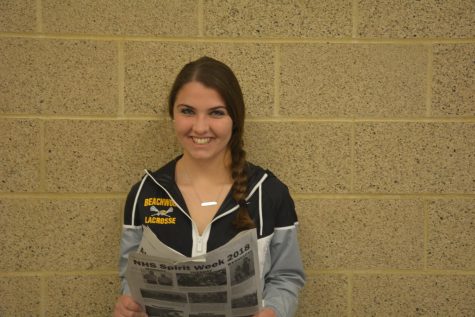 Haleigh McPhillips, Staff Writer
Haleigh McPhillips began writing for the Beachcomber in fall 2018.  She covers a variety of school and sports events. She is the captain of the soccer...