Auditorium and Stadium Renovations to be Finished For Fall
After years of waiting, Bison athletic fans are finally getting Friday night lights.
Superintendent Dr. Bob Hardis addressed students in the gym on Tuesday May 16 to provide an update on renovations to the auditorium and football stadium.
The following day the district had scheduled the groundbreaking for the stadium renovation.
"The timeline on this project has been incredibly fast," Hardis said. "If the weather holds up, we will have a brand new stadium [in time for the new school year]."
But first Hardis spoke about the auditorium renovation.
Displaying a photo of the auditorium in its current state, Hardis mentioned some of the advantages of the renovations, including a bigger space between the front row and the stage, and a large, retractable screen.
"
This is one of the most exciting times as an athletic director, to [join] other schools in having lights in our stadium.
— Athletic Director Ryan Peters
According to Cleveland.com, the auditorium project was estimated at $3.5 million.
The second topic, more anticipated by many students, was the renovations to the sports facilities.
Hardis announced that the stadium renovation would mean that finally, Beachwood would be joining its CVC compatriots in having a football field with turf and lights, allowing the football team to play night games for the first time.
Beachwood athletics supporters have been pushing for stadium lights for many years, and have historically met resistance. So many students are excited.
According to The Cleveland Jewish News, the LED lights will be mounted on 90-foot  poles and will be designed to minimize light pollution.
"I'm happy about the lights..there has been a lot of talk about it, and now there is proof that it is actually happening," junior Ryan Marks said.
According to Athletic Director Ryan Peters, community support for the project has now been very positive, and he expressed appreciation to the City for waiving tens of thousands of dollars in permitting fees.
Hardis also addressed the multi-sport capabilities of the renovated football field.
"This is a field that can support football, track, boys and girls soccer, lacrosse and cross country," he said.
According to The Jewish News, Hardis told the School Board in January that the stadium cost could be as much as 4.8 million. On May 16, he told students the bids had come well under budget.
The reception from students was very positive.
"The renovations of the athletic facilities are going to offer a new frontier for our athletics program," junior Matthew Aubourg added.
Peters shares these feelings.
"This is one of the most exciting times as an athletic director, to [join] other schools in having lights in our stadium," he said.
Leave a Comment
About the Contributor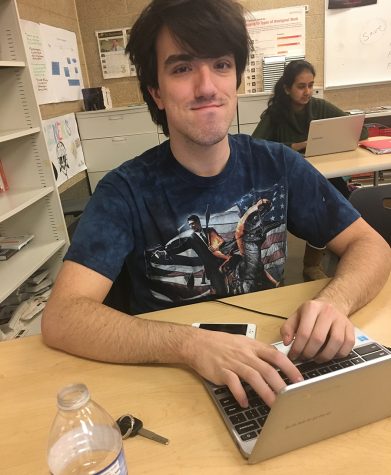 Alex Cala, Opinion Editor
Alex Cala has been writing for The Beachcomber since the fall of 2014, when he was a sophomore. He became the opinion editor the following year. Alex tends...