Human Rights Students Make a Difference Through End-of-Semester Projects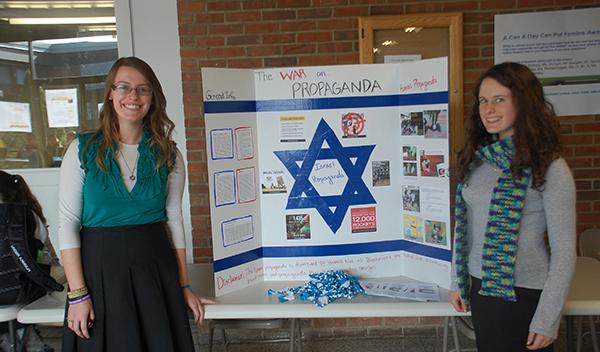 Advertisement
Hang on for a minute...we're trying to find some more stories you might like.
This week, students in Greg Deegan's human rights & conflicts class have been collecting canned foods for women of the Edna House, urging classmates to do 'random acts of kindness' and raising awareness about issues spanning human trafficking to the Israeli-Palestinian conflict.
These 'choosing to participate' projects are just a sampling of the causes for which the human rights students have chosen to rally.
Many students have raised awareness for their causes by posting signs in the main hall during the lunch periods, giving out food for students who listen to presentations and holding after- school assemblies to discuss world conflicts. Other groups have urged students to pledge not to say offensive words such as 'gay' and 'retarded' for an extended time period.
Sophomore Lucie Shiffman described the purpose of CTP. "You pick something that you're passionate about and you spread the word … It's your way of making a difference," said Shiffman.
"For the most part, I think the groups are undertaking projects about topics about which they feel strongly. That's energizing for me to see kids caring about someone or something," said Deegan.
Shiffman is part of a group of students who seek to educate BHS about the Israeli-Palestinian conflict. In addition to setting up a stand during the lunch period, this group has posted fliers around the school, handed out blue and white bracelets, and set up a poster in the main hallway during the lunch periods.
Senior Hannah Rubenstein, who is also participating in this project, described how they approached this project.
"Instead of just hating someone, you have to understand their side, because when you just cut them off you don't give them a chance, you have to try to see their point of view. That was definitely something important in the course to me," said Rubenstein.
The CTP projects have been cultivating a spirit of kindness around the school.
"It's been very nice that some of my colleagues supported who offer extra credit or offer kind words to students or me in the support of their work," said Deegan.
Senior Brandon Weisman, a part of the 'project random acts of kindness' group, also noted the importance of small deeds.
"By doing something kind for even one person, we don't know how great of an impact our actions can have on them," said Weisman.