Hardis: Exit Interview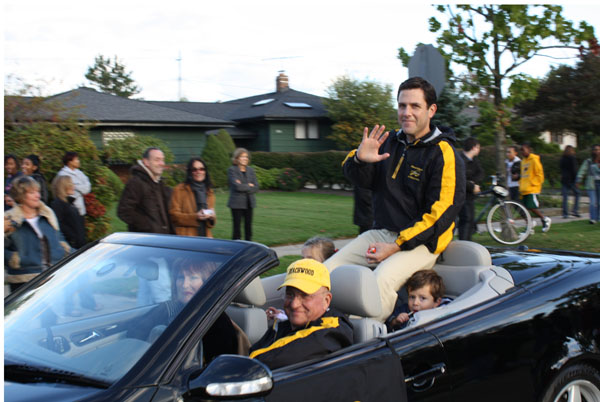 Advertisement
Hang on for a minute...we're trying to find some more stories you might like.
Robert Hardis is now serving his last few days as BHS principal before beginning his new job as Assistant Superintendent.  Here are some highlights from his exit interview with the Beachcomber:
Q. How have you enjoyed your last six years here? What were the highlights?
A: Without trying to sound corny- I feel very lucky that I landed my first principalship here in a place like Beachwood. I've worked hard, but I've really enjoyed it. It's a great place to work.
Q. How do you think BHS has changed since you started working here?
A couple of things: I think that students and staff are more trusting of the administration. I think we've brought some consistency to policies and procedures that were previously inconsistent, "make it up as you go" policies. I think it brings a level of calm, trust, and consistency to the school.
Q. Why was now the time for you to move on to Assistant Superintendent? Was any consideration made to the fact that we are dealing with an ongoing construction project, the departure of several staff and numerous other changes in the high school?
A. I think that the timing has entirely to do with some of the changing legislation and initiatives the district has to take on. From what the Superintendent has said, he built the current administrative structure around certain assumptions that the legislature has changed. So when he looks at his organizational chart, the reason he created the position is that the daily reality of what the legislature [is requiring of school administrators] now is different from how he built his organizational chart originally.
Q. Where do you see yourself in five years? Ten years?
Hopefully working in Beachwood. I want to stay here as long as Beachwood will have me. Who wouldn't want to work in Beachwood? There is no place I'd rather be than here.
Q. What will you miss about being principal?
I won't know for sure until I'm in the new role and out of this one. I imagine there will be a degree of separation that I don't have now between me and students, and I'm really going to miss it: interviews with the Beachcomber, the daily interaction with students in the hallways, in the lunchroom, at games, at plays, and in the classrooms. I went into education in the first place because I like working with the teens. I'm going to try and find ways in my new job to try and find some semblance of that contact.
Q. What are your hopes for BHS once you depart?
A. I hope that BHS and the new building allows the enhancement of programs that have been stunted by the old building. We're going to have phenomenal facilities for the music program, the TV studio and athletics. Beyond the building, my hopes are that this high school doesn't just continue to be viewed as a model school, that we don't rest on those successes and just keep striving to improve. I hope to make some of that happen with my new role.
Q. What do you think makes a great principal?
… Someone who is also very willing to work long hours. Also, someone who is honest, because when you're honest, people can recognize it, and you can still be honest and tactful.