Academic Challenge Team Wins National Championship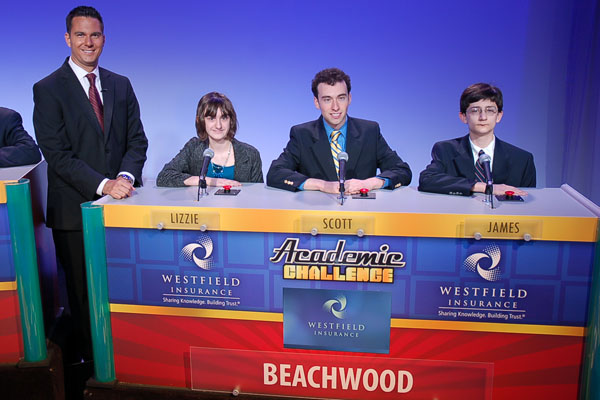 Advertisement
Hang on for a minute...we're trying to find some more stories you might like.
The 2011-12 school year has been a very successful one for the BHS academic challenge team as they have had a number of victories.
On the weekend of May 26, the team won the national championship in the small schools division at the academic challenge national tournament in Atlanta. Beachwood's team is the only small school to qualify for the 90 team overall championship
The team also won both the fall and spring KMO (Knowledge Master Open) competitions, finishing first in Ohio for both events, as well as placing eighth and twelfth nationally. There were about 500 teams participating in both competitions.
The KMO events consist of 200 multiple choice (five possible answers) questions that each team has to answer. The questions cover fifteen subject areas and are pulled randomly from the computer database. Teams have sixty seconds to answer each question and are rewarded five points for getting the answer right on the first try, or two points on the second guess. Bonus points are awarded for answering the question quickly and correctly.
Another success this year was winning the televised academic challenge competition and being invited back to participate in the finals, which will be televised on June 9th. Over the course of the year, the team tallied 770 total points, which was good enough to place second overall in Ohio and qualify for the HSNCT (High School National Championship Tournament).
The team captain is Senior Scott Remer, who played a large part in organizing different team functions, including scheduling extra practices outside of school to keep the team sharp for competition. Another member of the team, Junior Lizzie Breem, competed in a Skype-based tournament over the summer to keep herself prepared for the upcoming season.
"This is one of the best teams we have had," said adviser John Kaminski. "Although we have won on the T.V. show in the past, this is our first time making it to the finals." For another sign of how good this team is, he noted that "we have won six out of the last seven KMO competitions at the state level." When asked what might be the cause of all this success he mentioned, "extra practices outside of school." Another thing Kaminski noted was that the team has been "studying the questions on the frequency lists for a few years now." This certainly would give the team a big boost going into their competitions.
With all the successes the team has had this year you will want to be sure to watch them when the finals of the T.V. competition are aired on June 9th.