Show Choir Finds the Harmony
The BHS Solid Gold show choir is planning to perform at this year's White & Gold talent show on April 13.
In addition to individual performances from each member, the group plans to sing "Somebody to Love" by Queen.
"This time we're doing more of a pop song that we know everybody knows," dance captain Anna Ward said, "So I think it'll be more relatable…  for the audience… Everyone can sing along with us."
"We started rehearsing this song last year and decided to continue it this year," vocal captain Eric Golovan added.
The show choir is currently busy preparing for their upcoming performance.
"We're definitely working really hard, and we're working really fast," Ward said. "We haven't quite started the choreography yet, but we're getting there, and we're definitely going to have to accelerate quickly because we only have [a few] weeks left."
Two years ago, show choir performed a medley of TV show theme songs at White & Gold.
"This year will definitely be different because the style of music is very different," Golovan said. "We also think that since the movie Bohemian Rhapsody was [recently] released, there will be even more appreciation for the song we will be performing."
Unfortunately, due to conflicts with other activities, show choir did not perform at White & Gold last year.
"
I feel that connecting as a group is just as important if not more than the music itself.
— Vocal Captain Eric Golovan
"We're hoping to get this together," Haight said. "We're hoping for consistency, but with everyone's schedule it is hard. We try to accommodate everyone who wants to [participate]."
Choir teacher Darlene Haight and guidance counselor Meghann Sullivan started the program three years ago. Haight acts as the music director, while Sullivan is in charge of the choreography.
"There is a special bond between [the members of the group] because we're together so much in choir and then in show choir. Just singing together [helps to] build the relationships," Haight said.
"For a lot of us, show choir is a family… We respect each other, we support each other, we mess up in front of each other all the time," Ward added.
Show choir members enjoy singing, dancing and performing. As opposed to choir, which focuses on classical music, students in show choir sing and dance to more contemporary music.
Show choir also emphasizes teamwork and ensemble.
"I feel that connecting as a group is just as important if not more than the music itself," Golovan said. "I definitely think we have accomplished this as we try to venture out of Beachwood and attend other performances, activities or events."
"
We see potential in everybody. As long as you're willing to participate and be involved, you're pretty much good to go.
— Dance Captain Anna Ward
So far this year, the group has performed for Cabaret night, the winter choir concert, and the elder class.
"Sometimes people miss one show in the middle of the year if they're in something else, but then they can come back and join us," Haight said.
According to Ward, show choir is aiming to eventually participate in competitions. To compete, they need to recruit more members.
"This year, our goal was mostly just to strengthen our work so that people would be interested. [While] we've grown, we're trying to get even bigger and bigger so that we can go to competitions, which is our goal for next year," Ward said.
Show choir is currently exploring more ways to promote the program.
"We're hoping to go to Hilltop, the middle school and Bryden and showcase our songs a little bit, if we were able to have an assembly. That was one thing that we're looking into, and we would have fliers [to] get the word out," Haight said.
Throughout the year, practices are held every Tuesday after school in the choir room from 3 p.m. to 5 p.m.
Interested students should contact Haight or Sullivan.
"We'd be happy to talk to you about what your interests [and talents] are, and if you're able to join us," Haight said.
Golovan says auditions for next year's show choir will be held in May before the end of the school year.
"Come to auditions and just try your best," Golovan said. "We are all here for the same reason; no one is here to judge you."
"Not everybody that has joined show choir has had a history in singing, so it's okay if you don't have any experience, but as long as you're willing to try and to learn you'll get better eventually," Ward added. "We see potential in everybody. As long as you're willing to participate and be involved, you're pretty much good to go."
Leave a Comment
About the Contributor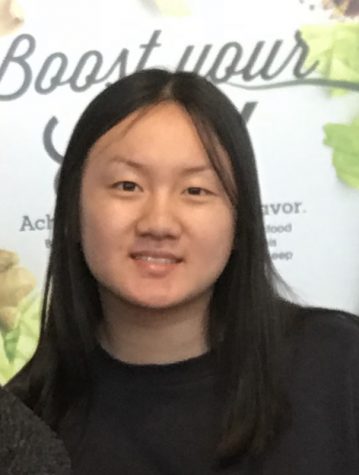 Vivian Li, Editor-in-Chief
Vivian Li began writing for the Beachcomber in 2016. She covers various news and feature stories in BHS and the community. In addition to writing for the...