How Productive Was Your Summer?
These sophomores spent their summers wisely.
A typical Beachwood student's summer consists of lots of late nights, sleep and hanging around with friends. Not exactly a lot of productivity.
While many of us stayed in Beachwood, three sophomores spent their summers developing skills and pursuing their dreams.
Sophomore Matthew Aubourg interned at the Cleveland Clinic, following Dr. Jawad Tsay, a neuroradiologist, for 4-7 hours twice a week at the Clinic's Main Campus.
"I would do it again in a heartbeat," Aubourg said.
Aubourg observed Dr. Tsay do many things, including lumbar punctures collecting spinal fluid and chemotherapy.
Because he hopes to pursue a medical career, Aubourg was very interested to learn more about medical procedures. He has not yet picked a field to pursue.
"There are so many subspecialties and specialties in medicine," he said, "I have a lot of time to figure out what I want to do."
Sophomore Sam Connor enrolled at a pre-college program at the CIA (Cleveland Institute of Art), staying in the Taft Hall dorms from July 13-26. According to the website, the program admits anyone going into grades 10-12, and its goal is for its students to work intensively in an area of their choice to refine their skills.
The program offered 11 course options. Connor took a course called "The Poetry of Painting." He painted for nine hours a day for two weeks, completing five paintings and several studies from a life drawing session. He was surprised by his productivity during his time there.
Connor's favorite piece from the class was a painting he did of a picture of a man on the street. A fellow student took this photo and allowed him to use it. He remarked that he was given a lot of freedom on the piece, and the man had strong facial structures and facial composition, which worked well within the composition.
Connor said that he would "love to" pursue a career in art. He plans on going to the program again next year.
Yet another sophomore, Mitchell Penn, also had a unique experience this year. He went to Camp Wise, a Jewish overnight camp located in Chardon, Ohio, for four weeks. This was Mitchell's second year at Camp Wise, but the last year he was eligible to go as a camper.
Penn roomed with seven other campers. They went on many trips, including Hershey Park, West Virginia and Detroit. While in West Virginia, the campers went white water rafting. Penn fell off a rock and blacked out. For the rest of camp, he was christened with the nickname "Black-out" by his peers.
"I would give the whole experience a 10," he said. "Even though they have a pre-counselor program, I'm not doing it, which mean this was my last year of camp. It was fun while it lasted."
It is clear that these three sophomore's summers were not wasted. They spent their time productively and with a sense of importance.
Leave a Comment
About the Contributor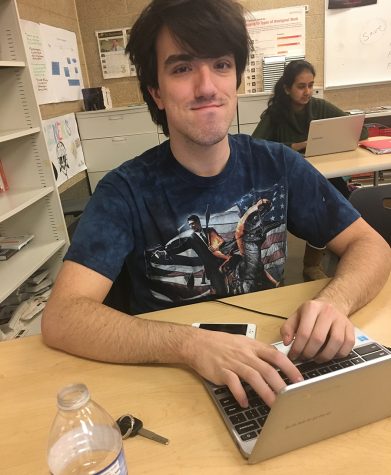 Alex Cala, Opinion Editor
Alex Cala has been writing for The Beachcomber since the fall of 2014, when he was a sophomore. He became the opinion editor the following year. Alex tends...