Chalice Assumes Leadership of Drama Club
The BHS drama department has had a change in leadership as of the beginning of the 2019-2020 school year.
New video production teacher Marc Chalice has taken on the role of drama club adviser and director of the school plays. 
Chalice has a background in philosophy and studio painting. He has had several jobs in the graphic design and video editing area. He took up education shortly after 9/11 with the encouragement of his mother.
Hailing from Rhode Island, Chalice moved to Ohio in 2001.  
His experience in the drama world started rather unexpectedly.
"When I was in high school… I was very shy," Chalice said.
"I don't know how it turned out that I ended up on stage, but someone approached me to be in The Odd Couple which was about a sloppy person and a neat person who lived together, but it was gender flipped, so those were both females and I played one of the boyfriends," he said.
"So it was like a terrible, terrible episode of Friends," he added.
Chalice went on to act in and direct several more plays throughout high school and college. He also has experience making sets and other backstage activities that go into creating a play.
Chalice discussed his many goals for the theater department, including creating an atmosphere where everyone can contribute, whether it be on stage or behind the scenes.
Administrative assistant Casey DeMay is the assistant director and will be helping him throughout the year.
This is DeMay's third year of involvement in the drama department.
Also new this year is Kristen Daniels, who will be makeup artist and costume designer.
"She has a crazy amount of experience," DeMay said.
The drama club has experienced a dramatic transition since the departure of Robb Sapp and Pat Haynish, who directed the plays for the past two years. Sapp left to tour with The Lion King Broadway tour, and Haynish also did not return.
This transition has been difficult for the students, but Chalice has created a positive environment.
"It's a very small program, but it's a very well-put-together program," Freshman Maya Greller said.
She explained that there have been some recruitment issues.
"I think because there are so many options to do at this school, I think that maybe the play should be made into a bigger deal, because right now it's treated as very lax… so I think [more students] should be recruited throughout the whole school" she said.
Greller has been enjoying herself this year and appreciates the environment that has been created.
"We have a lot of techies… it's very hands-on," she added.
Sophomore Ian Ward agrees.
"The relationships are great, the friends that you make and the people that you meet," he said. "I've never had more enjoyment or more excitement than I have doing theater."
As a sophomore, Ward has some insight into the struggles of the transition this year.
"As soon as people found out Robb wasn't going to be the director and that [Pat] Haynish wasn't going to be the music director, things changed for a lot of people, and we don't have nearly as many people in the cast…" Ward said. "As soon as people found out there was going to be a new director, people assumed [the show] was going to flop, but I don't think that's going to happen." 
The students of the drama club have put countless hours of work into the fall play, and urge their peers to come see what they've worked so hard on.
The fall play, Hound of the Baskervilles will be performed on Friday, Nov. 22 at 7 p.m. and Saturday, Nov. 23rd at 2 p.m. and 7 p.m.
Leave a Comment
About the Contributor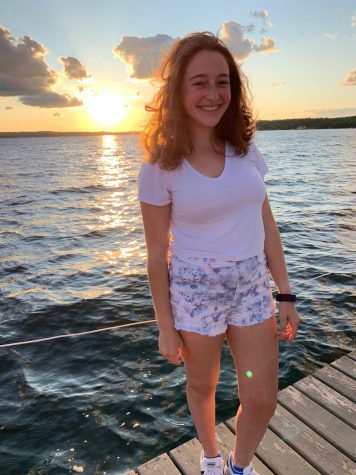 Bridgitte Feldman, Arts & Life Editor
Bridgitte Feldman (she/they), class of 2021, began writing for the Beachcomber in 2018. She is interested in covering psychological, scientific and a variety...