Bison Ready for Post-Season Push After Loss to Orange
"We grow and we get better" Coach Brian Greene said to the Bison boys soccer team after they suffered a 3-2 loss to the Orange Lions on Thursday, Oct. 4.
"We are a team. We are all integral parts. We need to work together" Green continued.
The Bison moved to 6-7 on the season and 4-2 within the conference after the loss and are making a push for the playoffs.
Beachwood's rivalry with Orange makes an intense match no matter the sport, but with soccer, the game was aggressive and evenly-matched. On a 60 degree night, it was nippy but the matchup was heated. Both teams scrambled with hard fouls and hard shots on goal.
Orange's Carson Munn scored the first goal with 7:45 remaining in the first half. It kept the Bison on their toes and made them even more aggressive.
They were not able to tie up the game before halftime, but they went into halftime with a plan for the second half.
"We need to start playing simple and beating them to the ball," junior right back Tyler Stovsky said during half time.
The Bison came into the second half firing on all cylinders. They again were playing their aggressive style of play, but things got too aggressive. The Bison gave a penalty kick to Orange and the Lions went up 2-0 one minute into the second half.
Three minutes into the second half things were not looking good for the Bison. They were getting shut out and looked tired and unmotivated. But out of nowhere, junior midfielder Connor Umpleby struck the ball from about 40 yards and scored.
This gave the Bison a boost, and with 12 minutes remaining in the match, senior captain Spencer Shroge scored to tie up the game 2-2.
"
We don't give up and we always find a way to do better and be better as a team.
— Junior Goalie Yoni Chajmovic
The game continued aggressively, but with 2 minutes and 20 seconds remaining, Cade Horvat of the Lions scored to put the Lions up 3-2, which was the final score.
The Bison look forward to play Fuchs Mizrachi, on Tuesday, Oct. 9. They will also play at Hawken on Thursday, Oct. 11 and in the den of the Tigers of Twinsburg on Saturday Oct. 13.
"We don't give up and we always find a way to do better and be better as a team," junior goalie Yoni Chajmovic said.
Photos by Joe Spero
Leave a Comment
About the Contributor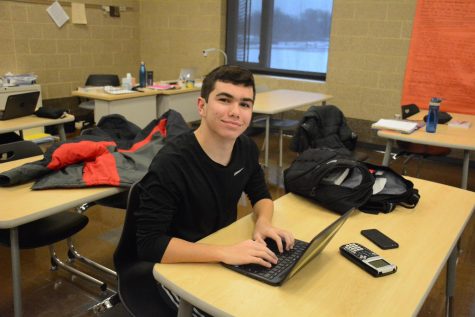 Joe Spero, Sports Editor
Joe Spero, Class of 2020, began writing for the Beachcomber in February of 2018. He covers sports and politics. In addition to writing for the Beachcomber,...