Coach Greenwood Brings Message of Discipline and Resilience
Wrestling Coach Jimmy Greenwood knows what it's like to compete on a high level. From 1996-1998 he was a resident at the Olympic Training Center in Colorado.
This is Coach Greenwood's first year coaching wrestling at BHS.
Greenwood grew up in East Cleveland and attended Shaw High School. After High School he joined the Navy.  
Later, he attended Cleveland State University and earned a degree in business. While a student, he competed as a D-1 wrestler.
Soon after graduating, Greenwood started helping his friend coach wrestling. He soon fell in love with coaching and decided to drop his business career to become a full time coach.    
He went on to coach at Shaw, Cleveland East and Rhodes High Schools.
Greenwood says that coaching is a challenge.
"It's like teaching someone how to tie shoes," he said.
Tying shoes is easy once you can do it, but not to the person learning it, and he compares that to coaching.
Greenwood hopes to build Beachwood's program as much as possible. He's been able to fill more weight classes and sees higher numbers of kids attending the youth program.
"
You're never going to be handed things in life. You have to achieve them, and losing helps push you to that point."
— Coach Jimmy Greenwood
"[Greenwood] has done a phenomenal job of bringing a group of kids together; they have totally bonded and bought into his system and style of coaching," Athletic Director Ryan Peters said.
Wrestling is a very physically challenging sport.  
"Our warm ups are like most people's workouts," Greenwood said.
A lot of explosive movements are involved in the warm-ups, such as push-ups and pull-ups. Then Greenwood starts to teach technical and combative techniques.  
Aside from the physical battles that wrestling presents, there is a significant mental component to the sport as well.
Greenwood feels that wrestling is about pushing yourself to new levels and learning who you are as a person. Therefore, he is always trying to push his athletes to improve.
Nobody starts out winning, so discipline and resilience are a huge part of the mental aspects of wrestling that are required for a wrestler to compete at a higher level.
"Losing is more important than winning as long as you lose appropriately," Greenwood said.
He feels that a competitor learns more from their loss than if they were to win all the time; losing helps wrestlers to grow.  
"You're never going to be handed things in life," he said. "You have to achieve them, and losing helps push you to that point."
Wrestling coaches also hope to teach their athletes respect and discipline. Greenwood said that in high school the young men are finding their character,  and he loves taking part in that aspect of coaching.
"Wrestling always ends, but your character never does," he said.  
About the Contributor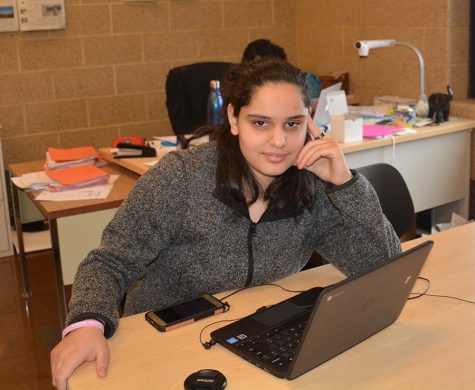 Nakita Reidenbach, Staff Writer
Nakita Reidenbach has been writing for the Beachomber since fall of 2017. She enjoys writing about a variety of topics including sports and feature stories....