Girls Basketball Team Pushes for Valentines Day Victory Against Laurel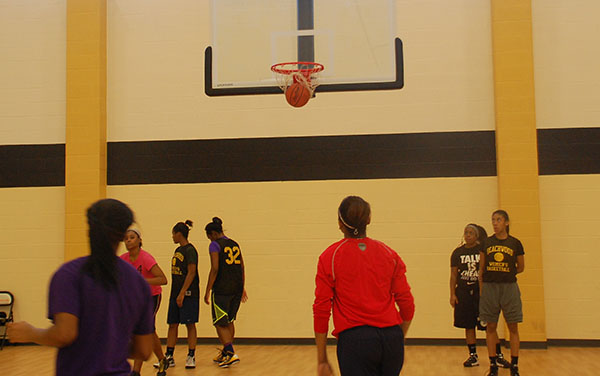 Advertisement
Hang on for a minute...we're trying to find some more stories you might like.
At 6:00 Thursday, the BHS girls varsity basketball team will play their last regular-season game at Laurel.
So far it's been an outstanding season.
The girls improved from a 8-11 record last year to  18-2 this year. And they are only getting stronger.
Junior shooting guard Aneisha Hardin explained why she thinks the team is progressing. "I would have to say that everybody is strong. We have to be strong and [play as] a whole," said Hardin.
The coaching staff hopes to push  all players to the best of their abilities.  No individual player is left behind. With eleven players have been working well together, as their record makes clear.
"It's more of a team effort than one individual person," said Assistant Coach Craig Alexander.
The new head coach, Mike Coreno, has set the bar high this season. The girls have been practicing six days a week. However, there is still room for improvement.
"Defense: that's pretty much what we have been working on," freshman guard Jada Washington said.
Although the OHSAA Tournament game is right around the corner, the team feels they have nothing to be worried about. Going into the post-season, Hardin said, "I have no worries."
On Feb. 9, the girls lost for a second time against Cuyahoga Heights by a score of 49-41. Despite  that minor setback, the girls continue to keep their head up and play their best.
Moving into the post-season, the team will be hard to beat. "Right now we are playing our best basketball, and if we stay healthy, we have a really good chance at winning district title," said Coreno.