Varsity Boys Basketball Triumphant Against Orange, 67-57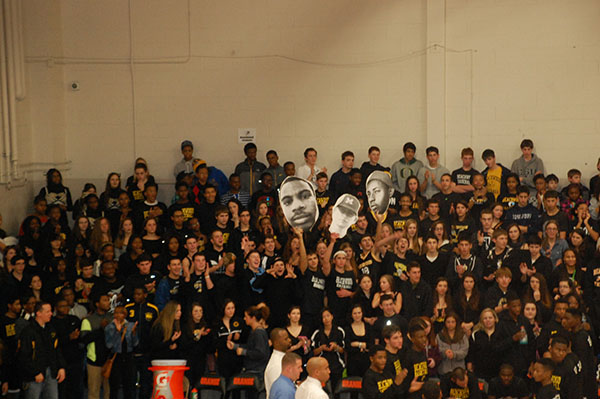 Advertisement
Hang on for a minute...we're trying to find some more stories you might like.
After three years of losses against Orange, on Saturday Dec. 1 the Beachwood Bison won their first game of the season against the Lions. The Bison brought their A-game, reaching a final score of 67-57.
 "He's a freshman," shouted Beachwood fans, pointing at Ronald Jones, waving posters of Jordan Richardson, Jon Tramer and John Davis's faces. Bison pride permeated the lion's den.
Although the team got off to a rocky start in the first quarter, the fans did not lose hope. "We started off a little shaky, but we are going to rise to the top," said Sophomore Cariana Aikins during the first quarter.
Beachwood's first shot was made by Jordan Richardson, number 35. By the end of the first quarter, the score was 11-8, Bison.
Head-to-head in the second quarter, Beachwood rose up. Ronald Jones made a two pointer, and Julio Stevens followed up with the last two pointer in the second quarter, making the score 33 to 22.
To get a lead on Orange, Beachwood made a three-pointer at the top of the third quarter.
"The tension was very intense during [third] quarter", said by sophomore, Shaneice James.
Even in the last few minutes of the game, Orange students looked defeated. However, after this amazing win, Beachwood students, parents, teachers and staff cheered their team on.
Senior cheerleader Ashley Small said, "I am so happy that we actually won this year, after three years."
After the game,  Ami Scherson described, "After being beat during football season, winning this is like a dream come true."
The players were proud of the accomplishment as well. Senior captain and center player Jordan Richardson said, "It was a great win, we went out there and did what we had to do."
Through the years, the size of the team has decrease, but it is not stopping them from  developing their skills and showing off their talent. "[The team is] smaller but faster," said Richardson.
After all of the training and preparation, the Boys Varsity held up their promise and won their most well-attended games of the season.
Now, there is a bigger goal the team faces:
"States. We're going to Columbus," said Richardson.
Photo Gallery by Jeff Zuckerman