Robotics Team Advances to Quarterfinals at International Tournament
The BHS robotics team 695 competed at the FIRST Championship held in Houston, Texas from April 19 to 22. 
Beachwood was able to advance to quarterfinals in the Daly Division, one of eight randomized divisions at the international tournament.
The team saw tremendous growth from last season, both in terms of numbers and results. 
Last year, Bison robotics placed 15th at regionals and were selected by another winning team to compete at the Carver Division at the international tournament. 
This year, at the end of the qualification matches, Beachwood was a top 8 ranked team and so were allowed to invite a lower-ranked team to join and compete with them. 
"We had a lot more people [in the club this year]," freshman Shamith Murthy said. "We got first as [Alliance Leads]." 
According to Murthy, the team focused on simplicity in their designs. 
"We tried to make the robot as simple as possible to maximize efficiency because the game was very fast paced," he said.
The focus on simplicity worked out in the team's favor. 
"We prioritized speed and simplicity to play the game quickly and effectively, which worked tremendously well in competition," Senior Co-Captain Ben Lawrence wrote in an email. 
"
We prioritized speed and simplicity to play the game quickly and effectively, which worked tremendously well in competition.
— Co-Captain Ben Lawrence
FIRST Robotics Competition is an accurate simulation of engineering for high schoolers and is designed to be exhilarating, bold and challenging. 
A new game with specific rules is announced each January.​​ Teams must meet these specifications to be eligible for competition in March. 
In the 2022-2023 season, the theme was related to the United Nations Development Goal #7 which emphasizes renewable energy and the future of sustainable development. 
"This year the goal of the game was to place cones and cubes [at] various heights on a grid," Lawrence wrote.
Team 695 participated and won three regional competitions this year: South Florida Regional in West Palm Beach (Winner and Excellence in Engineering Award Recipient), Miami Valley Regional in Cincinnati (Winner and Quality Award Recipient) and Buckeye Regional in Cleveland (Winner and Industrial Design Award Recipient). 
In Beachwood robotics club members can join one of three groups: software, fabrication and computer-aided design (CAD). 
Senior Co-Captain Samuel DeYoung emphasizes the importance of communication and teamwork between these moving parts. 
"The team still works as a whole, and there is nothing lost between divisions," he wrote in an email. "Everyone knows each other well, which not only leads to a lack of drama, but heightened communication."
Not everyone starting off in robotics had extensive experience and knowledge in these fields. Mentorship is especially important to Beachwood students. 
"There was a big learning curve for [new students], but … [they] can see what we did previous years and … build off of that," Murthy said.
"Do not be afraid to join if you feel behind or won't fit in," Lawrence added. "Regardless of experience, we make sure everyone makes meaningful contributions to the robot." 
John Keyerleber coaches the team along with Christopher Dickey and Sameer Shah. Keyerleber has coached FIRST Robotics teams for almost 15 years now. He has been with team 695 for the past six years. 
"[I enjoy] helping students solve hard STEM problems while gaining success as a team," he wrote.
"The coaches are really awesome… we actually start in the summer… it's important to get an early start," Murthy said.
Lawrence highlights the usefulness of learning via hands-on activity.
"When there is a new skill to learn, one of our mentors or more experienced members will demonstrate how to solve the problem."  
"
I wanted to join [Bison Robotics] because I was really into programming. It was just a way to try to apply what I've learned as a real world application.
— Freshman Shamith Murthy
DeYoung emphasizes the large time commitment and the high level of interest and dedication needed for the club. 
"Depending on your level of commitment and interest, it can easily take up all of your time after school," he wrote. "Sporadic appearances at practices can harm the team more than help it." 
Overall, the fast-paced season ensures that all members learn something new and valuable that can be applied to a whole spectrum of topics. 
"Our members do not exclusively need to be interested in engineering or computer science," Lawrence wrote. "There are contributions to be made if you like art, branding or marketing."
"I wanted to join [Bison Robotics] because I was really into programming," Murthy said. "It was just a way to try to apply what I've learned as a real world application." 
Beachwood's Team 695 is determined to accomplish even more next year and make it farther in the competition. 
"We strive to be a competitive FIRST Robotics Competition team…I look to continue to build on [our previous] success," Coach Keyerleber wrote.
"The next goal would be to make it to the final division in Worlds," Murthy said.
DeYoung is confident in the abilities of the underclassmen and believes that they will rise up to responsibilities. 
"The group that will still be there next year are all amazing and very talented," DeYoung wrote. "I hope some of them find even more excitement in robotics and are able to take leadership positions." 
Ultimately, the purpose of the FIRST Robotics Competition is to foster innovation and a generation of future scientific and technological leaders. 
DeYoung's beliefs align with the competition's vision and mission statement. 
"As long as you can have fun and be efficient on the team during the season, I consider [the season] successful," he wrote.
To watch all of Team 695's match videos and more information: https://www.thebluealliance.com/team/695
Leave a Comment
About the Contributors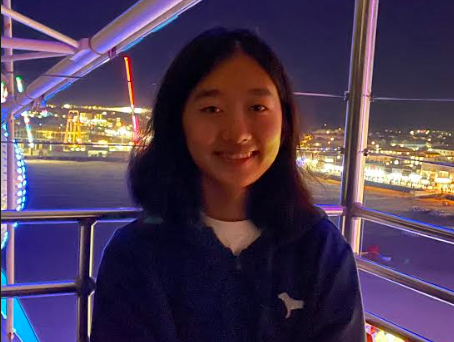 Amy Zhou, News Editor
Amy Zhou (she/her) started writing for the Beachcomber in 2021. She enjoys writing news occurring in Beachwood, and occasionally an opinion piece. Outside...
Matthew Keyerleber, Staff Photographer
Matthew Keyerleber is a staff photographer for the Beachcomber, primarily covering Bison sports since his junior year. In addition to being a photojournalist,...