Assembly Highlights Importance of Resilience
The guidance department presented to an assembly of sophomores and juniors on Oct. 6th about the importance of  coping and resilience.
SAY Counselor Heidi Tolchinsky led the assembly.
"Resilience is a lot of things," she said. "An important piece of resilience is [what we develop after overcoming] trauma." 
In the middle of the presentation Tolchinksy asked students where they think they've built resilience and where they felt safe.
 "I came to this school two months ago, and that was my time to be resilient, I was online for six years before coming here," junior Emma Haag said. "Even after we moved here that was still an option for me." 
"If it wasn't for my uncle, actually he gave me the final push to finally go to this school," she added. 
Her response was met with applause from the audience.
Students were asked if they would ask for help when needed. 
"If you don't ask for help, are you building your resilience?" Tolchinsky asked. 
At the end, Tolchinsky addressed the impact of the pandemic: isolation and abrupt schedule changes.
She also addressed the disruption that adults and teens have all experienced over the last year and a half.
 "Throughout this pandemic we've had to re-adjust," she said. 
Students found the assembly to be informative.
"I learned a lot about the importance of resilience and how it can change outlooks," sophomore Siya Gulia said. "My favorite part was when she asked for personal examples from the audience as it showed support systems from my own peers." 
"Overall, I really enjoyed the assembly and it was great to learn about the supports of others," she added.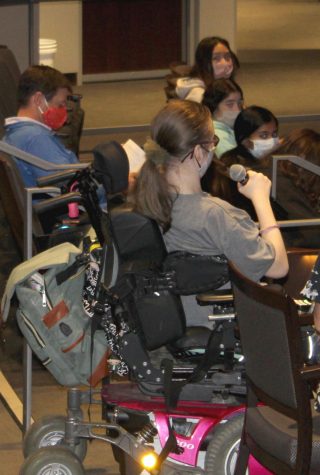 Leave a Comment