Climate Action Team Heads Coalition to Build Rainbow, Raise Awareness
The BHS Climate Action Team, together with the MAC Scholars, the GSA and the CEC Club are currently working together to "build a rainbow" made from plastic bottle caps and lids. 
"Actually, our hope is that with help, we can build one for every building in our district," the group stated in a press release. "Rainbows symbolize hope, beauty, unity and they are the sign of better days ahead. They remind us that when the storm is over, peace and beauty will exist. [As of May 18] , we have almost 10,000 caps collected." 
They plan to work on construction of the rainbow this summer and to unveil the rainbow at the beginning of next year with more details to come about the grand reveal.
This is one of many projects that the BHS Climate Action Team has taken on in the last few years to raise awareness on the issue of climate change. The group has an ambitious goal:
"Uniting students, parents, teachers, and community members in climate action for the City of Beachwood and beyond, through education and advocacy," is their mission statement.
The Climate Action Team is relatively new. It set down roots in May of 2019. The initial team was composed of class of 2020 grad Paisley Truitt, current senior Carrington Peavy, junior Greg Perryman and class of 2020 grad Sophia Muliolis. 
Current members seniors Greg Perryman, Carrington Peavy and junior Shivani Rajgopal held a forum on April 15 in the BHS cafeteria in order to give people a basic understanding of climate change and to open doors for conversation.
The event was held in partnership with the City of Beachwood. Mayor Martin Horwitz was invited, along with Brian Koss, the Supervisor of Facilities and Grounds for the Beachwood City Schools.
"
Rainbows symbolize hope, beauty, unity and they are the sign of better days ahead. They remind us that when the storm is over, peace and beauty will exist. [As of May 18] , we have almost 10,000 caps collected.
At the forum, Perryman provided commentary while presenting a slideshow, explaining how Beachwood's impact affects the world and the world's impact affects Beachwood. 
"When I first understood the climate crisis, I was in seventh grade," he said. "I just couldn't begin to fathom how this will impact my generation's future." 
"I realized that climate change was this greatest existential threat to humanity," he added. "And by the end of this century life as we know it could be completely different. I had, and still have a lot of anxiety about it. When I saw other young people like myself standing up and taking action, I knew I had to join them."
While the group described the event as 'poorly attended' in their press release, the team's passion to solve the climate crisis was clear in their presentation. This forum was the first in a planned series, and, judging by the guest list and the content of the event, this will be an extremely fruitful program
The organization's  press release explained how their organization evolved.
"We came together after sharing our concerns about the existential threat of [climate change] not only for ourselves but for friends and family." 
Later, they were joined by class of 2020 grad Priyanka Shresta. 
Together they created a movement committed to take action to combat climate change for future generations. 
Their first initiative was the Beachwood Schools Color Run in Oct. 2019.
"Partnering with the Beachwood PTO, we took on an ambitious public event which ultimately had over 400 attendees who care about keeping our world colorful, and raised over $13,000 in contributions to the Beachwood PTO and Cleveland Climate Action Fund," the group's press release stated.
This event started the conversation, and was the team's first proactive step to initiating change.
Next, the Climate Action Group invited residents to donate denim made from at least 90% cotton to its Cotton's Blue Jeans Go Green™ program. The denim was transformed into natural cotton fiber insulation, some of which was used to help with building efforts around the country. 
The community came together to donate over 500 pairs of jeans. Perryman, Peavy, Muliolis and Rajgopali continued the work of the Climate Action Team this past year. 
Other students have taken note of the group's efforts to raise awareness about climate change.
Sophomore Raya Al Weshah is impressed with their achievements during this difficult year.
"I mean, it's hard to do anything right now, so the fact that they've been able to do all these projects with what limitations we have during the virus is really cool," Al Weshah said.
Sophomore Sarah Katz agrees.
"It really shows their dedication to their cause, because COVID is impeding everything, and they're still making sure that we are aware of the climate crisis," she said. "I think that's really important to know, since the virus is this huge scare, we kind of forgot about global warming."
Al Weshah noted the challenge of reaching out to other students during this lockdown year.
"They're kind of a small club, though. I wouldn't have known what they were doing if Mr. Paulchell didn't assign extra credit for donating bottle caps."
Katz looked on the bright side of this dilemma.
"Also because of the virus, they haven't been able to get a ton of outreach, so I'm super excited to see what they do once Beachwood returns to normal. I have a lot of hopes for their future".
Leave a Comment
About the Contributor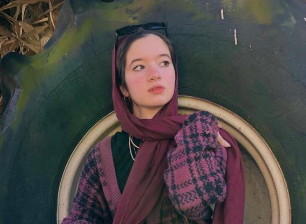 Samah Khan
Samah Khan (she/her) started writing in the fall of her sophomore year in 2020. She enjoys covering macroscopic world issues and their impacts on the Beachwood...