BHS Library Hosts Elementary and Middle School Students for 'Hour of Code'
Girls Who Code members from Hilltop and the middle school collaborated with BHS students during the Hour of Code on Wednesday, Dec. 11.
With hundreds of millions of participants, the Hour of Code is an international coding event held during Computer Science Education Week. 
"[The purpose is] to show that anybody can learn the basics, and to broaden participation in the field of computer science," the event website explains.
"[Our goal was] for students and staff with varying computer science abilities to spend a fun hour coding together and to put Beachwood City Schools on the global map as a registered Hour of Code event participant," middle school librarian Julie Ungier said.
From 8:15 to 9:15 a.m., students with a wide range of coding experience worked alongside one another on web-based activities accessible through a Chromebook. A large touchscreen was also provided for kids to manipulate blockly coding, a visual coding language that allows users to create codes by stacking blocks together.
Participants were directed to hourofcode.com, where they could choose an hour long coding activity. Others worked on their own coding projects.
"There was a good range for people of any level of experience, so even if you had never set foot in the world of coding, it was helpful and fun," said senior Yingying Gao, a participant from Women in STEM.
Elementary, middle school and high school students had the chance to work together.
"
There was a good range for people of any level of experience, so even if you had never set foot in the world of coding, it was helpful and fun,
— senior Yingying Gao
"Our elementary students were thrilled," BHS librarian Angela Maxwell said. "Our middle school students were really excited because they get to work with high school students that they might not know or might not see all the time."
Sixth grader Angelica Tall enjoyed sharing information with younger Hilltop students.
"[I was] able to work with people from different ages and see what other people know," Tall said.
Math teacher John Kaminski and science teacher Lisa Bugenske brought their respective classes as well as students from Computer Security Club and Women in STEM.
Maxwell was pleased with the turnout.
"There were also students who were just in the library in the morning who were willing to take a chance and code," Maxwell said.
After a successful first Hour of Code, both Maxwell and Ungier look forward to creating more opportunities to raise awareness about computer science among young students in the district.
"I hope this will be an annual event held during Computer Science Education Week that attracts more participants each year," Ungier said.
"Since this was our first time, if we do it again next year, I have ideas for how to promote it even more," Maxwell added.
Maxwell and Ungier formed the Girls Who Code club this year to spread the message about the importance of women in STEM, particularly coding.
"I joined Girls Who Code because first I wanted to learn more about coding [and] computers and second what was the meaning behind Girls Who Code," Tall said. "…There are many people doing different things for their projects and working with different people."
In the spring, Girls Who Code is planning to hold a showcase of different projects that students in grades 3-12 have been working on.
"We all feel passionate about getting more girls involved in coding and demystifying it," Maxwell said.
Leave a Comment
About the Contributor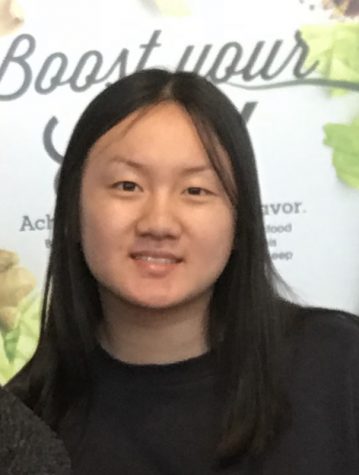 Vivian Li, Editor-in-Chief
Vivian Li began writing for the Beachcomber in 2016. She covers various news and feature stories in BHS and the community. In addition to writing for the...