Science Olympiad Prepares for States
The Science Olympiad team will compete at the state tournament on Apr. 27.
Seniors Julia Woomer and Jing Jing Shen are co-captains this year, along with junior Stephanie Yen. Middle school math teacher Alise Stawicki is the coach.
The team has had a lot of success this year, including placing fourth at the regional competition.
Woomer described the intense preparations for the state competition.
"The week before the competition we have practice every day, but typically we have practice two-three times a week," she said. "The official practices are when everyone gets together to collaborate, but a lot of work gets done outside of practice as well."
"I spend about an hour or two per day outside of practice working on my events or doing logistics for the team such as scheduling; it varies from day to day, but typically a lot of time goes into getting ready for tournaments," she added.
Most Science Olympiad team members are interested in STEM fields, and the activity helps them to learn skills such as lab work and building while also learning about teamwork, trust, and collaboration.
"
I think Science Olympiad is a really great environment," Woomer added. "We're all very supportive of one another, and are all very dedicated to the club.
— Junior Julia Woomer
Events that students can compete in include experimental design, anatomy and physiology, 'write it do it', rocks and minerals, fermi questions and many more.
The Science Olympiad team has grown this year. Last year, there were about 30 people on the team, but this year, there are upwards of 40 people.
"Despite having a lot of people this year, I think the entire team bonded well, and hopefully in future years this trend will continue," Woomer said.
"I've made so many close friends over the years of doing Science Olympiad," sophomore Sunny Wang said. "It's really amazing how bonds can form when you are spending so much time together each week."
"I think Science Olympiad is a really great environment," Woomer added. "We're all very supportive of one another, and are all very dedicated to the club."
Wang is proud of his teammates and the relationships they have formed.
"[The] bond we've developed as a family over the season—as well as the cooperation skills and knowledge we've learned—outshines all other achievements," she said.
That being said, competitions can be long and stressful days.
Sophomore Neha Chellu explained the typical routine on competition days.
"Science Olympiad competitions are really long but really fun," she said. "We usually [leave] the high school at 6:00 a.m… Once we arrive, we unload all of the materials and set up our home base."
Before the competition begins, the team prepares for the day, either by last minute studying or finishing up their building projects. The competition ends around 2:30 in the afternoon and the awards ceremonies follow around 5:00.
"After that, we take the bus back to the high school where we unload our materials and almost always have a team dinner to celebrate our success." Chellu said.
She feels that Science Olympiad is a valuable experience.
"Overall, Science Olympiad is a really fun and exciting extracurricular activity in which one can explore the various fields of science in a competitive and creative environment," she said.
Leave a Comment
About the Contributor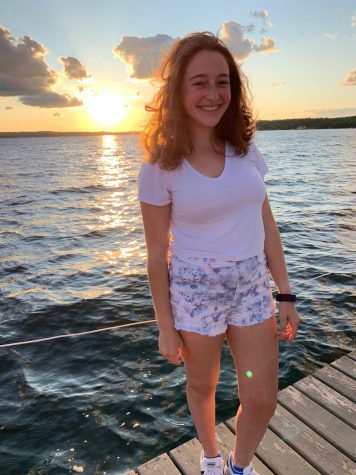 Bridgitte Feldman, Arts & Life Editor
Bridgitte Feldman (she/they), class of 2021, began writing for the Beachcomber in 2018. She is interested in covering psychological, scientific and a variety...