Too Close to Home
The October Shooting Struck Squirrel Hill, the Neighborhood Where Orchestra Director Lisa Goldman Grew Up
A murderer entered L'Simcha (Tree of Life) Congregation in Pittsburgh on Oct. 27 and killed eleven people with an AR-15 semi-automatic assault rifle. The killer is an anti-Semitic, white supremacist, neo-Nazi, Holocaust-denyer who allegedly told a SWAT officer that he believes all Jews should die.
In this mass shooting, eleven people were killed: Joyce Fienberg (75), Rich Gottfried (65), Rose Mallinger (97), Jerry Rabinowitz (66), Cecil Rosenthal (59), David Rosenthal (54), Bernice Simon (84), Sylvan Simon (86), Daniel Stein (71), Melvin Wax (88) and Irving Younger (69). Four police officers and several others were injured.
There have been numerous mass shootings in recent years, but for many in Beachwood, this incident hit too close to home, particularly for Beachwood Orchestra Director Lisa Goldman.
"My phone started blowing up that morning and I hadn't looked at the news," she said. "We were doing our errands… and we were sitting in Jack's Deli, and I said, 'Mort, look at the TV…  There's my [childhood home]; there's this person [that I know]; there's that person. The shooting is right there, so it was a big shock… That's my neighborhood, those are my people."
Goldman grew up in Squirrel Hill, very close to Tree of Life Synagogue. She goes back to Squirrel Hill to visit family and friends as often as once a month, so when the shooting occured, she knew of it almost instantly.
"
There's my [childhood home]; there's this person [that I know]; there's that person… The shooting is right there, so it was a big shock… That's my neighborhood, those are my people.
— Orchestra Director Lisa Goldman
Goldman knew almost every person who was killed. Even if not personally, she had seen them around or heard their names mentioned in conversation. She described it as a very close-knit community.
At one time, Squirrel Hill had the largest Jewish community in the country, with close to 50,000 Jews.
"It was very safe, a lot of diversity, heavy-duty Jewish, kids would say [they were] going up the street, and you would go mucking around with your friends," Goldman said.
Squirrel Hill is very similar to Beachwood in this regard. Historically it has a large Jewish community with a lot of diversity, and everyone knows each other.
Beachwood residents and others from the greater Cleveland community came together on Oct. 22 for a vigil at the JCC honoring those whose lives were lost in Squirrel Hill.
Goldman believes that change needs to come at the national level.
"There's a few things that need to happen. Mental health is certainly on the short list, and gun control," Goldman said.
She is saddened by the increasingly hateful attitudes expressed in our national discourse.
"I don't believe the current leadership is dealing with the country's attitudes in a positive way," she added.
These are the lives mourned in Pittsburgh:
Joyce Fienberg was a research specialist for the Learning Research and Development Center at the University of Pittsburgh. She had two sons and six grandchildren and she was an active member of the synagogue for years, especially active after her husband's death in 2016.
Rich Gottfried was a dentist in North Pittsburgh. He regularly participated in Pittsburgh's Great Race, a 10k footrace. He and his wife were active in both the Jewish and Catholic communities and they helped other interfaith couples prepare for marriage.
Rose Mallinger had attended L'Simcha Synagogue for decades. At 97, she was the oldest victim in addition to being a holocaust survivor. During her working years, she was a school secretary and she is described as "spry" and "full of life," according to CNN.
Jerry Rabinowitz ran a family medical practice in Bloomfield. According to BBC, one of Rabinowitz's former patients said that he was a hero in Bloomfield's LGBT community during the 1980s AIDs epidemic. He was an active member of the Jewish community, especially during Saturday Sabbath.
Cecil Rosenthal and David Rosenthal both had learning disabilities and had been attending L'Simcha Synagogue since they were young children. They served as honorary chairs at the temple and were especially active when the synagogue held special services for adults with disabilities. Their family and friends both said that neither of these men had a hateful bone in their body.
Bernice Simon and Sylvan Simon were members of L'Simcha Synagogue for 60 years, since their wedding day in that same synagogue. Their friends say that they were constantly giving back to their community and doing whatever they could to help the Jewish community prosper.
Daniel Stein was president of the New Light Congregation whose services were held at L'Simcha Synagogue.
He was a new grandfather and his nephew Steven Halle said that "He was very active and he did everything," according to BBC.
Melvin Wax's greatest passion was his religion. He was always the first to arrive at services and he always wanted to help. At 87 years old, he parked several streets away from the synagogue because he wanted to leave the closer spaces to people who needed them more.
Irving Younger was a small business owner and youth baseball coach. He was a devout congregant of the synagogue and he would always greet people and help them find a seat. He felt it was his responsibility to his religion to help others in any way he could.
View Comments(1)
About the Contributor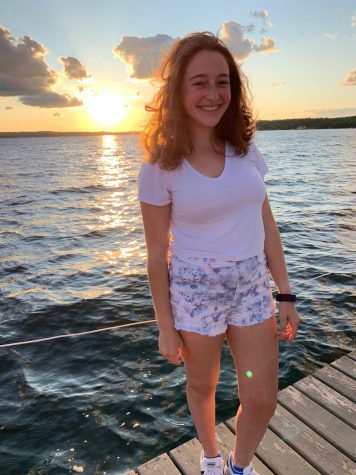 Bridgitte Feldman, Arts & Life Editor
Bridgitte Feldman (she/they), class of 2021, began writing for the Beachcomber in 2018. She is interested in covering psychological, scientific and a variety...