Science Olympiad Places Sixth at State Tournament
The Science Olympiad team placed sixth place overall in the state competition on April 28 at OSU.
The performance matches their 2012 placement.
The team placed in a variety of events: experimental design, fermi questions, mission impossible, helicopters and towers.
Their best individual placement was second place, won by Sridhar Uppalapati, Julia Woomer and Stephanie Yen in experimental design.
Sridhar Uppalapati and Daniel Mishins also won second place in mission impossible.
Coach Alise Stawicki is very proud of the team.
"This is my personal best [placement as coach]," Stawicki said. "The students really worked hard this year, and I was very proud of their achievements."
Competitors put a lot of preparation and hard work into each event in order to place so high.
Team captain Daniel Mishins said that each event prepares a little differently.
"Kids work to prepare cheat sheets that they're allowed to bring in for study events," Mishins said.
For building events, competitors have to make a device and then perform numerous tests.
"Testing is the most preparation because there's almost always something that doesn't work right, so you have to test and figure out a way to get it consistent," Mishins said.
Stawicki explained how she helps the team to prepare.
"Between the months of October through April, we meet several days a week," she said.
Stawicki assists competitors in finding resources, packing materials, as well as providing encouragement.
Junior Julia Woomer said that most competitors participate in an average of three events. However, this year she participated in more.
"…I probably spent a lot more [preparation] than last year because I have more events," Woomer said, "I am in five events out of [the limit of six]."
Leave a Comment
About the Contributor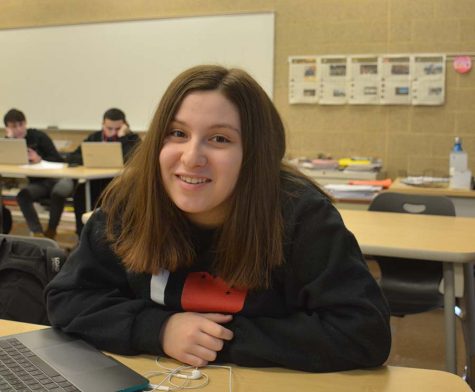 Amelia Port, Staff Writer
Amelia Port began writing for the Beachcomber in fall of 2017. She enjoys covering important events in the school. In her free time, she enjoys swimming,...