Academic Challenge Places 15th at National Tournament
The academic challenge team went to Chicago on April 28 for the small school National Academic Quiz Tournament.
"We competed in the playoffs, made it to the finals, and overall placed 15th in the nation out of 100 teams," says Shen.
Coach Karla Seery brought a team consisting of junior Jing-Jing Shen, sophomore Athena Grasso,     freshman Somin Jung, sophomore Nikhil Murali, and Freshman Yang Yu.
"For such a young team, it was a cool feat, and I'm hoping to come back even stronger for next year," Shen said.
Shen describes academic challenge as a "team quiz show where there are questions running the game from sports to history to science to pop culture."
Shen has been participating in academic challenge since her freshman year.
"
For such a young team, it was a cool feat, and I'm hoping to come back even stronger for next year."
— Team Captain Jing-Jing Shen
"The objective is for the team to buzz in with the right answer before the opposing team," she said.
Shen says the questions can be about anything. It depends on what type of tournament she and her teammates are competing in.
"For the more traditional tournaments, like the Ohio Academic Competition and National Academic Quiz Tournaments, questions can be about anything from literature to operas to military history to physics," Shen said.
"There's are also the TRASH tournaments, which revolve around pop culture, rap, memes, internet trends, celebrities, etc."
"You name a category and there'll be an AC question related to it," she said.
Shen says that there are typically 10 to 12 players on the team at invitationals.
However, at nationals there only have five players on the team.
At invitationals, the winning team is determined by round robin tournaments in a bracket.
"At both invitationals and most recently, at nationals, points come from adding the number of toss ups answered correctly by individuals, the number of bonuses the team answers correctly, and subtracting the number of incorrect or early buzzes."
"One's bracket is determined by their win-loss record, too," she said.
The team typically practices once a week.
However, many players also study and learn the different topics on their own time.
"Knowledge for Academic Challenge can come from anywhere," she said. "From watching March Madness, to reading a chemistry textbook, to reading the news."
For Shen, the best part about being in Academic Challenge is that it pushes participants to seek more knowledge.
"You become more aware of life around you, and you also come to appreciate a lot more," she said.
Shen says that she will definitely be doing academic challenge next year.
To be a part of Academic Challenge, Shen suggests that students reach out to herself or adviser Karla Seery.
"We encourage anyone to join," she said.
Leave a Comment
About the Contributor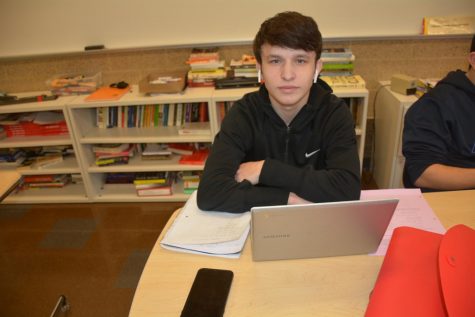 Sam Thomas, Staff Writer
Sam Thomas has been a writer for the Beachcomber since fall of 2017. He enjoys covering sports teams and players at BHS because sports is his main hobby...