Martin Horwitz Sworn in as Beachwood Mayor
Martin Horwitz was sworn in on Jan. 8, making him Beachwood's 17th mayor.
Horwitz won by a close margin of 33 votes against incumbent Merle Gorden and outgoing School Board President Mitchel Luxenburg.
"It's proof that every vote counts," Horwitz said. "My thoughts are that the vote clearly indicated that the city wanted some kind of change."
Horwitz decided to run for mayor because he had a great deal of experience in local government service.
"I was on School Board for 16 years," he said. "[Later], I ran for City Council. I've been on council for six years, and the last two years I was council president."
"It just seemed like an appropriate time in my life and in what was going on in this city," he said. "I felt I had the experience to run at this point."
Horwitz added that there is a list of goals that City Council would like to accomplish, including upgrades near the Beachwood Aquatic Center.
"
There will be change – which may feel unfamiliar – but I promise you it will be the product of open, diverse, and thoughtful discussion between myself, our Council, our Directors and our residents.
— Beachwood Mayor Martin Horwitz
"There's some land there where we could put up an amphitheater, we could put up a community building, we could put up a park, walking path or and a dog park," he said. "There are many ideas for the use of that land, and we're looking at a combination for the best use."
In addition, one of Mayor Horwitz's goals is to increase the use of technology and allow residents to be more involved in the the community's work.
"I really want to get us more involved in Facebook and digital media…We want to be able to reach those people and explain to them what's going on in the city in order to get feedback because…we haven't done that in the past, and I think that's very important."
Horwitz feels that his experience on School Board and City Council will serve him well in his new office.
While on School Board, Horwitz advocated for more technology use in schools, including the 1-1 laptop system at the Middle School.
He is hopeful that his experience on Council will make him an effective partner now that he sits in the executive office.
"I think I have a really good relationship with City Council coming off of [my years on] Council, so we're working very closely together," he said.
Horwitz attended the National League of Cities conference after election to learn about various programs, as he explained in a speech after he was sworn in at City Hall on Jan. 8
"Following the November 7th election, I spent four days at the National League of Cities conference, at my own expense, to meet with city leaders from across the country and study innovative programs and practices that can benefit Beachwood," he said.
Horwitz went on to explain that he hopes to build off of Mayor Gorden's accomplishments, including continuing to bring new businesses to Chagrin Highlands and possibly renovating Commerce Park.
"[Mayor Gorden] left a body of work in 23 years that's very impressive…We've got some amazing people working for us, and a lot of those programs all came during Gorden's administration."
Horwitz hopes to be a hands-on mayor.
"My goal has been to respond to emails and letters as fast as they come in if possible," he said. "I keep personal contact with residents."
Horwitz gave the recent problems at The View as an example.
"They have sprinklers that are going off six, seven times," he said. "I was over there late Friday night meeting with the residents."
"We have a problem with Swenson's," he added, "…and I've been actively involved with the residents in that neighborhood. So my style is a lot more hands-on than I think we've seen before."
Horwitz wants to celebrate Beachwood's diversity. He plans to bring residents together through block parties.
"[Block parties go] hand-in-hand with something I said all through the campaign: we are a very diverse community," Horwitz said. "We are really a culturally diverse neighborhood, and I want to celebrate that. I want people to know their neighbors."
"I want to recognize the diversity of our community because it's very unique," he said.
Horwitz hopes to focus more on neighborhoods and community-building through improved communication, resident advisory committees, block parties and social media.
He also hopes to target demographic groups that may need additional support, such as  senior citizens.
"We have many families who have lived here for 50 and 60 years, and they need assistance in certain ways," he said. "We actually just started a program where we're coming to get their trash at their garage so they don't have to come out in the snow."
"We [also] want to figure out how to make homes affordable for young people," he added.
"We will build on past success, but we are not bound by past practice," Horwitz concluded in his speech on Jan. 8. "There will be change – which may feel unfamiliar – but I promise you it will be the product of open, diverse, and thoughtful discussion between myself, our Council, our Directors and our residents."
"I'm excited to be the new mayor," he added. "I'm excited to work for you, and I'm excited for the unlimited opportunity that lies ahead of us."
Leave a Comment
About the Contributor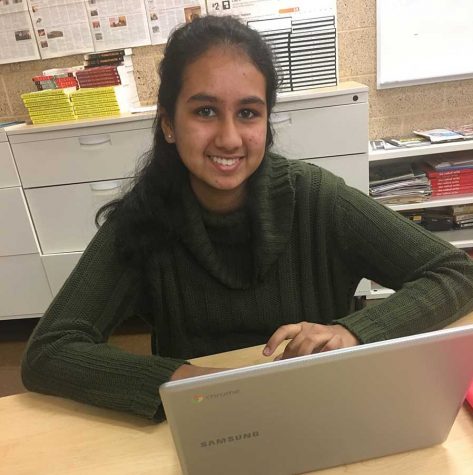 Prerna Mukherjee, Managing Editor
Prerna Mukherjee has been writing for The Beachcomber since the fall of 2016. She covers a variety of school and community events. In her free time, Prerna...