Academic Challenge Qualifies For National Tournament
Hang on for a minute...we're trying to find some more stories you might like.
Two BHS academic challenge teams competed at East Palestine High School on Saturday, Nov. 11, with one team placing second place and qualifying for the national competition.
The team qualifying for nationals consisted of junior Jing-Jing Shen and freshmen Yang Yu, Peter Soprunov and Somin Jung.
"It's a young team, and to do so well so early on was a great accomplishment," Shen said.
Beachwood students also won five individual awards.
Beachwood will compete in two more tournaments in December, including another National Championship Qualifying Tournament (NAQT) in Smithville, OH on Dec. 2 and the 'Trash' tournament focusing on pop culture, Dec. 16 in Olmsted Falls.
The qualifying team plans to compete at the National Championship Tournament for small schools held in Chicago in late April.
Beachwood's team has an impressive history with a National Championship Title won in 2012.
National Qualifying Tournaments have a slightly different format than other competitions.
"NAQT is basically all toss-up questions up for grabs by either team," Shen wrote. "Whoever buzzes in first and gets the question right gets a team bonus question."  
"Each question starts out pretty vague and narrows to become more and more specific, culminating in the 'giveaway' clue."
"
Beachwood's team has an impressive history with a National Championship Title win in 2012."
"There are 20 toss-ups per game," Shen wrote. "On Saturday we played a round robin (against every team present) for nine games."
Academic challenge participants have to be prepared for a variety of topics.
"It's kind of a hybrid jeopardy/quiz show where you have different questions spanning all subjects: math, science, history, literature and pop culture, and people buzz in to see who can answer the question fastest and most [accurately]," Shen wrote.
The team practices once a week.
"[The meetings are] pretty casual," freshman Sunny Wang said. "We practice different kinds of question formats and usually Ms. Seery or Jing-Jing give us questions, and we answer.
"We read out some of the questions from past invitationals or sample questions, and everybody practices with the buzzers and [works on] improving speed and accuracy," Shen wrote. "Even when you don't know the question, trying to figure it out…[It] really just consists of going over strategies and practicing questions."
The team's adviser, science teacher Karla Seery, explained that students learn how to answer questions quickly at competitions.
"Students need to be able to think quickly and have confidence in their answers. Other teams tend to beat us on buzzer speed," she wrote in an email.
Shen explained that a strategy for success on academic challenge is to always learn and expand one's knowledge.
"You have no idea how far any snippet of knowledge can go, so I think that's what makes academic challenge really special," she said.
"
It's really fun. It's like a quiz show, but with your friends. "
— Nationals qualifier Somin Jung
Shen recommends academic challenge because it allows students to expand their knowledge outside of school.
"I think academic challenge is a way to really broaden your knowledge of anything that you're interested in because even if you didn't learn about something necessarily in school or in a book," she said. "I think it's a really stimulating environment"
"It's really fun," Nationals qualifier Somin Jung said. "It's like a quiz show but with your friends. Personally, I feel academic challenge is less pressure compared to my other clubs, so that's also nice," 
"Academic challenge allows you to spend time with other students who value education and love competition," Seery wrote. "Competing in academic challenge is like a refresh of all topics learned in high school."
"Just pick up knowledge wherever you can, whether it be reading the APUSH textbook or watching America's Got Talent," Shen added. "Find something that you actually enjoy and learn about it because that knowledge can really go a long [way]."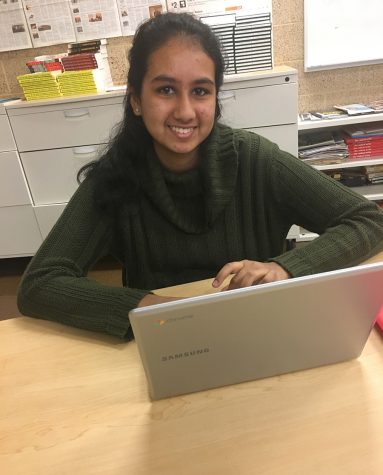 Prerna Mukherjee, News Editor
Prerna Mukherjee has been writing for The Beachcomber since the fall of 2016. She covers a variety of school and community events. In her free time, Prerna...