Gay Marriage Ruling Impacts Community
On Jun. 26th the Supreme Court ruled in the landmark 5-4 decision of Obergefell v. Hodges that the fourteen states that did not allow gays and lesbians previously to wed would need to do so.
Following the ruling, which affects Ohio, community institutions such as schools and religious organizations have adjusted to this new social norm.
For instance, it is still up to religious institutions and clergy to decide if they will actually perform ceremonies for same-sex couples.
"I definitely support the Supreme Court's decision," said sophomore Angela Wang, a member of BHS Gay-Straight Alliance. "People should be able to do what they want and marry who they want."
"Of course I support the decision," sophomore Sridhar Uppalapati agreed. "People should have the right to marry whoever they want and be treated equally regardless of sexuality."
"And furthermore, I'm in GSA," Uppalapati continued. "And I can say for sure that the Supreme Court decision boosted our morale. We were all very happy about it."
Staff have shown their support as well.
"
The staff is incredibly supportive. I think we have a really diverse and intelligent staff; they are sympathetic towards the cause."
— Science teacher Alex Paulchell
"I do support it," social studies teacher Greg Deegan said. "I only hesitate to say it because I'm an AP government teacher, and I try my best not to let my own political viewpoints be shown, but I think that marriage is a fundamental right. That that decision solidified an important step for LGBT community towards equality."
"Since the decision," Deegan continued. "I haven't really noticed anything huge. But I do think that for the GSA in particular and for people I know who are openly gay or transgender, there seems to be a greater level of security and acceptance, but it is without fanfare."
"When I first started teaching here, I never would've guessed it," Deegan concluded. "It wasn't a very welcoming place for LGBT community at first, but it is starting to be."
In September, The Plain Dealer surveyed area religious groups and ministers to ask if they will conduct same-sex marriages. While some have already begun to do so others refuse.
Episcopalians voted in July during their national assembly to allow religious ceremonies for same-sex couples in their churches. However, they gave their ministers the option to refuse to perform the ceremonies if they so choose.
According to The Plain Dealer, the Reverend Peter Faass of Christ Episcopal Church in Shaker Heights is choosing to perform same-sex marriage ceremonies.
"Our denomination, diocese and congregation for many years now have been very open to LGBT people in the life of the church and congregation," Faass told The Plain Dealer. "We take a different interpretation on the parts of the Bible that condemn this. We rely heavily on the Gospel teachings of love."
The Unitarian denomination have also made the decision to perform same-sex marriages as well.
The Presbyterian Church of the United States passed an amendment in approval of same-sex marriage last November. According to Senior Presbyterian Pastor John Lentz of Forest Hill Church, a congregation in Cleveland Heights, his church will conduct same-sex ceremonies.
"As I told the press shortly after the Supreme Court ruling was announced, I see a wedding as a public and religious commitment," he wrote in an email. "Doing same-sex marriages is the same. It just requires some changes in the wedding liturgy; for example, we would simply have to replace the words 'man and wife' with something more fitting."
Unlike the Episcopalian, Evangelical Lutheran, Presbyterian, Antioch Baptist and Unitarian churches, some denominations have not welcomed the decision.
For example, the Catholic Church believes marriage is a union strictly between a man and woman. The Diocese of Cleveland said in a statement that they will uphold their traditions.
"The Catholic Church remains steadfast in its commitment to promote and defend marriage: defined as the union of one man and one woman," the statement said.
The Catholic Church is not alone in its belief, other denominations within Cleveland have echoed the sentiment. For instance, the United Methodist Church has yet to recognize same-gender marriages.
In addition, Imam Abbas Ahmad of First Cleveland Mosque in Cleveland, said he won't perform same-sex marriage ceremonies either.
"We believe that marriage can only be between a man and a woman," Ahmad told The Plain Dealer. "Homosexuality is considered in Islam to be a major sin."
Leaders at some local Reform Judaism congregations, a tradition that has supported LGBT rights, will also perform same-sex marriage ceremonies.
"It is simply the right thing to do," Rabbi Steven Denker told the Plain Dealer in July. Rabbi Denker is from Temple Emanu El in Orange Village, a Reform Jewish congregation. "For a long time, we recognized committed same-sex relationships."
"We recognized them when they had their kids in our schools and when one of them died at a funeral," he said. "If we can acknowledge them in death, we can certainly acknowledge them in life with marriage and give them their rights as human beings."
Rabbi Allison Vann of Suburban Temple-Kol Ami in Beachwood and Rabbi Enid Lader of Beth Israel-The West Temple on Cleveland's west side said they will also perform same-sex marriage ceremonies at their respective Reform Jewish congregations.
In Pepper Pike, Rabbi Joshua Skoff of Park Synagogue told the Northeast Ohio Media Group  his modern Conservative synagogue is shaping its liturgy for same-sex ceremonies. Shortly after the Supreme Court's decision, he released a statement saying that Judaism always has words for moments in people's lives.
"What changes really is you're able to call it a wedding in Ohio," the statement said. "And no wedding should be considered a bad thing."
"As I said, the diversity here in Beachwood makes me feel supported and the cause more supported than at any other school," Paulchell concluded. "I've been at public and private schools, but I've never felt this sort of acceptance or equality from anywhere else."
Leave a Comment
About the Contributor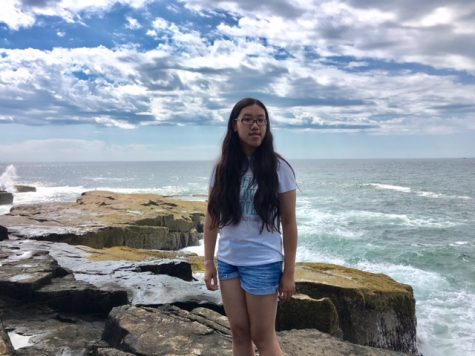 Jinle Zhu, News & Layout Editor
Jinle Zhu has been writing for The Beachcomber since her freshman year (2014). She has been the features editor and layout editor. She likes Photoshop...