School Board Considers Elementary Consolidation
The construction is pending Board approval of future phases, including a bond issue anticipated for the May 2016 election.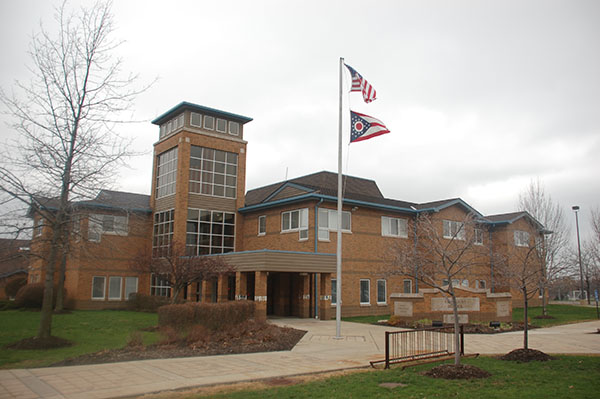 On  Oct. 27, the Beachwood Board of Education approved entering a planning phase  to consolidate Hilltop and Bryden schools into one preschool through grade five elementary housed at the current Fairmount School location.
The proposal involves planning an addition to the Fairmount building. The Bryden location would be converted into residential properties while Hilltop would be used as additional recreational facilities.
The Board's approval does not mean the consolidation will necessarily occur. According to Superintendent Dr. Richard Markwardt, the Board's vote simply means the plans will go into the master planning stage. This phase involves stakeholder meetings with faculty, students and other relevant groups. The community engagement firm organizing these meetings would then create a conceptual drawing based on the preferences of the community.
"At the end of that phase, you have to take it before the public in the form of a ballot initiative because you can't just take money out of the general budget to build something that big," Markwardt said.
This ballot initiative would take the form of a $20 million bond issue anticipated for the May 2016 election. $16 million would be allocated towards construction on Fairmount, while the other $4 million would go towards renovations of various athletic facilities. According to treasurer Michelle Mills, this would cost the owner of a $250,000 home $175 a year. Only if the initiative passes could construction commence.
The consolidation proposal came out of Board concerns about the state of the two existing elementary schools.
"If we keep them open as they are now in the spots they are in now, we are going to have to do some pretty extensive renovations to those buildings," Markwardt said.
Some members of the community also see a renovation as necessary.
"They're older, things are definitely decaying," said Jamie Feuerman, mother of children at both the Fairmount and Bryden and a Beachwood alumnus.
"It's really hot when school goes back go on which hinders [learning]," she added, referring to the lack of air conditioning at Bryden.
"It's really dirty in the corners. Some of the bricks are chipped. In the lunchroom there's this one black goop that stuck the wall," said fifth grader Sam Warner. He did not note any problems at the Bryden facility.
"The Board asked us to look at how much it would cost us to renovate Byrden and Hilltop and operate them in their current locations versus how much it would cost us to add an addition to this building and operate that," Markwardt said.
Answering these demands, administrators said they recommended a consolidation because it was the most cost-effective option.
"While this would cost more short-term than renovating each individually, the [long-term] cost savings from the plan would pay for the upfront costs," Markwardt said.
Mills said at the board meeting that the Fairmount construction would cost $16 million, whereas renovating the two buildings would cost $12 million.
However, at the Sept. 8 meeting where the proposal was first unveiled, administrators said the sale of the Bryden property is expected to generate $1-2 million dollars that would be put towards the new construction. The property taxes gained from these new homes would generate approximately $125,000 a year for the district. Additionally, there would be approximately $500,000 a year in operational cost savings.
At the Sept. presentation, Markwardt noted that with a renovation, there is always the risk of unexpected additional costs. He cited the need to remove unexpected asbestos from the high school's 500/600 hallways and auditorium walls as examples.
However, there is concern that the plan could have negative economic consequences. "Property values tend to be higher near schools from research I've read, and we're going to be closing two schools," School Board Member Joshua Mintz said at the Sept. meeting.
Markwardt said he did not anticipate the consolidation would bring a loss in property values.
"In some districts, proximity to a school can enhance property value," he said. "I think [critics are] taking that model and applying it here, and it really doesn't work in Beachwood because we're such a small district, and all of our schools are very respected schools."
"The building is just the bricks and mortar. The school is really the people who are in it and it would be really the same people," Markwardt added, explaining that a new location should not change the schools' reputation.
The learning environment will only change slightly. According to Markwardt, there would be some losses in support staff, including office personnel and custodians. The position of one library/media specialist would also be lost.
While Markwardt said no curriculum changes are likely to follow the location shift, Hilltop Principal Linda LoGalbo said there could be educational benefits to a consolidation.
"We spend a lot ot time transitioning students from early primary to intermediate school, Hilltop," she said. "If they are in the same building, that transition is a little sooner both for students and staff."
"It would help our teachers to be connected to the grade level above and below them," she added.
LoGalbo said she and Bryden principal Sherry Miller have already taken steps to ease the consolidation process. "Since I've been at Hilltop school, this is my second year, Sherry Miller and I have been working collaboratively to streamline some K-5 initiatives," she said. She cited as examples a joint writing workshop, a new K-5 student handbook, and K-5 professional development.
The consolidation could also affect student life.
At the presentation, Hardis said emergency responders could provide a more effective response if all students were located at the same place in close proximity to the police department. He also said the centralized campus could contribute to a greater sense of community.
"We feel when one student is involved with our school for six or more years, this helps to foster a strong school culture and build a great sense of community," Hardis said.
"Instead of individual schools being their own little franchises, it really focuses on an elementary Beachwood program," LoGalbo said.
However, at the Sept. meeting, Mintz raised some potential concerns about the effect of a consolidation on the community. He said parents he had talked to were concerned about kindergarteners being housed in the same building as fifth graders.
Fifth-grader Warner said he had no preference as to the location of his school, but he did express concern at the co-mingling of grades.
"People get bullied in my grade, so if there are younger kids they might get bullied," he said.
"There are usually wings of the building for separate age groups. You don't allow co-mingling of the kids in an unsupervised manner," Markwardt said in response to these concerns.
Feuerman was not concerned about the co-mingling of grades. "I'm sure they would make it appropriate," she said.
"One benefit is that you might have a fourth grader come down and be a reading buddy to a first grade classroom where they could read stories to the kids," he added.
Feuerman said she is excited about the possibilities the expansion could bring. "My kids are happy. To improve the quality of where they would be learning, would be a positive change," she said.  
Leave a Comment