Chromebooks Increase Technology Use in Classrooms, Also Present Challenges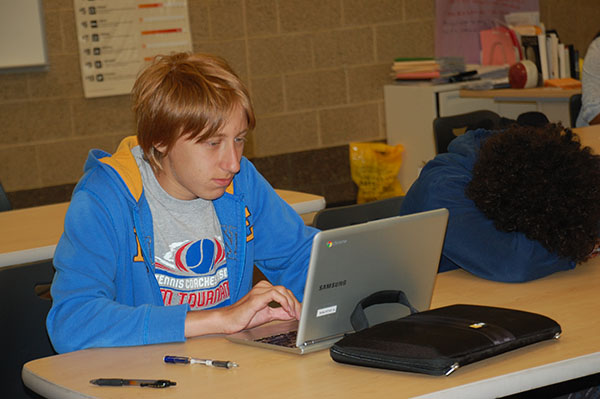 The new one-to-one Chromebook program has proven helpful for BHS students, but the program's rollout has also hit some snags.
Teachers are integrating the computers into their classrooms by using education-friendly resources like Blackboard and Infinite Campus as well as their own course websites and e-mail. In many classes, students are using Blackboard every day to download handouts that would otherwise be printed. Additionally, the computers have been helpful for students who would not otherwise have computer access at home.
Director of Curriculum and Technology Ken Veon explained that Chromebooks provide "anywhere anytime learning."
In some ways, the program is going well; however, students have encountered problems. The computers don't print, they are sometimes distracting in class and they have limited offline functions. Students can use Google Drive offline, but not other resources. Work can be saved when the computer returns to a wireless network.
"Under certain circumstances it could be impossible to do work," explained freshman Dylan Green.
Green explained that if the Internet is down, he cannot access some resources at all, which presents a major issue because most teachers give assignments with the expectation that students have  computer access.
It is also becoming problematic that the computers do not print to regular printers, and there is no compatible printer for them at school. Veon says teachers are beginning to adapt to the technology by sharing documents electronically rather than using paper products, but many teachers still expect paper copies of assignments, and students have found it challenging to print at school.
English teacher Casey Matthews told the Beachcomber that on some occasions she won't allow students to turn in papers electronically.
"My concern is that they will go back and spend more time on an essay before I can grade it," she said. "I would prefer to know without a doubt that what I have in my hand is their final draft and not something that they can go back and work on."
Addressing the issue of printing, Freshman Lucas Holden shared that his printer doesn't always work at home, and that this can be problematic when he needs to turn something in.
Students can print in the school library before school from 7:30 to 7:50, but only from the library computers. On days when papers are due, it gets crowded. On some occasions, library computers have been out of order.
Dylan Green added that worst comes to worst, students can go to the Beachwood Public Library, but that takes more time than it should just to get one assignment turned in.
Some teachers feel that the Chromebooks are distracting in class. Social studies teacher Greg Deegan explained that there is no way for him to monitor what the students are doing while he's talking. He explained that even if he were to walk around the classroom, students always have the ability to click away from a page or change tabs, making it impossible for him to be sure that everyone is paying attention at all times.
Adapting to this new technology is a process,  one with plenty of pros and cons. While the Chromebooks have presented various issues for students, they have also provided students with abilities that they didn't have before.
"I'm very pleased with where we're at with this program … (but) there's still a lot of work to do," Veon said.
"There are new opportunities, but there are going to be new challenges too," Deegan said.
Leave a Comment