Eaton Corporation Relocates From Downtown Cleveland to Beachwood; Puts City on Map for Economic Development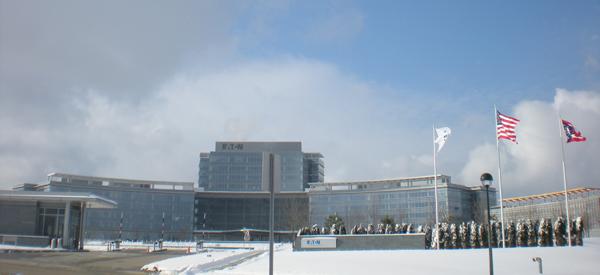 This month, Eaton Corp.'s new Eaton Center campus is scheduled to open in Beachwood. The 580,000 square foot complex is located at Richmond and Harvard Rds. and sits on a 53-acre parcel of land in the Chagrin Highlands corporate community.
The new facilities in Beachwood will replace Eaton's previous offices on Superior Ave. in downtown Cleveland.
Eaton (ETN) defines itself as a "global technology leader in diversified power management solutions," and had $16 billion in sales in 2011, according to the corporation's official website.
While it was initially announced that Eaton's global headquarters would be located in Beachwood, the campus has since been relabeled as Eaton Center. Due to Eaton's acquisition of Cooper Industries in 2012, the corporation is now headquartered in Dublin, Ireland.
According to an email from Scott Schroeder, a spokesman for Eaton, the corporation began moving into the new facilities on Feb. 2nd.
James Doutt, Economic Development Director for the City of Beachwood, explained that Eaton initially contacted the City of Cleveland in an attempt to find a location for their new campus within the City's limits.
"They just could not find the land in Cleveland proper," Doutt said.
"The next best scenario for Cleveland and the Eaton Corporation was to find land that, while not in Cleveland proper, still had a Cleveland connection," he said. The connection that Doutt is referring to is an economic development package that the City of Beachwood worked out with the City of Cleveland and Eaton, which sends one percent of Eaton's income taxes to the City of Cleveland.
"It was a very complex deal because it has a lot of different entities involved," Doutt said of Eaton's purchase of the land. There were four entities involved in the deal: Eaton, the City of Beachwood, the City of Cleveland and the Warrensville Heights City School District.
Eaton purchased the land, located in the City of Beachwood, the City of Cleveland owned the land prior to Eaton, and the land where the new campus sits is part of the Warrensville Heights City School District.
While the Warrensville Heights City School District is involved, the land the campus sits on is entirely located in the City of Beachwood. "School districts can overlap into multiple jurisdictions, and in this case, it does," said Doutt.
Eaton and the City of Beachwood are also involved in a Tax Increment Financing (TIF) agreement.
"The TIF links to the incremental increases in the value of the land, and the corresponding real property taxes, after the building and other improvements (streets, water, sewer, natural gas, etc.)  are finished.  After the project is completed, Eaton will make payments based on those incremental increases and the payments will cover the expenses incurred by the city to make improvements such as the streets, water and sewer extensions, etc.," Doutt explained in an email.
According to an email from Michele Mills, Treasurer and CFO of Beachwood City Schools, the Beachwood City School District currently receives no revenue from Eaton. "All real estate taxes for property located in [t]he Chagrin Highlands go to the Warrensville Heights School District."
However, Mills said the district is currently under negotiations with the Warrensville Heights School District to remit a portion of the taxes generated.
As for why Doutt thinks Beachwood is an attractive location for business growth, he partly attributes the City's appeal to the three interstate interchanges within City limits. He says that the proximity to I-271 allows for access to a large, well-educated workforce.
Doutt also believes that the services provided by the City, including the Mayor's Office, Police Department, Fire Department, and Service Department, are "unparalleled" and a factor in why Beachwood is high up on the list when companies are looking to relocate or expand to other cities.
"Beachwood is a great place to do business," said Doutt. "It's got a history and a reputation of being a pro-business or business-friendly community."
Joseph Tichar, Senior Vice President of Corporate Operations and Chief of Staff at DDR, agrees that Beachwood is business-friendly. DDR, a commercial real estate company, expanded their Beachwood headquarters in 2009 and had been located in the City for many years prior to that.
"We never considered leaving Beachwood to accommodate the growth of our company," said Tichar, of when the company was planning their expansion.
Tichar also expressed his appreciation toward the City's leadership during DDR's expansion, describing Mayor Gorden and other City officials' leadership as "instrumental."
"[Beachwood is] a great location for our business and our employees," said Tichar. "It's just a safe, convenient, enjoyable place to be."
DDR has attracted employees from all over the world to its Beachwood headquarters, from as far as Sydney, Australia. "We've attracted talent from, really, all over the country and all over the world to come work in Beachwood… We haven't had any problems bringing people here," he explained.
While a major corporation setting up shop in Beachwood does have its benefits, it does not come without some headaches. With the addition of Eaton employees to the daily rush hour in Beachwood, traffic issues on I-271, Chagrin Blvd., and the surrounding area could be cause for concern for drivers.
However, Doutt wanted to put both residents and commuters at ease.
"The city is well aware of the potential impact," said Doutt, adding that the traffic signals in several areas have recently been reworked and are constantly being monitored.
"[The traffic] will be very closely monitored. We've got some very knowledgeable professionals that can resolve problems if they come up," he assured.
However, the city isn't necessarily able to fix everything. "That rush-hour will remain," Doutt said, chuckling. "It's a good problem to have, I think. It means more [of a] positive impact [on the City], so if we have to go with the inconvenience of a little more traffic, then so be it."
Doutt predicts that area shops and restaurants will see an increase in sales not only from Eaton employees, but those who are visiting the City to do business with Eaton.
According to Doutt, Chagrin Highlands initially had about 700 acres available for development, with 405 of those acres lying within Beachwood's borders. Chagrin Highlands also overlaps into Orange, Warrensville Heights and Highland Hills.
In addition to the new Eaton Center, Ahuja Medical Center, Life Time Fitness, and two office complexes are located in Beachwood's portion of Chagrin Highlands. The Aloft Hotel is currently under construction, as well.
As far as future development in Beachwood goes, Doutt says there is nothing official in the cards. "We're talking to companies all the time, but there isn't anything I can report on right now."
Doutt is not only concerned with bringing new businesses to Beachwood. His goal is to also support the 2,500 businesses that currently call Beachwood home. "We want to engage those [current businesses in Beachwood], too. We want to be there to provide assistance to them so they can continue to grow in the community."
Doutt and other City leaders have recognized the great accomplishment of Eaton relocating to Beachwood.
"Getting a project on the scale of an Eaton Corporation doesn't happen very often in very many communities," said Doutt.
CORRECTION (February 4, 2013): Doutt stated he was incorrect when he said that 300 acres of the Chagrin Highlands corporate community was in the City of Beachwood. Beachwood actually initially contained 405 acres of Chagrin Highlands. A mention of the construction of the Aloft Hotel in Chagrin Highlands was added to the article, as well. 
CORRECTION (February 5, 2013): Several corrections were made regarding the definition of the Tax Increment Financing, or TIF, agreement. 
CORRECTION (February 7, 2013): The Beachcomber was informed by Schroeder that the new facilities will now be referred to as Eaton Center, and is not Eaton's global headquarters. The corporation's global headquarters is now located in Dublin, Ireland. 
UPDATED (February 18, 2013): A quote from Mills was added regarding the Beachwood City School District's tax involvement with Eaton and the Warrensville Heights School District. 
Leave a Comment
About the Contributor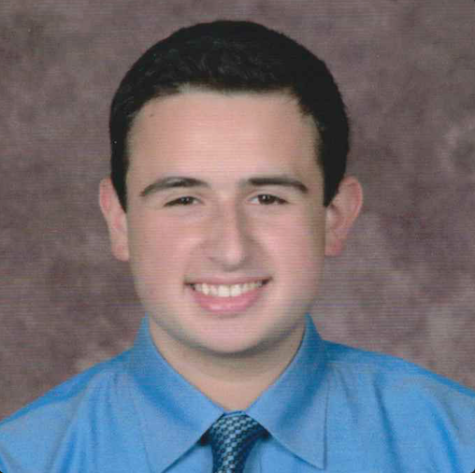 Grant Gravagna, Editor-in-Chief
Grant Gravagna has been active on The Beachcomber staff for four years. As Editor-in-Chief, he oversees a staff of reporters, photographers and cartoonists....