Are You Parked in a Parallel Universe? How to Navigate the BHS Parking Lot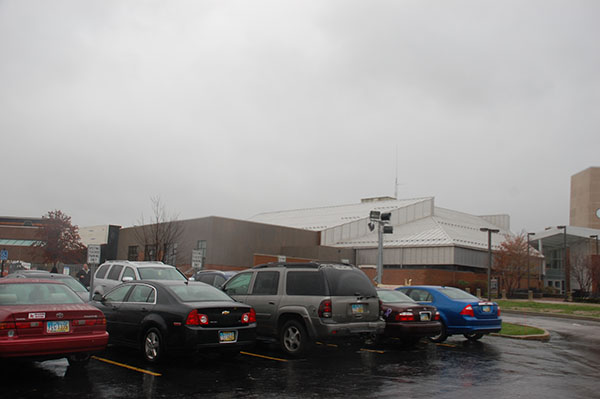 Advertisement
Hang on for a minute...we're trying to find some more stories you might like.
Our school rules are put in place for specific purposes. There are the obvious ones: no fighting, no mouthing off and no cell phone use in class. Generally, these laws are respected by BHS students. However, there is one set of rules that is not followed consistently, and it may be a result of sheer ignorance.
The BHS parking lot has several reserved parking spaces for various groups of people: visiting teachers, drivers of alternative fuel vehicles, as well as the handicapped. It is not uncommon to find students disregarding the signage.
According to state law, handicapped parking spaces are in place for "persons with disabilities that limit or impair the ability to walk."
Asst. Principal Paul Chase said, "It's pretty unusual for a student to park in a handicapped spot [in the BHS parking lot]," but he has noticed some students misinterpreting the rules. "Some people think because they have their parents' [handicapped parking] tag, they can [park in a handicapped space]. That's against the law, and that can be something where we tow your car or you can face a major fine."
The alternative fuel vehicle parking space is intended for vehicles that are not powered by traditional gasoline. Vehicles that are authorized to occupy this space include the Chevrolet Volt, Toyota Prius, Nissan Leaf, or any other hybrid or electric vehicle. Chase said the reason for the school having the alternative fuel vehicle space is to be "eco-friendly."
Additionally, according to Chase it is not uncommon to find a violator in one of the visiting teacher parking spaces."It's usually seniors we have the most problems with. Sometimes they think they have this privilege to park in the teacher spots."
Chase also clarified the rules regarding the visiting teacher spot. "A lot of substitute teachers think that that means them, and it doesn't mean substitute teachers… [it] means teachers that travel between buildings." Chase stated that approximately 16 staff members are authorized to park in those spaces and all were issued a yellow permit.
The BHS lot has these spaces as a courtesy to visiting teachers so they can quickly find a space upon their arrival to the school and then quickly head to the next class they teach, which is usually at another school in the district. Chase explained that some teachers who qualify for these parking spaces include instrumental music teachers Lisa Goldman and Noel Bliss, interpreters that may be at an Excel TECC program and instructional aids who work at the Jewish Community Center assisting students with special needs in the morning.
While Chase did say that the school received complaints the first three weeks of this school year on the lot being crowded due to the construction vehicles, the construction crew has been attempting to park out of the way and closer to football field.
Chase's advice to students that complain of having to park further out in the lot? "Get over it… it's no different than going on a busy day to Target or Walmart."
According to Chase, the BHS lot does not often reach its capacity. He says that sporting events are some of the only times when the lot is completely full.
According to Chase, there have been a few handicapped parking and fire lane parking citations issued by the police department, in addition to a written warning that was issued to a student for not parking between the marked parking lines.
"If you park across two parking spots, that can be a reason for the Beachwood Police Department to ticket your car," said Chase. Chase also explained that the bus loop is just that, an area for buses to load and unload safely, and should not be occupied by any other vehicle.
Chase explained that violators of the alternative fuel vehicle and visiting teacher parking spaces can expect to face a detention for a first offense and then an in-school suspension for any further parking violations made by that student. "I could, myself, have any car on this property towed for any reason… if I think it's unsafe or illegally parked. What would happen there is you would be towed and then there would be an impound fee."
Chase also stated that a search would be conducted on a vehicle if it is being towed off of BHS property. Additionally, he said that the Beachwood Police Department can write warnings or tickets for unauthorized parking in the handicapped spaces, for parking the fire lane and for not parking within the marked lines of the lot.
Students also voiced their opinion on the matter.
"I don't understand why people would park in [reserved spaces]… I guess [the school's punishment for unauthorized parking] is a little too harsh… just because there are times when [students say] 'Oh, I'm a little late, maybe I should park in here,' but I don't because I'm not supposed to," said senior Daniel Padilla.
"I think [the punishment for unauthorized parking is] just fine because… sometimes people make mistakes, but generally you just park somewhere where there's not a sign saying you can't. It makes sense, it's pretty easy to do. You don't really have to go out of your way," commented junior Zach Davis.
Chase also wants students to be aware of the dangers of speeding and driving recklessly through the BHS lot. "I've [given] three suspensions in the past year for students who speed in the parking lot. It starts with one day [of suspension], and [could] go anywhere up to five days, to eventually your car not being allowed on school grounds," he said.
"If you're going to kill somebody in the parking lot and you think it's funny to speed… you're not going to drive here anymore," he explains.
"[Speeding through the BHS lot is] dangerous [and] you're talking about life at that point… you're talking about killing somebody. That's my biggest concern with the parking lot – slowing down," Chase said.
"It's hard for me to police," said Chase on enforcing the parking signage. Chase said that it would not be worth it financially for the district to distribute parking permits for all students, since BHS is a relatively small school. "I do the best I can with the teacher parking spots… I'll admit it's not a number one priority of mine, but it's also something that will be penalized if you're caught."
"Usually teachers tell on [the students who park incorrectly]…and I know who [the students] are, for the most part. I recognize a lot of cars."