Hardis Promoted to Asst. Superintendent; Search for Replacement Under Way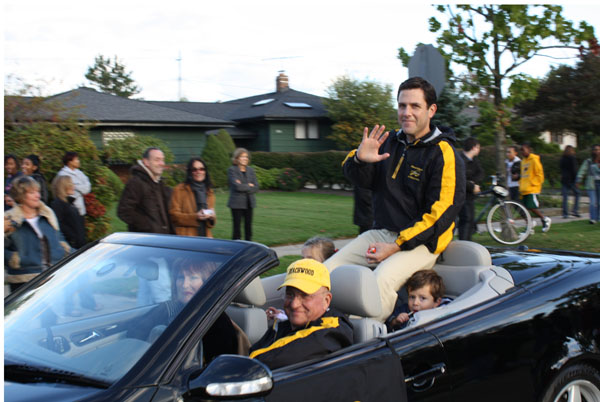 Advertisement
Hang on for a minute...we're trying to find some more stories you might like.
When students walk into BHS next fall, they will not only be welcomed to a sparkling new facility, but to new leadership as well. On Aug. 1, Principal Robert Hardis will assume the position of Assistant Superintendent for the Beachwood School District.
This change marks a new era for BHS as Hardis and Asst. Principal Paul Chase both assumed their positions six years ago. Although Hardis will miss the high school, he has always hoped to move up to district administration.
"I had no desire to leave the high school, said Hardis "I wasn't sitting here saying that I want this to be my last year… I didn't want an amazing opportunity to slip by. So yes, in the big picture, I was interested in moving to the central office, but I had no idea it would be now."
The district administration is in the midst of a national search to find the next principal. According to Superintendent Dr. Richard Markwardt, there were 74 applicants and 11 were selected for first round interviews, which are currently taking place.
"I hope to narrow the field down to five to seven candidates who will advance to the second round of interviews,"  Markwardt explained in an email.
Treasurer Michelle Mills, Hardis, Chase and Markwardt will conduct the second set of interviews, where they will narrow the applicants down to three finalists.
"The three finalists will talk to four groups: members of the Beachwood Board of Education (BOE), representatives of the BHS student body, BHS staff and community members. After these appearances, I will consider the results of the entire process from start to finish and make a recommendation to the BOE for hiring," wrote Markwardt.
Many students have questioned whether the replacement will come from within the Beachwood community; however, it appears that no one has. Chase has not applied for the open administration position.
"I have my sights set on a middle school principal position, and if I can I'd like to stay in the Beachwood School System," said Chase.
Chase will take part in the initial selection process for the future Principal.  Beyond the mandatory requirements to become a principal such as teaching for a minimum of three years and a Master's degree in administration, one attribute stands out to Chase.
"I want a principal who is active, knows the students' names and is involved with the students' concerns, explained Chase …a Principal who is willing to forge good relationships with students."
A major concern that students and faculty members have is Hardis leaving in the midst of the $36.5M renovation project.
"I think it's a good thing for him to be promoted, but I think it's an inconvenient time with all the construction and everything going on. It would make for a smoother transition with him here," said sophomore Annie Adelman.
Hardis agrees that the construction will add a layer of difficulty to the new principal's job; however, he feels that his new position will keep him actively involved in the renovation.
Hardis's new position was created through the elimination of the Director of Human Resources position, but it was not created to save money. Hardis will not see an increase in his salary with his promotion.
The role of the Asst. Superintendent will include overseeing the buildings and grounds supervisor, academic programming, labor relations, human resources, overseeing curriculum and technology and filling in for the Superintendent in his absence.
Students and faculty feel that Hardis deserves the promotion, but his presence will certainly be missed.
"He absolutely deserves it, and it's the best thing for the school system, but we'll miss him at the high school," said American Sign Language teacher Sharon Weisman.
"I think it's an exciting opportunity for him, explained Lori Joyner, Hardis's secretary at the high school. "I'm going to miss him here; he's been wonderful."